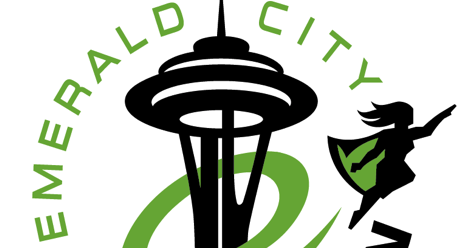 This content contains affiliate links. When you buy through these links, we may earn an affiliate commission.
2018 was the year of Own Voices in the Emerald City Comic Con Writers Block (sic, people, sic) and it was an intense and wonderful thing to behold. ECCC has always invited a lot of writerly talent, but they went out of their way this year to make certain an incredibly diverse cast of authors, and humanity, had the opportunity to speak for themselves.
Video of many of the panels is available on the ECCC website, or will be in the coming weeks, if you want to delve further.
Not having a time turner, I wasn't able to attend nearly as many of the panels as I would have liked, but I did have the opportunity to attend several excellent ones and I thought I'd share some of what I learned and give air time to some of the authors who spoke on Own Voices panels. Because our TBR piles aren't long, or precarious enough, as it is…
When Women Rule the World: Female Perspective in Sci-Fi and Fantasy
Moderator: Jane Gates
Panelists: Kendare Blake (One Dark Throne, Anna Dressed in Blood), Emily R. King (The Fire Queen), Charlie N. Holmberg (The Paper Magician, The Fifth Doll), Annalee Newitz (Autonomous; Scatter, Adapt, and Remember: How Humans Will Survive a Mass Extinction), Seanan McGuire (October Daye, Tricks for Free), and Fonda Lee (Jade City, Exo). Both Newitz and Lee are 2018 Nebula nominees.
The Rundown: The panel started by shattering the misconception many folks (read: male folks) have that women have only just started contributing to the science fiction and fantasy genres. Have they forgotten, the participants wondered: Diana Wynn Jones (Howl's Moving Castle), Ursula le Guin (The Earthsea Cycle, The Hainish Cycle), Andre Norton (Star Ka'at), Octavia Butler (Kindred, Parable of the Sower), Madeleine L'Engle (A Wrinkle in Time, Walking on Water), Tamorah Pierce (Tempest and Slaughter, Song of the Lioness Quartet), James Tiptree Jr. (actually Alice Bradley Sheldon, The Starry Rift), Robin McKinley (The Hero and the Crown, The Blue Sword), and Anne Rice (Interview with a Vampire, The Mayfair Witches)? The panelists continued by discussing the many readers still stuck in an antiquated "schema of stories" wherein the issue isn't so much men vs. women (though that is certainly a well-represented problem) but a mode of thought in which the diversity of women's voices have been silenced by other women claiming there is but a single way to express femininity. Own Voices writers, though, are bringing new perspectives, breaking down the walls of Smurfette Syndrome and "dudes with breasts" to create more complex female characters, giving voice to those previously dismissed and excluded. "If you've had to fight your way in," one of the panelists reminded us, "if you don't fit the shape of the story, you'll change the shape of the story." Backlash comes when the predominant paradigm feels their story is threatened. Good news though: if you're hit with that backlash, you're doing it right. The more such stories exist, the more there will be to read, the more readers will be reminded that there are multiple roles for women and that women can be strong in different ways (the panel cited Black Panther as an excellent example of such a cast), women with backstories, who embrace their flaws, who are sometimes unlikable. The panelists also urged women especially to stop placing value judgment on other women's views of feminism—and we've all been guilty of that at one time or another—as well as calling out those who label all popular female characters "Mary Sues;" "You can't be a Mary Sue," Lee pointed out, "if it's your story. Rey can't be a Mary Sue because it's her story."
The Power of Joy in Queer Literature
Moderator: C.B. Lee (Not Your Sidekick, Seven Tears at High Tide)
Panelists: Taylor Brooke (Fortitude Smashed, ), Michelle Osgood (The Better to Kiss You With, Huntsmen), Tara Sim (Timekeeper, Chainbreaker), Corinne Duyvis (On the Edge of Gone, Guardians of the Galaxy: Collect Them All), Candice Montgomery (Home and Away, Habibi: A Muslim Love Anthology), and Zane Riley (Go Your Own Way, When It's Time)
The Rundown: Self-identified across the LGBTQIA+ community, from non-binary to pan-romantic/demi-sexual, this set of panelists focused on the importance of lifting up voices which haven't been heard before and encouraging readers who aren't able to find their own stories in literature to write them, for everyone to tell their story. They discussed the importance of intersectionality (such as characters who are bisexual and biracial) and the specificity of individual people and individual lives rather than stock characters inserted to check an inclusion box. The panelists also reminded readers that while a character's identified gender and sexuality are important aspects of who they are, "not all books have to be issue books," "it's okay to tell happy stories with happy endings," and not all books featuring queer characters have to be about characters' sexualities and gender identifications. All readers, they emphasized, need escapist literature and that includes "happy queer books people can escape into." "The problem with It Gets Better," Duyvis pointed out, "is that it only gets better if we make it better," an effort which includes offering LGBTQIA+ teens (and adults) possible futures in which happiness is achievable if not fully realized. "The most important part," these remarkable shes and theys stressed, "is hope," with or without labels, with or without romance, with or without conflict.
The panelists also gave a shout-out to LGBTQreads.com, run by Dahlia Adler, which tracks queer releases and provides a database for readers to locate the specific type of queer literature that suits them, including YA. There's even a section of the website entitled "Under the Gaydar," which gathers queer content that isn't explicitly labeled as such on the cover or in the blurb, and which allows closeted folks, who don't feel safe or aren't ready to come out, to participate in a literary community without fear of discovery.
Civil Rights, Superheroes, and Comic Books
Panelists: David Walker (Luke Cage, Power Man and Iron Fist), John Williamson, Lily Williamson, Mark Long (The Silence of Our Friends), David Dissanayake, Sadekaronhes Esquivel (Saw: The Videogame, Blacklight Tango Down), and Katie Wheeler (contributor to The Lily)
The Rundown: While not all of the creators on this panel were creators of color, they are all intimately, and personally, connected with the Civil Rights movement and the importance of comics therein. Fiction, Walker remarked, bridges a sometimes-massive gap in accessibility, providing children and adults who don't enjoy reading, or who have difficulty (or are unable to do so), with books less intimidating than biographies and historical tomes weighty even for those invested in the subject (Walker specifically mentioned staring at source material for his forthcoming Frederick Douglas graphic novel and being daunted by the thousands of pages). Graphic novels also pair words with art, and a picture, he continued, really can be worth a thousand words, while also, Wheeler laughed, "hiding vegetables in a dessert." The more perspectives on what was once viewed as a monolithic history readers are given, Esquivel added, the larger the range of representation and the more possible futures will exist for everyone. Which, the panelists agreed, isn't quite so simple, as the larger comics publishers are still reluctant to hire people to tell their Own Voices stories. Creators themselves, Walker explained, can begin to remedy that by bringing others into the room with them when they get get access, especially now. "Terrifying times," he reminded us, "can be necessary times. We need to deal with it or there won't be any progress." As with the aforementioned Power of Joy panel, the message of Civil Rights, Superheroes, and Comics was one emphasizing the importance, and the power, of hope, of the possibility of overpowering ignorance and fear to show the world as it is, rather than as a select few wish it to remain.
Oh, and the panelists have recommendations for you: Bitch Planet, March, Woman Rebel, Persepolis, and Saga.
Comics and Disability Culture
Moderator: Jose Alaniz
Panelists: E.T. Russian (Seattle Weekly Comics, The Ring of Fire Anthology), Alecia Gatlin (Joint Spasm), and Sabine Rear (Empathy Exercise)
The Rundown: Rear, who is blind, spoke first, lamenting that science fiction does a poor job of examining the limits of the future, erasing flaws and removing anyone who isn't perfect from the narrative. "Disabled people," she explained, quoting Alison Kolfer, "are't accidentally missing from Utopia. They're deliberately removed from it." Comics further misconceptions about disability by fostering misunderstandings such as blindness being Matt Murdoch's "dark box." In fact, illustrator Rear explained, "most blind people have some sight." Her work aims to destroy misunderstandings by telling her story, based in her own life-experiences, of which her disability is only a part. Rear's comics demand readers take notice of something they've never acknowledged before: her truth, her feelings, and her life, rather than the clinical, medical reality of her disability.
Gatlin, who was diagnosed with rheumatoid arthritis as she was finishing college, views comics as a place of safety and joy. Writing and drawing her story, when she's able, is a way for her to reassess the meaning of autonomy and priority, helping her redefine her identity. Gatlin also talked about the difficulties she faces because she presents as abled much of the time, about people constantly trying to prove she's "faking" because, "if they can't see it, they don't believe it" (an experience I share after a traumatic brain injury that has caused persisted neurological issues including partial loss of hearing on my left side). She also revealed how difficult it was for her to seek help as a young person and that, when she did, medical providers assessed her incorrectly and performed the wrong tests due to their own biases around pain and chronic illness. Gatlin says comics were the perfect medium to explore her experience, because pain is so difficult to put into words but an illustrated medium allowed her to use symbols, facial expression, and dream imagery to much greater, and more honest, effect. She also places emphasis on the importance of "disability joy" and the funny moments amidst the difficult ones, about disability being part of one's life but not being the sum total of it.
E.T. Russian, a double amputee, says she immediately embraced her disability in an attempt to "push back on shame," creating a zine and starting to draw webcomics as a counterpoint to the few superhero comics that do include characters with disabilities. Most of those scant few, she pointed out, are written by abled people who seem to believe superpowers "make up" for the disability. Russian calls that nonsense out by crafting art that "supports difference" rather than seeking to erase it, to place disability in the context of life but not make it the defining focus of her work. Her own experiences in the disabled community, and career as a heath care provider, drove her to create a multi-sensory installation that seeks to make art accessible, in some way, to everyone. Such art, she said, fosters community where before there was isolation; it draws people in rather than blocking them out, enveloping and including the way very few works of art do.
Feeling Super: The Representation of Mental Health in Pop Culture
This was the only panel I attended that was a fail, at least for me. The first issue was the composition of the panel itself: there were only two participants and neither, while mental healthcare providers, were an Own Voice (at least not that they disclosed. One of the panelists stated that her daughter had a "diagnosis" but the way she said it got right the hell under my skin. Full disclosure: mental illness is a subject near and dear to me, as someone who lives with anxiety, depression, OCD, and who experienced postpartum psychosis). I considered leaving the panel immediately but decided that was unfair to the duo who had surely put quite a lot of work into their presentation and I'd give them the opportunity to convince me to stay and listen. I did appreciate their offer for members of the audience to come forward with questions and personal experiences throughout rather than having them to hold questions until the end (as the majority of con panels do), hoping it would provide the representation I was anticipating and had experienced at every other event over the course of the weekend. I was also encouraged when the panelists announced they were opting to start with accurate, and even positive, representations of mental illness in comics.
It didn't and they didn't. The first person who got up to speak was male and spent his entire time at the mic fetishizing "crazy, hyper-sexual" female characters. The panelists (there was no moderator) did nothing to curtail his comments or limit his time, instead engaging in discussion which, while potentially worthwhile, was overshadowed by their own value judgments and his interruptions. They jumped immediately back onto the negative bandwagon and showed no signs of returning to their promised counter-examples after giving him almost ten minutes as the center of attention.
That was when I left.
On that one point, Emerald City, you can do better. I'm available and I'm open and honest about my mental health struggles, so if you want some Own Voices next year, I volunteer as tribute.
Other than that last, however, this years literary panels were freakin' fantastic and I can't wait to see what the Writers Block has in store for us in 2019.