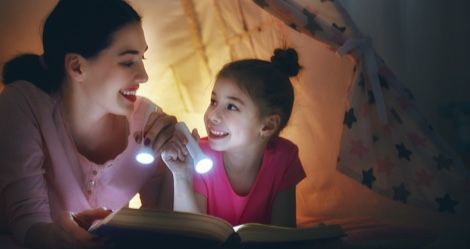 Over 50 Of Your Favorite Fantasy Series For Kids
This giveaway asking for your favorite fantasy series for kids is sponsored by Houghton Mifflin Harcourt Books for Young Readers, bringing you The Gift of Dark Hollow by Kieran Larwood.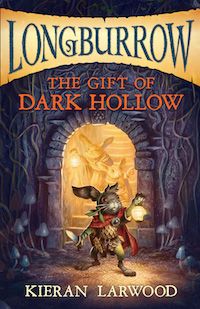 Middle Earth for middle graders! Action, adventure, and magic swirl in the second thrilling adventure in the series perfect for fans of Redwall and Watership Down. The stirring adventure of the young rabbit Podkin One-Ear continues as he battles to save his land from the evil Gorm tribe.
---
If your resident reluctant reader latches onto a fantasy series, it can mean a welcome break from the trial-and-error book recommendations. If your insatiable reader discovers a new fantasy series, they'll be occupied for days, if not weeks. And if you're the person responsible for reading out loud in the classroom or at a bedside, a richly written fantasy novel can make story time something that all concerned parties look forward to with giddy anticipation. A great fantasy series really is a gift. And in that spirit, we recently ran a giveaway where sharing your favorite fantasy series for kids was part of the entry process! Now we're back with the following compilation of suggestions from your fellow Riot readers:
Tamora Pierce's Song of the Lioness Quartet
C. S. Lewis's Chronicles of Narnia
Madeleine L'Engle's Time Quintet
Cornelia Funke's Inkheart Trilogy
John Flanagan's Ranger's Apprentice series
Peter Lerangis's Seven Wonders series
Laurence Yep's Dragon Tetralogy
Anne McCaffrey's Dragonriders of Perf series
Mary Pope Osborne's Magic Tree House series
Tony DiTerlizzi and Holly Black's Spiderwick Chronicles
Soman Chainani's School for Good and Evil series
Raymond Arroyo's Will Wilder series
Diana Wynne Jones's Worlds of Chrestomanci series
J. K. Rowling's Harry Potter series
Rick Riordan's Percy Jackson & the Olympians series
Rachel Hartman's Seraphina series
Matthew Jobin's Nethergrim series
K. L. Armstrong and M. A. Marr's Blackwell Pages series
Jenny Nimmo's Children of the Red King series
Philip Pullman's His Dark Materials series
Jennifer A. Nielsen's Ascendence Trilogy
Christopher Paolini's Inheritance Cycle
Jessica Day George's Dragon Slippers series
Anne Usru's Cronus Chronicles Trilogy
Ursula K. Le Guin's Catwings series
J. R. R. Tolkien's Lord of the Rings series
Brandon Mull's Fablehaven series
Eoin Colfer's Artemis Fowl series
Shannon Messenger's Keeper of the Lost Cities series
Jonathan W. Stokes's Addison Cooke series
Lloyd Alexander's Westmark Trilogy
Brian Jacques's Redwall series
William Nicholson's Wind of Fire Trilogy
M. A. Larson's Pennyroyal Academy series
James A. Owen's Chronicles of the Imaginarium Geographica
Adam Gidwitz's Unicorn Rescue Society series
George MacDonald's Princess Irene and Curdie Duology
L. Frank Baum's Oz series
Garth Nix's Old Kingdom trilogy
Jennifer Bell's Uncommoners series
T. A. Barron's Merlin saga
Monica Furlong's Doran series
Lewis Carroll's Alice in Wonderland and Through the Looking Glass
Jonathan Stroud's Bartimaeus Trilogy
Suzanne Collins's Underland Chronicles
Barry Wolverton's Vanishing Island series
Libba Bray's Gemma Doyle Trilogy
Tove Jansson's Moon series
Philip Reeve's Traction Cities series
Michael Scott's Secrets of the Immortal Nicholas Flamel series
Morgan Rhodes's Falling Kingdoms series