This content contains affiliate links. When you buy through these links, we may earn an affiliate commission.
Everyone remembers their first. Whether it was Will Grayson, Will Grayson or Brokeback Mountain, our first exposure to LGBTQ+ life often comes in the form of books that surprise us, dare us, and sometimes scare us. Our first LGBTQ+ book becomes our avenue of discovery and, if we're lucky, our secret confidante and comfort. Here's what Book Rioters had to say about their first LGBTQ+ books.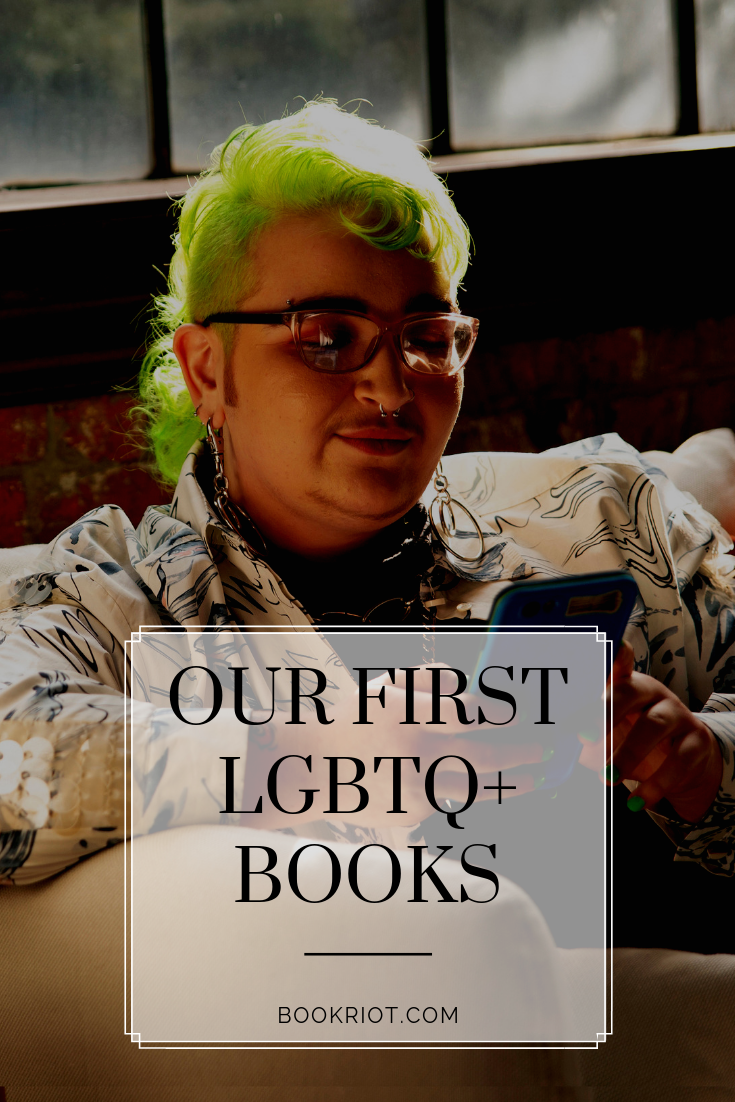 Ash
by Ma
linda Lo
Weirdly, the first LGBTQ book I can remember reading was for a school project. We were supposed to read supplementary nonfiction and fiction books related to the subject, and Ash was the fiction book I picked—possibly because my school library didn't have many options. I remember being really intrigued by the idea of queering a fairytale I was already very familiar with (Cinderella) and the fantasy, fairy elements. Sixteen-year-old me had no idea I'd be able to pinpoint it later as the first of many LGBTQ books I've read! Or that I would become a fan of Malinda Lo's work. But here we are. And writing this now, makes me think it would probably be really fascinating to revisit this book again now.
Aristotle and Dante is considered a quintessential queer YA love story, but when I read it as a teen, I had no idea what was coming. For most of the novel, Ari is still figuring out his sexuality, so he doesn't necessarily see it coming, either. Looking back, this made Aristotle and Dante the perfect introduction to the world of queer lit. It's a coming out narrative woven into a familiar bildungsroman structure, and (spoiler alert?) it ends happily. I love these boys and their complicated relationships to each other, to their families, and to the world.
I remember honestly very little about the actual plot of this book. Yet it caused a visceral reaction in me when I pulled it off my childhood bookshelf this past winter. I don't know if it was the first LGBTQ+ book I read. But it was the first sapphic story I'd read. It was the first time I was exposed to the possibility of being attracted to or interested in other women.
It would still take me until I was 22 to come out. I was caught in internalized biphobia that made me not want to commit to being truly interested in more than one gender until I could somehow "prove it." But back when I was young, I thought about it. And looking back, I knew I was interested in girls too, even if it took me forever to truly embrace it. Mel and Avery were my first exposure to that question.
Reading the description of this book, I realize that I remember almost nothing about it besides the fact that I loved it. I think what I dug about it was that it doesn't present queerness as a tragedy but just an aspect of everyday life. Because of that, it can move beyond the *shocking* nature of being queer and into the struggles that we all face, queer or not queer. These include trying to fit in, having crushes, losing friends and love and winning them back. This book also made me think a lot about my own sexuality and I consequently sought out more queer media, so it holds a special place in my heart.
The first book I remember reading with an explicitly queer character was The Color Purple. When I set out to read it in high school, I really had no idea of the "homosexual content" that has earned the novel a spot on many lists of frequently challenged or banned books. At the time, I was a proud member of my high school's Gay Straight Alliance, but had little understanding of my own sexuality.
The queer representation in The Color Purple is absolutely problematic. Celie experiences horrible abuse at the hands of men throughout the novel, and her queerness is interpreted by some as a result of that abuse. But I say let Celie find love and joy where she can! Celie and Shug's relationship is so meaningful and tender, and it teaches Celie so much about finding power in her identity.
I read this book when I was in middle school. As a child, I was never exposed to any informed viewpoint on the LGBTQ+ community or issues due to a religious upbringing. But I remember going out to the public library once I was considered old enough to go by myself and seeing this book on the shelf. I was intrigued by the pink and the blue on the cover, so I got it and read it.
Before that point, I was pretty clueless about the experience of other LGBTQ+ people regardless of their gender identity or sexual orientation, besides snippets of what I'd seen on the internet. However, Just Add Hormones blew the door wide open to reading more about LGBTQ+ people and experiences through books. The late Matt Kailey provided a real and humorous account of his experiences before and throughout his transition. Without that book, I might not have had the courage to get real with myself about who I was, whom I loved, and how I felt about it.
I was 11 or 12 the first time I read The Last Herald-Mage series by Mercedes Lackey, beginning with Magic's Pawn. It was my very first Valdemar book, and it chronicles the morose, chronically misunderstood, and magical Vanyel Ashkevron. He is his father's nightmare—he hates everything to do with war, has no interest in jousting, he loves clothes and music, and he's gay. And mopey. I seem to remember a lot of moping. I loved him. He epitomized my preteen angst so well.
He eventually becomes a herald with a magic horse and falls in love with another herald—Stefan—who sometimes has a magic horse. And Vanyel becomes a magical bard and saves all of Valdemar with his awesomeness. I honestly have not read this book since my early teens, so I am probably hazy on lots of details. But it introduced me to LGBTQ+ romance. As a girl in a podunk Tennessee town with less than 1,000 people in it, I needed that introduction.
I had a few first LGBTQ+ books. This one is the first one that was actually about LGBTQ+ people and not sexy skinny sci-fi chicks who kiss each other for the titillation of the male gaze, AHEM.
Even though it was dated, self-hating, and politically incorrect, I recognized my kin in Well of Loneliness and felt a little better about my obvious sapphicity. Not much, since the story ends so sadly, but the book was way more sympathetic to Stephen than I was being to myself at the time.
Later, I heard that WoL was partially autobiographical and looked up Hall's life. Surprise! She didn't actually lose the girl. Hall and her girlfriend Una Troubridge stayed together. They had a big gay life with loads of dyke drama and Radclyffe cheating with ballerinas and such. Hall was not even a little sorry about being a lesbian! She just had to stick in the bad ending to satisfy her publishers.