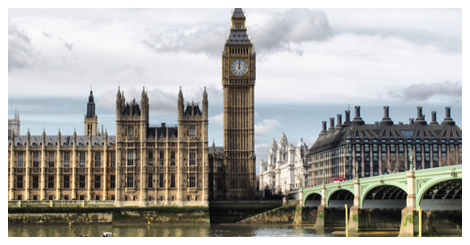 Lists
Our Favourite British Books
This content contains affiliate links. When you buy through these links, we may earn an affiliate commission.
Harry Potter is probably American's favourite fictional Brit, but he's by no means the only character worth exploring. The UK has a rich literary tradition, and great contemporary books in all genres, too. I asked my Book Riot friends to give you some suggestions for British books in case you want to dip your toes in this world.
I'm of the Potter generation, which means I grew up with this series. What's particularly special about this book is that I was 15/16 right around the time it was released, so I connected with Harry's personal struggles on a deeper level. As an American, I also find the insight and similarities between British schooling (OWLs, etc) and American schooling really fascinating!!
Delving into the head of this young man who appears to be on the autism spectrum as he investigates the death of a neighbor's dog, Haddon doesn't feel the need to explain the thought process of 15-year old Christopher. Instead, he lets us live his reality and in doing so, we get a greater insight into this budding mathematician with a head for mysteries and a seeming inability to understand the motivations of those around him. The author's intricate description of London locations and his use of decidedly British terms like "maths" reminds the reader where the heart of this book lies.
Sherlock Holmes, by Arthur Conan Doyle, Stephen Fry (Narrator)
My list of books to choose from for this could fill a library because I love British books (and TV, but that's a separate post). When chick-lit (you know great, often times hilarious, novels written by and about women) became a thing I probably read every British one. So you'd think I would sit here for hours trying to pick my favorite one, right? But I'm gonna go with a classic because the moment when Sherlock meets Watson (in A Study in Scarlet) is forever one of my favorite literary moments. AND it just so happens that a collection of Sherlock Holmes by Arthur Conan Doyle has just been released on audible with Stephen Fry not only narrating the four novels and four short stories but he wrote a little introduction to each one. I'm currently making my way through this massive collection and I'm just all heart-eyes!
I first read Bridget Jones's Diary in middle school, and I felt a kinship with Britain's favorite hot mess, the iconic diarist Bridget Jones. I suppose what we have most in common, apart from boy troubles, is a neverending appetite for self improvement and the belief that we can grow and reinvent ourselves, that each day and each year you can wake up and try again. I've reread all of the books in the series many times over to the point where I have key lines memorized. I could not have survived my twenties without perfectly imperfect Bridget Jones's spirit and self-deprecating personality. Now, if I can only find my own Mark Darcy…
I came across this book while talking about another book that had a similar concept. This book had taken the concept of darker skinned people in positions of power and made it…unacceptable. Noughts and Crosses was mentioned as a benchmark for such concepts. I decided to compare the two…and it was absolutely no question: Malorie Blackman's worldbuilding and characterizations were on point, and I find myself thinking about scenes in the book to this day, five years later.
Here's how I describe Possession in a nutshell to interested parties: a romance about a romance, with epic poetry, and letters, a diary, and fiction, and biography, and fairytale, and there's a mystery pacing the whole thing, plus did I mention a seance, a secret dollhouse, and the characters are all academic types… It is sublime. Truly, this is one of my favorite novels in the entire world. And perhaps the best part is that my memory only holds on to the overarching romance (it's the book's subtitle, after all) and each time I re-read it the finer details and subplots are a complete surprise when they pop up. And I've read it at least ten times. Sublime.
As cliché as it may be, Elizabeth Bennet and Mr. Darcy are just about my favorite literary couple in basically ever. This book was pivotal to my appreciation of "classic" literature and totally changed how I read books I'd once considered out of reach. I skipped Disney World for P&P (well, half a day — I just couldn't stop reading it), and as I followed the "will they or won't they" of everyone's favorite leading man and headstrong young woman, I fell a little deeper and deeper in love. How can you not?
I first read Kamila Shamsie as a college student, though not in any classroom. Shamsie was an alum and writing professor of my college and, while I had never heard of her before college, I quickly understood that she was a bit of a legend on campus. Everyone in the writing department wanted to take her class (which was rarely offered). I was never able to make my schedule work to be able to enroll in it, but I did pick up her novel Kartography in the college bookstore. I read it in one day, putting off all my other school work to do so, and felt myself transported in a way I didn't know was possible before. The novel is a love story, but it is also so much more. It's about family and tradition and obligation and country. I remember reading it for the first time and being dazzled by the craftsmanship and talent that Shamsie displayed in its writing, and now, whenever I re-read it, I am disappointed all over again that I never had the chance to learn from such a writer.
Faith Sunderly is a proper young lady to the Victorian society that judges her, but she burns with questions and yearns to study science – the very thing forbidden to her by nature of her sex. When her father begins to act strangely, it's Faith who keeps the secret of his Lie Tree, a plant that grows and blossoms when fed lies – and when he dies, it's up to Faith to use the tree to avenge his murder. Frances Hardinge crafts a world that enchants and haunts in turn, crafting a world that looks at the nature of truth: the truth in the things that we believe and the things that we know, and what truths are made invisible through our own wishes and through the ideas of society. The Lie Tree forces you to look at your own believes, to crack open your own heart until you can see some of your own truth, and it does it with beautiful writing and a hint of the fantastic. Absolutely fantastic.
So my not so secret goal in life is to be British. I'm not sure how I can do that, but maybe it has to do with saving the Queen from a volcano or something, and as a reward she will make me a British citizen. Hey, it could happen. So naturally I'm drawn to any book by Americans who manage to live in England for long periods of time. Bill Bryson's book made me howl with laughter, which is a good way to forget my jealousy that he got to live in England for so long in the first place. It is the one book I always always always recommend to people who are travelling to England for the first time. It's a book I have read many times over and I'm on probably my third copy since mine keep falling apart. I just love this book. And I still remain hopeful that I can save the Queen from the volcano, or a runaway train, or Professor Moriarty, and become a citizen.
James Herriot worked as a farm veterinarian in rural Yorkshire for decades, starting in the '30s. He wrote many collections of heartwarming – and at times heartbreaking – semi-autobiographical anecdotes drawn from his long and colorful career, but this one, which covers his arrival in Yorkshire as a Glasgow transplant fresh out of school, is my favorite. I was gifted his books as a kid because of my love of animals, but they've become comfort reads not just for the animal stories, but for Herriot's love of the wild, harsh Yorkshire landscape and his bewildered affection for its quirky, hardscrabble, good-hearted inhabitants.
This is not, technically, my favorite British novel. That honor goes to Wuthering Heights by Emily Brontë. But it's my favorite British novel. Bear with me here. When I think about Britain, three things come to mind: the countryside, Downton Abbey and Agatha Christie. They all amount to the same: my perception of Britain (specifically, England. Specifically, England several decades ago. Sorry guys,) as a place of stately manors and country houses, of locked house mysteries and tea rituals. While I know how different current day Britain is from the images I built up in my head as a kid, I love picking up Agatha Christie's mystery novels and retreating into the English countryside in the early twentieth century.
I probably read more novels from Britain than any other country, including my own, which makes choosing a favorite well-nigh impossible. So I went with a stand-out favorite from recent years that delves into a piece of British history I didn't know much about. The book focuses on two couples, Queenie and Bernard, both white and English, and Hortense and Gilbert from Jamaica. Set primarily in 1948, the novel incorporates flashbacks that guide readers through the characters' experiences before, during, and after World War II and how colonialism and racism touch their lives. Levy does a magnificent job channelling each character's voice and letting all of them, flawed as they are, feel whole and worthy of our attention.
Angus was probably one of my first ever British books. I stumbled upon it, like most books in my youth, at my public library. With a title like that and a neon green cover, I couldn't resist. Following the absolutely hilarious exploits of a teenage girl, the series is packed with British slang. Thank god there was glossary to help me understand (and fill my middle-school years with phrases like 'get a cob on.')
The Bagthorpes (series), by Helen Cresswell
I read one of these British books–probably Absolute Zero, which is not the first book in the series–at my local library in upstate New York sometime in the early-mid 90s, and absolutely loved the humor, which is unlike any American novel I've ever read. When we took a family trip to London the following winter, I found the entire series in paperback at Harrods and brought them home. They're silly, even ridiculous, books about a dysfunctional family obsessed with being the best at, well, everything.
Salman Rushdie has written so many excellent books that it's difficult to pick just one. But I really enjoyed reading Joseph Anton: A Memoir because it deals with so many issues that writers face everyday, such as the anxiety-ridden existence of being an author, or being an author and also wishing to start a family, or the seemingly eternal debate on what topics an author has the right to approach in his or her work. And then added on top of that having a foreign power put a price on your head. Joseph Anton was Salman Rushdie's code name during the years he spent in hiding following Ayatollah Khomeini's fatwa against him for writing the novel The Satanic Verses. He chose to call this book a memoir because of the detached feeling to himself that he sometimes experienced during these years. This book also gives an insight into how the British government handles threats against its citizens, and it contains a very funny scene where Salman Rushdie attends the same bash as Margaret Thatcher.
—
What are your favorite British books?