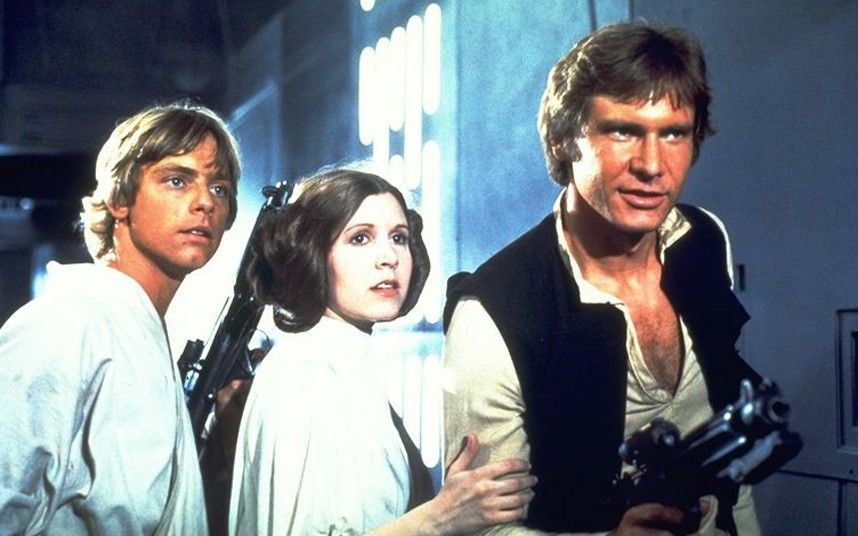 This content contains affiliate links. When you buy through these links, we may earn an affiliate commission.
And by stuff, I mean written stuff. As regards Star Wars, there is no dearth of books, articles, fan fiction, etc., which makes choosing a favorite stuff extremely difficult. We here at Book Riot don't shy away from such geeky challenges, however, especially as regards one of our most beloved franchises, so we booted up our droids, jumped into our X-wings, and rounded up a list of our most beloved Star Wars word things. We hope you enjoy them as much as we did.

Star Wars:
Last Shot
by Daniel Jose Older
This newest of the Star Wars novels is an absolute joy. First, and most importantly, Lando Calrissian has a cape closet which…of course he does. Anyway. Ahem. Most of the characters featured in Last Shot have been around for several decades at this point and they come with a lot of baggage; Older gets to the heart of each, crafting laugh-out-loud dialogue along with high drama scenes, suspenseful moments, and even genuine introspection and emotion (at one point our rogue of all rogues wakes up with a toddler's foot in his face and wonders how it all came to this), all of which give Han, Lando, Leia, Chewie, and the others something brand new without losing sight of what has made them wonderful and memorable, lo, all these years. Older's new characters integrate seamlessly with the elder statesmen of the crew and include a visit with Sijur Rath Velus's (of Aftermath fame) husband and a nonbinary hot-shot pilot who uses the name Han Solo to attract customers, possibly even living up to his reputation; an Ewok hacker; and a Gungan who doesn't appreciate your stereotypes thank you very much. In the name of full disclosure, Last Shot's villain is a bit generic but as that seems, with the exception of Grand Admiral Thrawn, to be the case in the majority of the new canon novels, I'm included to give that single, honestly very minor flaw a pass, especially where Older is concerned and because the rest of the book is just so much damn fun. Oh, and I read my copy with the Lando cover showing.
So where did Luke go between the end of Return of the Jedi and the end of The Force Awakens? Why did he go? Why didn't he return to join the Resistance when they needed him so terribly?
It's a funny story…Well, actually there are a bunch of them. Some of the stories are funny. Some are heroic. Some are delightfully weird. Regardless of tone, however, they are all very welcome, engaging, and whether or not they're "accurate," provide us with insight into a man who, despite being the hero of the Skywalker Saga, is still very much an enigma. Liu does an amazing job of coming at each of the stories in Legends of Luke Skywalker, some of which are short and some of which are essentially novella length, from a different angle and in a different voice and yet, somehow, melding them all into an enlightening portrait of a kind, strange, lost, angry man who was given tremendous power and responsibility and then left alone to solve a massive puzzle without the picture on the top of the box. In terms of reading level, the stories range from middle grade to young adult; my 8 and 5 year olds enjoyed the collection immensely as a read-aloud, and a friend's 8 year old, to whom I gave our extra copy, read it on his own in two days.
—S.W. Sondheimer
I wasn't sure what to expect from "Project Blue Milk" when I first heard about it. After all, a collection of forty short stories (to celebrate the 40th anniversary), taking place concurrently with Star Wars: A New Hope, but told from the point of view of ancillary characters only, is a concept that has great potential, good and bad. Thankfully, we never get the latter in From a Certain Point of View. While there are a couple of uneven tales, the majority, written by blockbuster authors across the spectrum, such as Chuck Wendig, Delilah Dawson, and Gary Whitta, as well as voices new to the universe, give tantalizing insights into the shadows just past the main events. There are satisfying glimpses of what certain named characters were doing with their time while they waited for their onscreen moments (such as Boba Fett) and deeper exploration of barely-glimpsed extras (like that bastard Long Snoot in Mos Eisley). The stories that stick with you the most, however, are the ones that introduce completely novel takes: here's the jawa who dreams of space, the trooper who wants nothing more than to ride off into the sunset on a dewback, the father who has to make an impossible decision to keep his daughter safe. It's this fleshing out of the original Star Wars that makes a From a Certain Point of View special and a must-read for every fan.
—Anthony Karcz
Lost Stars doesn't just have the distinction of being the first Claudia Gray book I read, but also the very first Star Wars book I ever read. As an introduction to the new canon Star Wars universe, it was both welcoming and intriguing. As a YA reader, it was one of the best books I've ever read. Thane Kyrell and Ciena Ree are truly memorable characters, before you even remember they're in space, alive for most of the events of the original film trilogy. There are more than a few Easter eggs for eagle-eyed fans, but Gray never lets them take over the story. Ciena and Thane's paths criss-cross throughout the novel, keeping the reader on edge and wondering if a happy ending is possible for anyone in Star Wars. It's a journey that will make you want to reread almost as soon as you finish the book, and happily, you can pick up the Lost Stars manga version and experience it all over again.
—Angel Cruz
Okay, okay, so yes, this is the second Claudia Gray book on the list. That's because they are all great (I'm so excited about the Lost Stars manga!). And while the others are all ones that I would definitely put on my list of must-reads, this book is about how Leia got to be our first Leia, the Leia from A New Hope, the one we fell in love with when she sarcastically observes, "This is some rescue." How does a 19-year-old girl become the one entrusted with the message "Help me Obi-wan Kenobi. You're my only hope?" How did she get to be so self-assured, so political, so tart and snappy? At 19, most of us were way more like Luke at the beginning of A New Hope, just doing what our guardians ask and imagining cool futures for ourselves. Here, Leia gets a sweet love interest who is her age (because teenagers should not fall in love with 30-year-olds for their first time), and she gets to hang out with girls! We see the beginning of her friendship with (someday Vice Admiral) Amilyn Holdo, who gets characterization as a teenager and confirmation of her LGBT status. If you are always here for more Leia (and who isn't?!), this book will give you lots of Leia and will end with you ready to dive right back into the beginning of the original trilogy.
Though I strongly considered Where's the Wookie?, I'm choosing this article from the Mary Sue as my second favorite pick. It provides some larger meta-analysis of the Star Wars story. You could only read meta-analyses of Star Wars for the rest of your life and still not get through them all, but this one shifted my perspective on Star Wars and I love it for that. Mary Sue writer Teresa Jusino jumps off of a video created by Pop Culture Detective called "The Case Against the Jedi Order," which posits that the Jedi created their own downfall by telling Anakin to push down his feelings and embrace toxic masculinity. Jusino offers her apology to Luke for always calling him whiny, when maybe it was just that he is an emotive man, something we don't see often or value enough. Viewing toxic masculinity as the downfall of the Jedi makes me love the Star Wars stories even more. It makes Kylo Ren's tantrums make more sense, and has me hoping that Episode IX will take this point all the way home.
—Aimee Miles
Star Wars: Princess Leia
by Mark Waid, Terry Dodson, Rachel Dodson, Jordie Bellaire, Joe Caramagna
Yes, I'm a sucker for anything Leia related (Leia, Princess of Alderaan I'm coming for you next), but I actually think that makes me more qualified to say that this…this was a good comic. We all know that Leia's feelings over losing her home planet are brushed aside and never dealt with in the movies, but in this comic we finally get to see a glimpse into the grief she's feeling (and, yeah, repressing—who wouldn't) and how she uses that to rally around the mission of saving the remaining refugees of Alderaan. And in very typical Leia style, she breaks a bunch of rules and pisses a bunch of people off to do it. Basically what I'm saying is: if you're a Leia fan, you need to read this comic.
—Rachel Brittain
Okay, so this is the only expanded universe (are we still calling it that?) book I've read, but I truly loved it. It was the first book I read in 2018, my heart still pounding with love for Rose and The Last Jedi. The book takes place not too long before the movie and is a little story about the Tico sisters going on a little mission during a big war. Wein manages to make pages of technical beep-boop jargon flow smoothly, and Rose's love and devotion to Paige will tear you to bits next time you watch The Last Jedi.
—Annika Barranti Klein