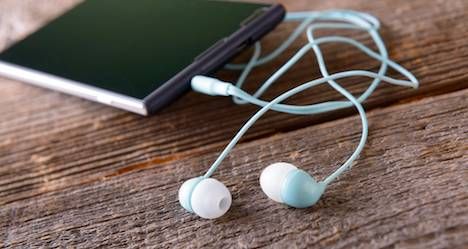 Lists
Our Favorite Reading Music for Your Ears
There's something wonderful about having the perfect soundtrack to pair with the book you're reading. It makes the whole experience feel more complete. We see this in movies all the time—the right soundtrack sets up the tone, the atmosphere, and the overall feel of the scene and pulls you deeper into the narrative. I think reading soundtracks can work much the same way.
Since we don't have our very own composer to choose the "right" music for whatever book we're reading, it falls to us to discover the music that just feels right while we're reading. But what if you don't know? What if you're struck with decision fatigue, and there are just way too many choices and you're tired of all your Spotify and Pandora playlists?
We can help with that.
Here you'll find a list of what Rioters listen to while they read and, like any good wine and cheese pairings, what book genre pairs best with each song, artist, or soundtrack.
Beasts of the Southern Wild soundtrack, by Benh Zeitlin and Dan Romer
Pairs well with: Fantasy and adventure from middle grade to YA to adult (or anything. This soundtrack transcends genres). This soundtrack (and movie) is magical and heartbreaking and total perfection. When I listen to it while reading, it heightens my emotional engagement with the text.
Ain't Them Bodies Saints soundtrack, by Daniel Hart
Pairs well with: Romance. I legit have not seen this film yet, but this delicate and lovely soundtrack blew me away.
Pairs well with: Fantasy YA or any sort of epic, because her sweet and sinister cello tracks are ethereal masterpieces.
Pairs well with: Anything. My favorite soundtrack hands down.
Aha Shake Heartbreak album, Kings of Leon
Pairs well with: Fiction.
Deftones
Pairs well with: They're my go-to when it comes to military history.
How to Train Your Dragon soundtrack, by John Powell
Pairs well with: The feeling of flying, freedom, and friendship, and without it the movie series would probably not be nearly as successful. Doesn't distract me while reading but makes me feel wonderful and nostalgic; perfect for classic heroic and battle scenes.
Literally anything by Explosions in the Sky
Pairs well with: Everything. I listen to Explosions in the Sky almost every time I sit down to read and/or write. Their music is so cinematic, so gorgeous, so evocative, that it amplifies all the feelings I'm reading/writing about. I have an Explosions in the Sky album for almost every genre/mood (their Manglehorn soundtrack is great for "quirky" fiction), but it's The Earth is Not a Cold Dead Place that immerses me in fiction.
Thinking Out Loud by Ed Sheeran
Pairs well with: Romance, when the couple is starting to realise they're in love with each other, or for long lasting relationships, when the couple is rediscovering what got them together in the first place.
I'm on Fire by Bruce Springsteen
Pairs well with: Pining scenes, or for books with forbidden relationships.
Medieval chant, especially music by Hildegard of Bingen
Pairs well with: Anything requiring a close read. This is for when I have to pay attention to what I'm reading. It's meditative music to me, and since I don't know all the lyrics, I'm not tempted to sing along.
Anything by Benjamin Francis Leftwich
Pairs well with: Everything. Mellow and unobtrusive, so I can still read but I can also sing along with my favorite songs.
Pairs well with: Fantasy or space opera in particular. Violin is my favorite instrument and she plays hers like a goddess.
Penny Dreadful soundtrack (seasons 1 & 2) by Abel Korzeniowski
Pairs well with: Even if you've never watched the show, this soundtrack is particularly perfect for reading anything moody, gothic, or scary. I'm fairly certain that Abel Korzeniowski is a genuine genius. The music for this show is some of the most gorgeously composed music I've ever heard. It's got really ominous, dark moments and lush, romantic melodies. Oh, and it was extra fun to play it while reading the Penny Dreadful graphic novels. I also tend to listen to it a lot when I'm reading for class, because it keeps my brain engaged. Now that Fall is coming around, this soundtrack is going to be on so very much at my place.
Sade
Pairs well with: Romance. Sade is my go-to artist when I'm reading romance novels. The lush instruments and her beautiful and haunting voice provides the perfect background noise as I read about a couple's journey to happily ever after. Whether it's in the beginning stages of the relationship, the tense push/pull game characters tend to play, or the happy ending; Sade has a song for everything.
Amanda Palmer
Pairs well with: Anything. She is a gifted artist and one who can provide delightful narratives. Each album of hers provides new narratives to tell. I especially like listening to Who Killed Amanda Palmer? The cover of "Formidable Marinade" makes for delectable background music as well.
Hans Zimmerman, John Williams, and Danny Elfman scores
Pairs well with: I read a lot of sci-fi/fantasy so I find having epic, whimsical, or epically whimsical tunes actually adds to my reading experience. I have a playlist on Pandora which is primarily movie scores from these three composers. Bonus: it also makes mundane chores such as washing dishes or folding laundry feel like you're doing something adventurous.