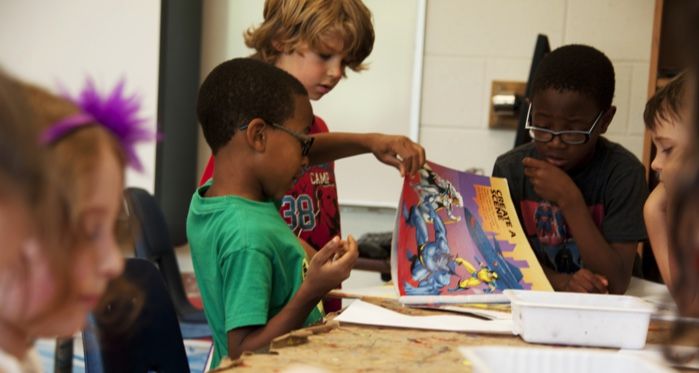 Lists
Our Favorite Picture Books
This content contains affiliate links. When you buy through these links, we may earn an affiliate commission.
One of the lovely things about working in a bookshop is getting to be around kids' books. Since I don't have any kids of my own, I was out of the loop on what toddlers and preschoolers get to read these days. But now I have a dream job putting books in people's hands as well as doing a lot of the social media for East City Bookshop. I get to write the tweets for our weekly new releases, and our book buyer alerts us to any new and notable books that I should especially pay attention to when I do that. One of our weekly tasks is also to do what we call shelf-reading, which means checking the shelves are alphabetised correctly. We do this so that customers can find books, but it's also a great way for us to keep up to date as to what's there, since not every bookseller can read every book. And of course, we get to handle the books: from shelving them when they come in to calling customers when their order has arrived.
Last year, before I picked up the phone to let a customer know their book was ready for them, I was intrigued by the title – Strictly No Elephants by Lisa Mantchev and Taeeun Yoo – so I read through it first. I should have had tissues ready! It's a sweet story about friendship and acceptance and I teared up a little. I think that's what I love about picture books: how positive and life-affirming they are. That's true whether they're an invitation to bravery like Gaia Cornwall's Jabari Jumps, in which a dad helps his kid find the courage to jump off the diving board, or, in the case of BJ Novak's wonderful The Book With No Pictures, just a joyful exploration of language. Picture books are a great way to help develop a child's imagination and sense of wonder, as well as helping them to learn about and make sense of the world around them, including the vast diversity of people that make that world.
I asked my fellow Book Rioters to share their own favorite picture books. Here's what they said.
---
Find even more outstanding picture books with these must-read 2021 picture books, as well as this guide to the best children's books by age.