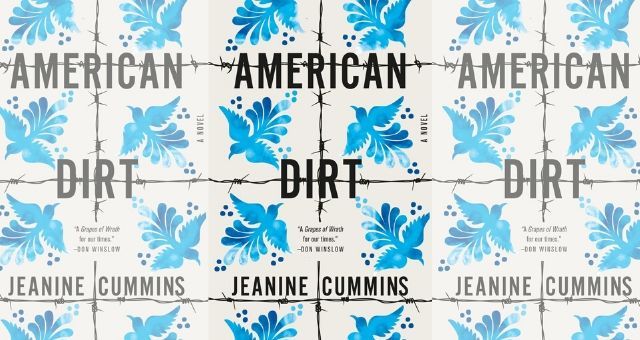 Fiction
Oprah Winfrey's Controversial Book Club Pick, AMERICAN DIRT, Casts a Long Shadow
This content contains affiliate links. When you buy through these links, we may earn an affiliate commission.
On Tuesday, January 21, Oprah announced that her next book club pick would be none other than the highly anticipated and highly controversial American Dirt by Jeanine Cummins. Oprah tweeted, "Like many of us, I've read newspaper articles and watched television news stories and seen movies about the plight of families looking for a better life, but this story changed the way I see what it means to be a migrant in a whole new way." It did not take long for the media and people of Twitter and Instagram to respond to Oprah's latest pick. If you are not abreast of the controversy and developments surrounding this book, we will catch you up to speed.
American Dirt dropped on January 21 and was published by Flatiron Books, an imprint of Macmillan Publishers. The book's author, Jeanine Cummins, who identified as white as recently as four years ago, decided to write a narco novel about a culture, history, and people she simply cannot identify with. Despite her shortcomings, she went ahead and wrote the book, as she states in her afterword, to "humanize the faceless brown mass."
But served on a cold dish of irony, Cummins stated in an interview that she "wished someone slightly browner than me would write it. But then I thought, if you're a person who has the capacity to be a bridge, why not be a bridge? So I began." But many among the Latinx community, writers and authors among them, are not buying it. What has really riled up the Latinx community are the facts that Cummins was paid a seven-figure sum for the book, a sum that was never offered to an Own Voices author, and that the book is being advertised as an "authentic Mexican migrant story." This poses the question: how authentic can this book be if it was written by someone outside of this particular marginalized group? It is also being sold as a book that "humanizes the migrant tale." Respected and award-winning author Natalia Sylvester retorted on Twitter:
Marginalized people do not need to be "humanized" in literature, they are already human. And if you describe a work that you think "humanizes" them as also being a "thriller," ask yourself why you are thrilled & entertained. Ask yourself who is really lacking in humanity.

— Natalia Sylvester: pre-order RUNNING (@NataliaSylv) January 16, 2020
One of the most epic take-downs of Cummins and her book, and the catalyst for the ongoing debate, came from Myriam Gurba. Her American Dirt review was published in Tropics of Meta, an academic blog that publishes essays on a broad range of topics. Gurba unapologetically wrote that "Jeanine Cummins wrote a book that sucks. Big time. Her book belongs to the great American tradition of doing the following: 1. Appropriating genius works by people of color, 2. Slapping a coat of mayonesa (mayonnaise) on them to make palatable to taste buds estados-unidenses, and 3. Repackaging them for mass racially 'colorblind' consumption."
Adding salt to a fresh wound, Flatiron Books hosted an American Dirt release party where guests dined around a table littered with barbed wire center pieces. One Twitter user was so hyped about the centerpieces and flowers at the event that she stated it would be impossible to ever buy flowers for Cummins again. Cummins replied with "Aww…just throw me a tulip and call it a day." The jokes kind of write themselves and are unfolding for all to see.
I asked Natalia Sylvester what she thought about the event and centerpieces and here is what she said: "This is a complete commodification and exploitation of immigrant pain and using barbed wire as decoration at a party is just one blatant, disgusting example." I also asked Natalia if there was any justification for what Cummins and her publisher did. She stated that "there was no justification. I'm infuriated by the lack of imagination it's taken at every level of writing, publishing, marketing and praising this book that everyone supporting it is acting like they are suddenly discovering the humanity of immigrants. We don't need their voyeuristic gazes that only think we're human when we're suffering. We don't need the violent erasure that calls entire people voiceless unless they're crying out in pain."
David Bowles, another respected and award-winning author, shared Sylvester's sentiment. In a blog piece that he shared with his many Twitter followers, Bowles called Cummins's books "Non-Mexican Crap." He further elaborated that her book is "harmful, appropriating, inaccurate trauma-porn melodrama…Cummins has never lived even within five hundred miles of Mexico or the border. In fact, until very recently, she didn't lay claim to the Latinx heritage that comes to her through a Puerto Rican grandmother. Latina or no, Cummins certainly isn't Mexican or Chicana. That's a problem. If you don't know this, Mexican writers are horribly underpaid."
If you didn't already research this yourself, there was an actual bidding war for the rights to Cummins's book. "After a nine-house auction spanning three days, Flatiron Books' Amy Einhorn won American Dirt. Einhorn paid seven figures for the book, which Doug Stewart at Sterling Lord Literistic sold." Why was that seven-figure sum not offered to a Latinx author whose heritage and expertise aligned with Mexican culture? This speaks to the problem of publishers not doing their part to publish authentic works by authors of color, particularly those put together by Latinx authors.
This book, in many ways, is the epitome of whitewashing by an author writing to appeal to the white mass. The book is littered with so many cliches and stereotypes that it is hard for any Mexican or Mexican-American to buy into the hype. It's like Americo Paredes wrote in his seminal novel George Washington Gomez: A Mexicotexan Novel: "Their country! There you are. Their filthy lies are all over you already. I was born here. My father was born here and so was my grandfather and his father before him. And then they come, they come and take it, steal it and call it theirs."
When I spoke to Daniel Pena, author of Bang: A Novel, about the situation, he politely commented that "seven figures is way, way too much money to pay for my novel, Bang. I saw it selling for fourteen bucks yesterday." But in all honestly, he admitted that he was hurt by how it all transpired.
This book and its publication have further marginalized the voices of those who can legitimately, and rightfully tell the stories of Mexican migrants. While Cummins makes light of the entire situation, authors and writers who have fought and struggled for so long to make names for themselves have to take a back seat and watch as their history and culture are further plagiarized. No matter what side of the argument you are on, I believe it is safe to acknowledge that at the very least, the criticism that Cummins has received is justified. She exploited the Latinx community for a paycheck.
What has not been talked about, but should be acknowledged, is the fact that Flatiron Books, an imprint of Macmillan Publishers, is part of the machine that has embargoed ebooks for public libraries across the country. The idea is that patrons of public libraries will grow increasingly frustrated with long holds lists and just purchase the book outright instead of waiting in line. In the name of profit, all is fair in love and war, right?