This content contains affiliate links. When you buy through these links, we may earn an affiliate commission.
Kenneth Branagh takes on Hercule Poirot, the role of a lifetime, in the new film version of Agatha Christie's classic 1934 mystery Murder on the Orient Express. When I first heard that Branagh was taking on the role, I was confused. I'll admit that seeing pictures of him as Poirot didn't really help.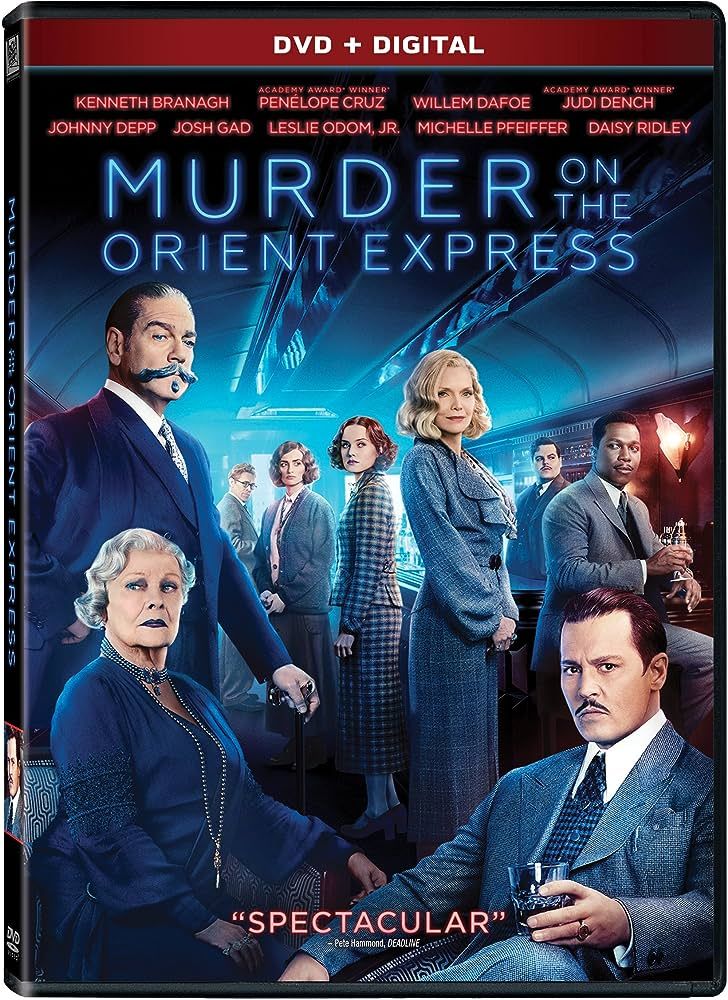 Much is made in both the books and their many previous adaptations of Poirot's characteristics: egg-shaped head, large moustaches, Belgian accent, general air of superiority. In most movie and TV versions of Hercule Poirot, all of those things are on display. Some are more accurate than others, but each adaptation of a Poirot book has something to offer.
And as a long-time Christie fan, I will of course be there to see how Branagh does. In honour of the new movie*, and of the fact that people will apparently adapt Murder on the Orient Express again and again and again, here's my guide to movie and TV versions of Hercule Poirot.
*Note that Johnny Depp, who has been accused of domestic abuse, is also in this movie. Aside from him, it's a great cast.
David Suchet in Agatha Christie's Poirot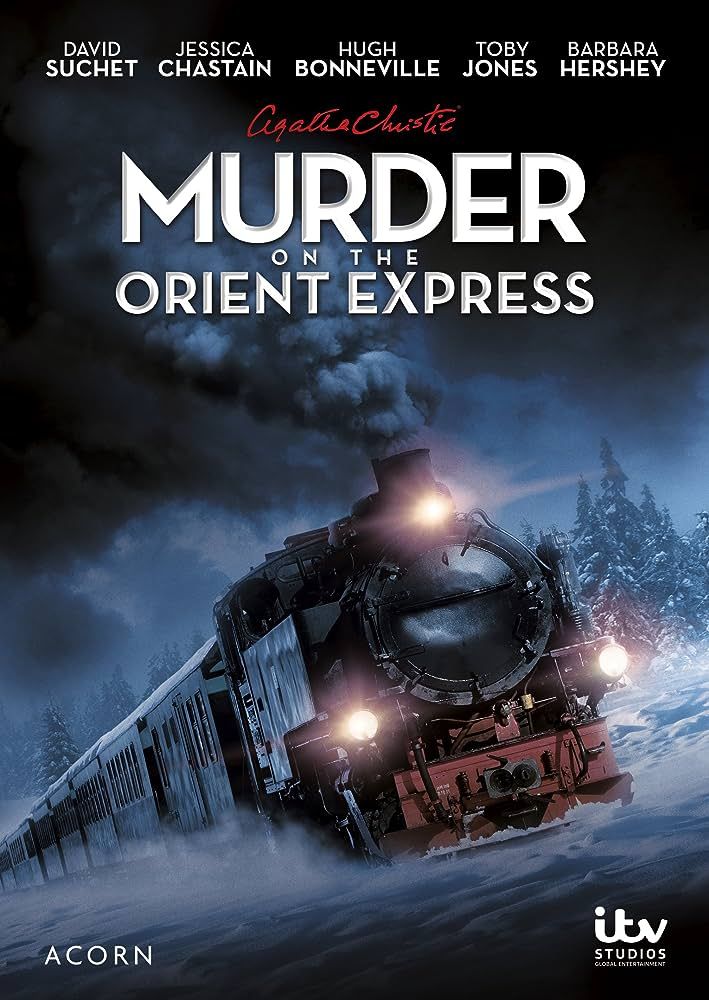 Suchet played Poirot in 70 episodes of Agatha Christie's Poirot, and he may be retired from the role now, but he'll always be the definitive Poirot to me. Suchet starred in his own 2010 version of Murder on the Orient Express. Though that adaptation isn't perfect—the tone is more religious than expected and it messes a little with the novel's surprise ending—many of the details are exactly right. No one but Suchet can capture Poirot's arrogance, vulnerability, and self-awareness, often all in the same scene. That version also has quite the cast, including Dame Eileen Atkins, Jessica Chastain, and Toby Jones.
My picks for Suchet's best episodes of Agatha Christie's Poirot (links go to their corresponding books): After the Funeral (young Michael Fassbender!), Death on the Nile (young Emily Blunt!), Sad Cypress (which showcases Poirot's soft spot for lonely women and romance to great effect), and Five Little Pigs (creatively structured to show off Poirot's greatest asset—his little grey cells).
Alfred Molina in Murder on the Orient Express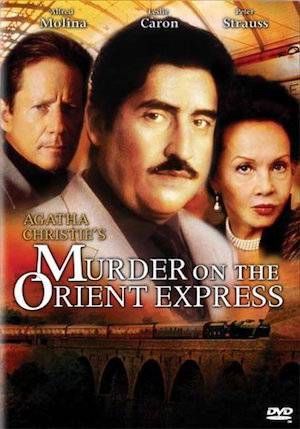 Before Branagh and Suchet, Molina took a turn in a 2001 version of Murder on the Orient Express. Though Molina's head is not particularly egg-shaped, his moustaches are on point. Unfortunately, that's really all that's on point in this version. With a modernized story and a pared-down cast of characters, this movie doesn't feel much like Christie's original. Molina isn't a bad Poirot, and he's a charming actor, but this movie doesn't let him be as fussy and quirky as the Poirot we all know and love.
Peter Ustinov in Death on the Nile and others
Ustinov first played Poirot in the 1978 movie Death on the Nile and then revisited the role five more times in the 80s. Death on the Nile is a classic Christie with one of her most enjoyable "big reveals," and Ustinov certainly looks the part. This movie is worth watching just for the scenery and fabulous supporting cast, which includes Mia Farrow, Maggie Smith, Angela Lansbury, and Bette Davis (!).
Albert Finney in Murder on the Orient Express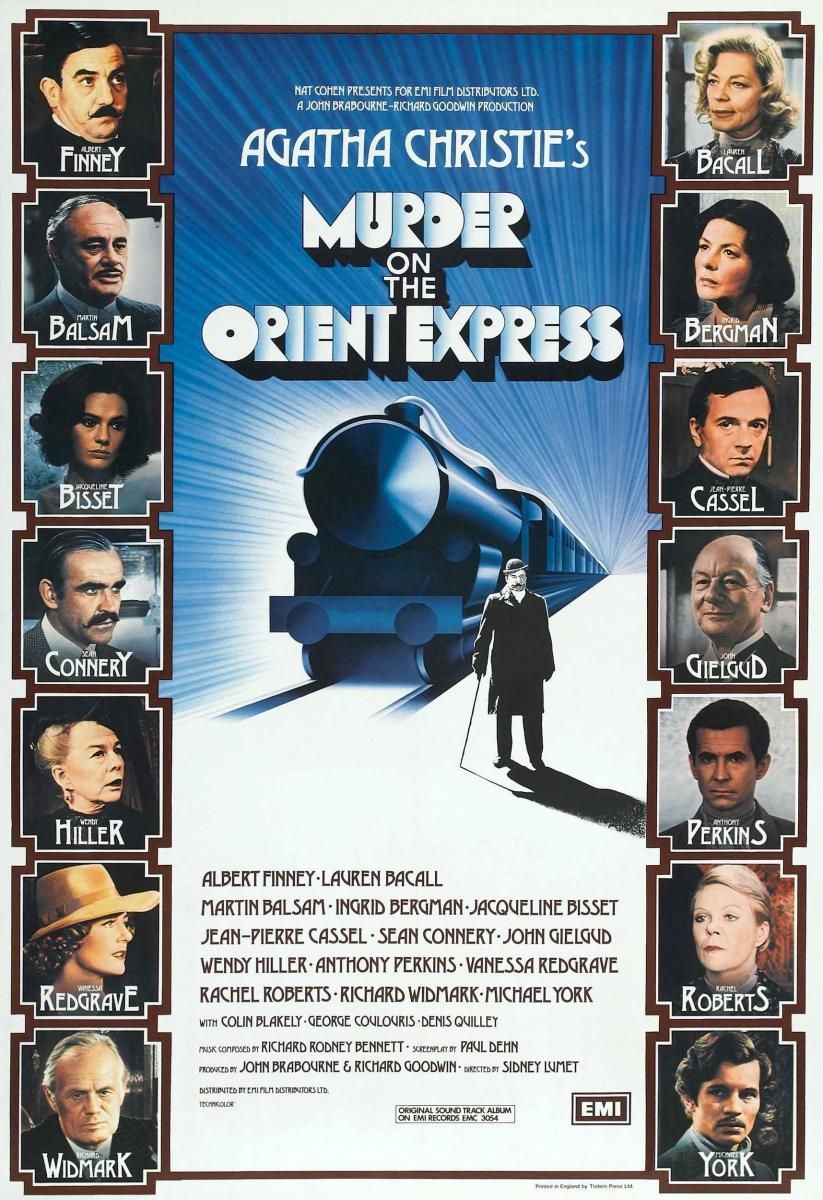 Finney's turn as Poirot in the 1974 version of Murder on the Orient Express is considered by many to be definitive. The movie was a huge success, thanks in large part to a cast that contained Lauren Bacall, Ingrid Bergman, Sean Connery, Vanessa Redgrave, and many other luminaries. Directed by Sidney Lumet, the movie is notable for its attention to period detail as well as how skilfully it covers the novel's complex plot without simplifying too much.
Tony Randall in The Alphabet Murders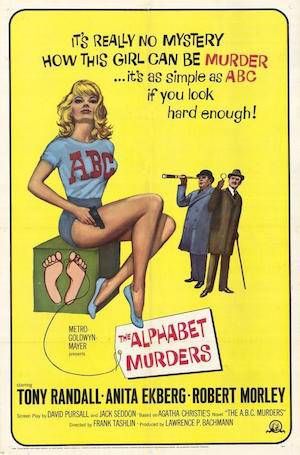 This 1965 take on Poirot adds a dash of slapstick to the murders with mixed results. This film definitely has a light, swinging '60s vibe that (in my opinion) detracts from the fact that it's a murder mystery. Randall's Poirot is a bit of a buffoon, and Christie herself objected to this script. Production was delayed as a result. The poster shows just how "of its time" this adaptation feels. While Randall is not a bad-looking Poirot (thin moustaches and bald head, check and check), the way he behaves doesn't feel true to the character. It's a shame, because The A.B.C. Murders is one of Christie's most ingenious setups (and shows that she was willing to play with form and point of view).
Bonus Poirots
There is a Japanese animated series, Agatha Christie's Great Detectives Poirot and Marple, starring the voice of Kôtarô Satomi as Poirot. It ran for one season and introduced the character of Mabel, Miss Marple's great-niece, who became Poirot's assistant. Though Christie's two famous sleuths never met in her universe, it's tempting to wonder whether they would have liked each other. (My guess: Miss Marple would find Poirot too sentimental.)
And last but not least, we have Hugh Laurie's turn as a moustache-clad detective in Spice World. This absolutely counts as a version of Poirot. He's credited with that name on IMDb; do not @ me. Laurie pops up as a detective in Emma and Mel B's fantasy sequence about how Emma's cuteness gets her out of trouble. How accurate is this? Well, Christie's Poirot does have a weakness for beautiful women. But his tastes run more toward dangerous jewel thieves like Countess Vera Rossakoff, who appears in The Big Four and The Labors of Hercules.
Branagh certainly has a lot to live up to, but if his version of Murder on the Orient Express ushers in a new era of making star-studded, big-budget versions of Christie's books, I am all in. For more on where to start reading Agatha Christie, check out this Book Riot post.