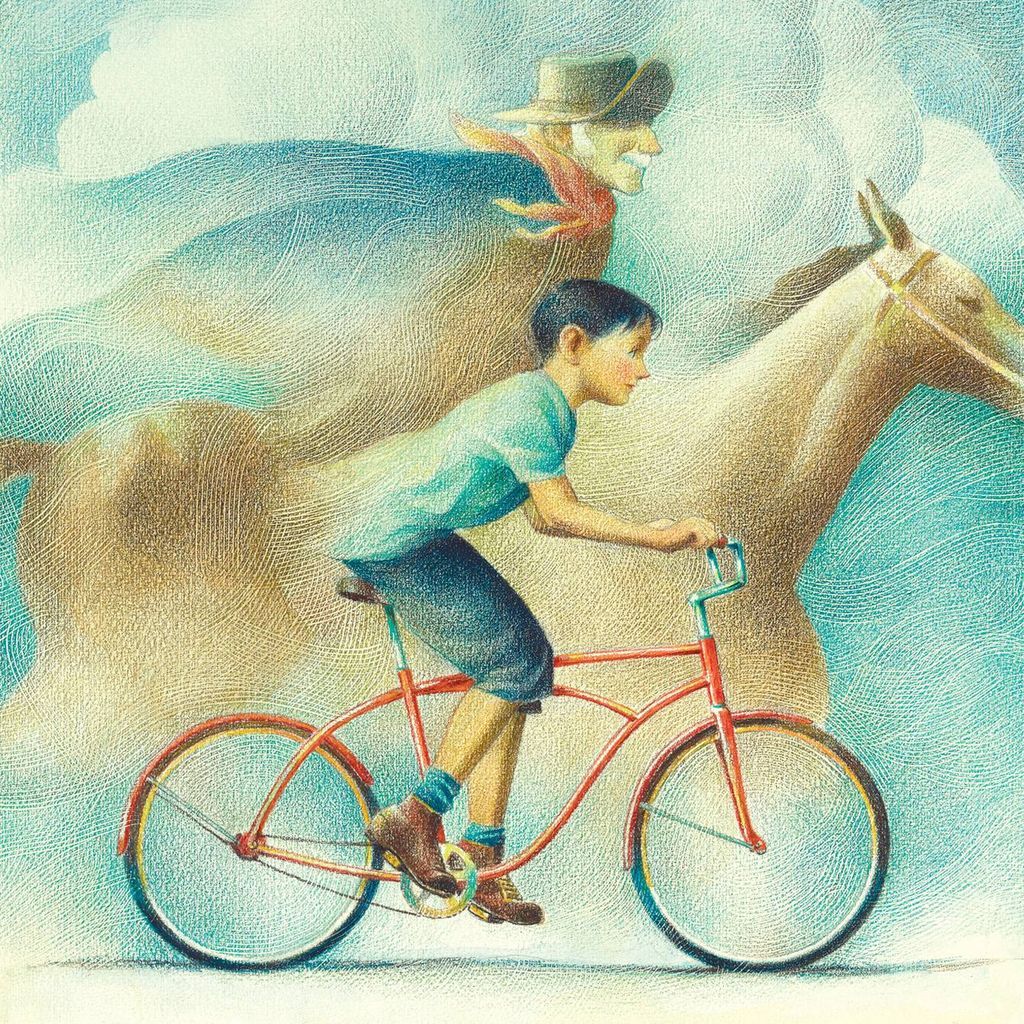 One More Look: Favorite Picture Book Art of 2014
Amidst the flurry of end-of-year lists, I started getting to get nostalgic for all the great books that we'd be leaving behind in 2014 — then I remembered that we get to take them with us into 2015. PHEW.
That being said, before we turn our full attention to 2015 (which is already shaping up to be an incredible year for picture books), I thought it'd be fun to take at least one more look at the past year. So, without further ado, here (in alphabetical order by illustrator) is some of my favorite picture book art from the year that was.
---
Illustrator: Alborozo; The Acrobat (Child's Play)
---


Illustrator: Princesse Cam Cam; Fox's Garden (Enchanted Lion)
---
Illustrator: Lauren Castillo; Nana in the City (Houghton Mifflin Harcourt)
---
Illustrator: Jason Chin; Gravity (Macmillan)
---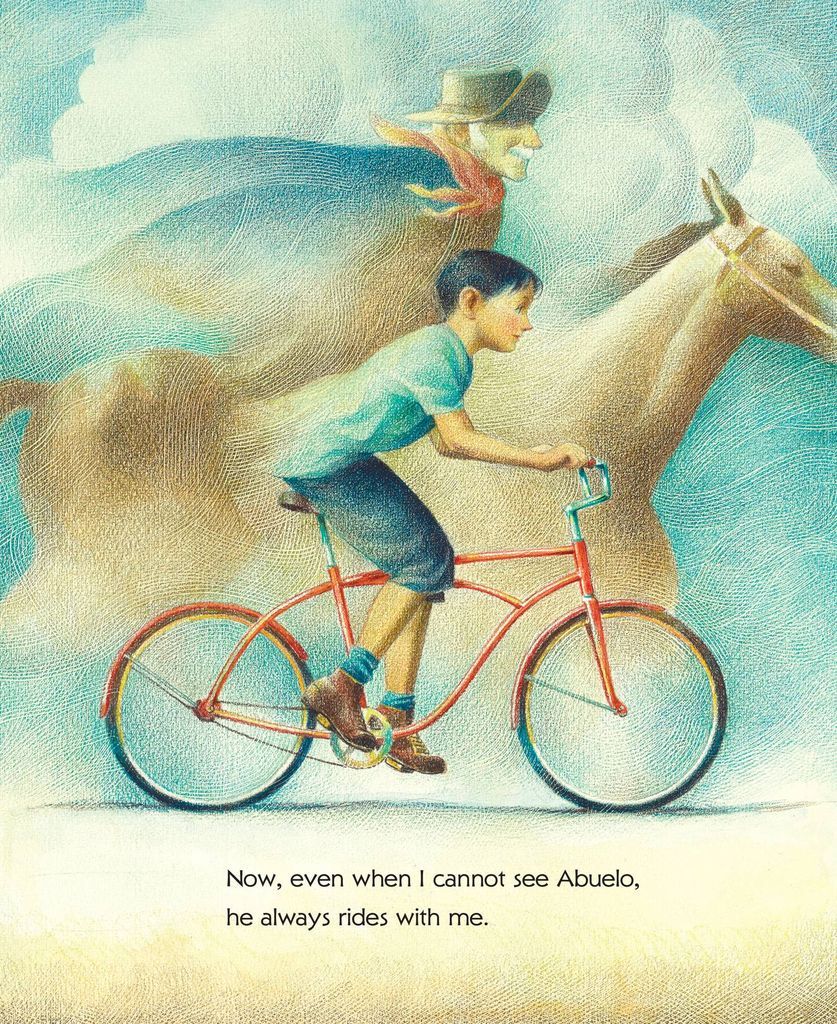 Illustrator: Raúl Colón; Abuelo by Arthur Dorros (HarperCollins)
---
Illustrator: Mike Curato; Little Elliot, Big City (Macmillan)
---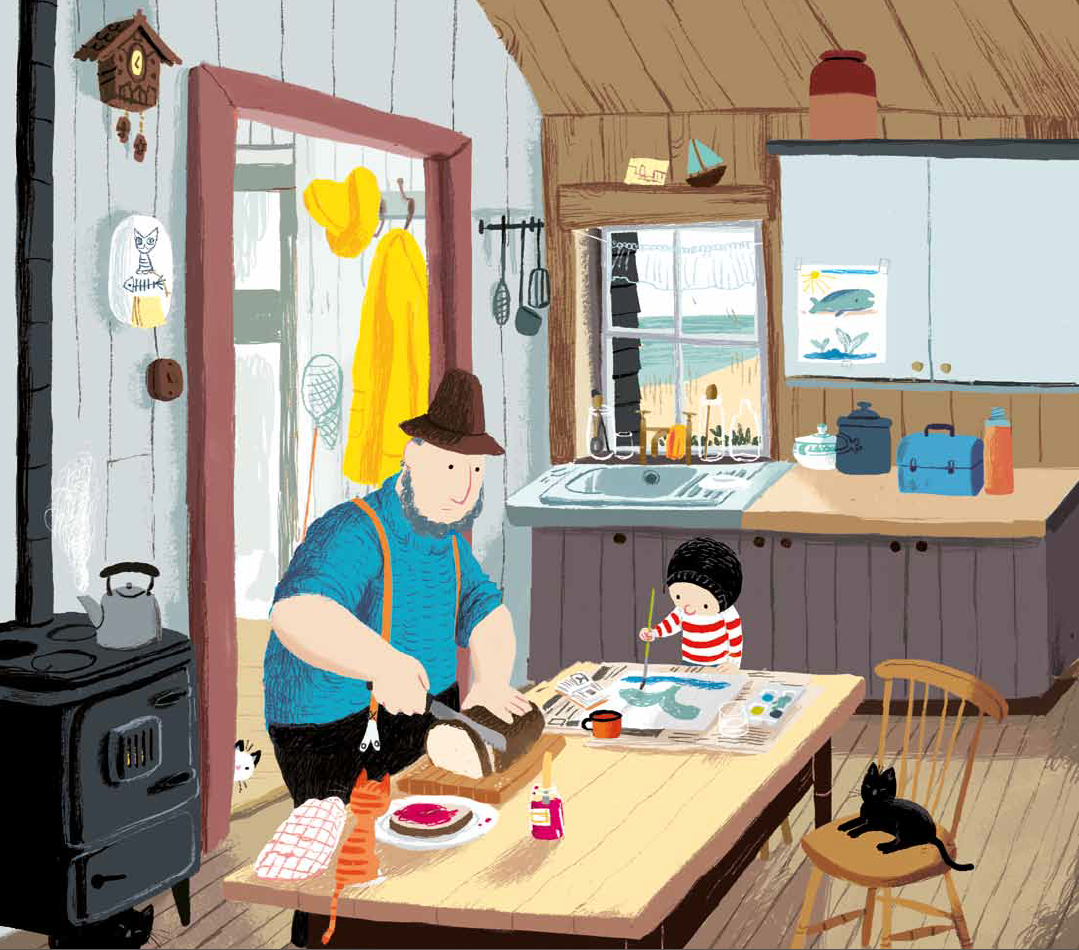 Illustrator: Benji Davies; The Storm Whale (Macmillan)
---
Illustrator: Culpeo S. Fox; The Fox and the Crow by Manasi Subramanian (Karadi Tales)
---
Illustrator: Marla Frazee; The Farmer and the Clown (Simon & Schuster)
---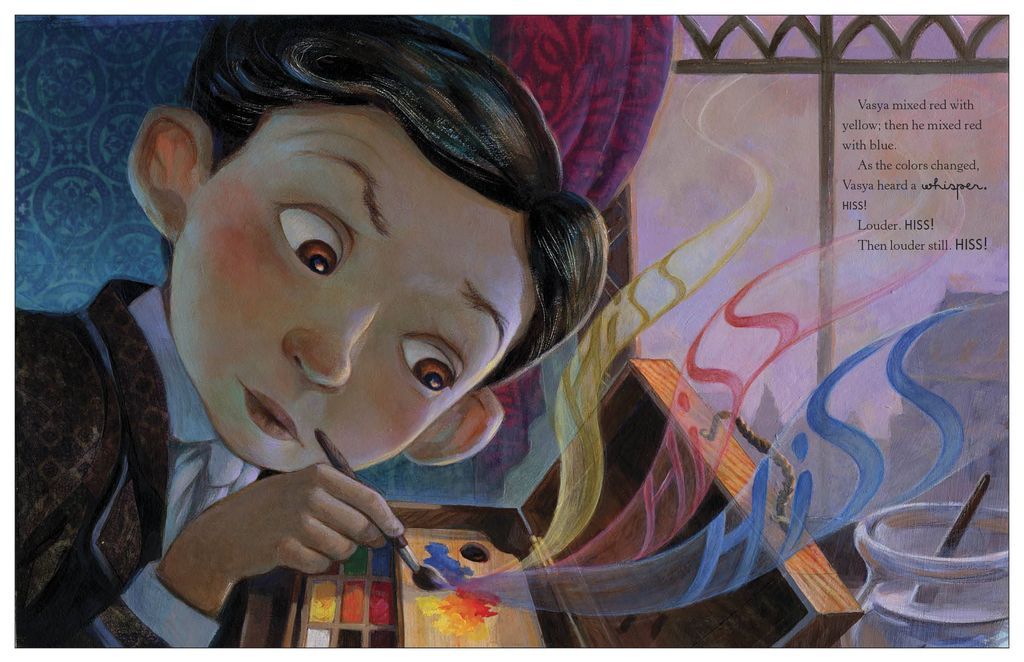 Illustrator: Mary GrandPré; The Noisy Paintbox: The Colors and Sounds of Kandinsky's Abstract Art by Barb Rosenstock (Random House)
---
Illustrator: Kellen Hatanaka; Work: An Occupational ABC (Groundwood)
---
Illustrator: Chris Haughton; Shh! We Have a Plan (Copyright © 2014 by Chris Haughton. Reproduced by permission of the publisher, Candlewick Press, Somerville, MA on behalf of Walker Books London)
---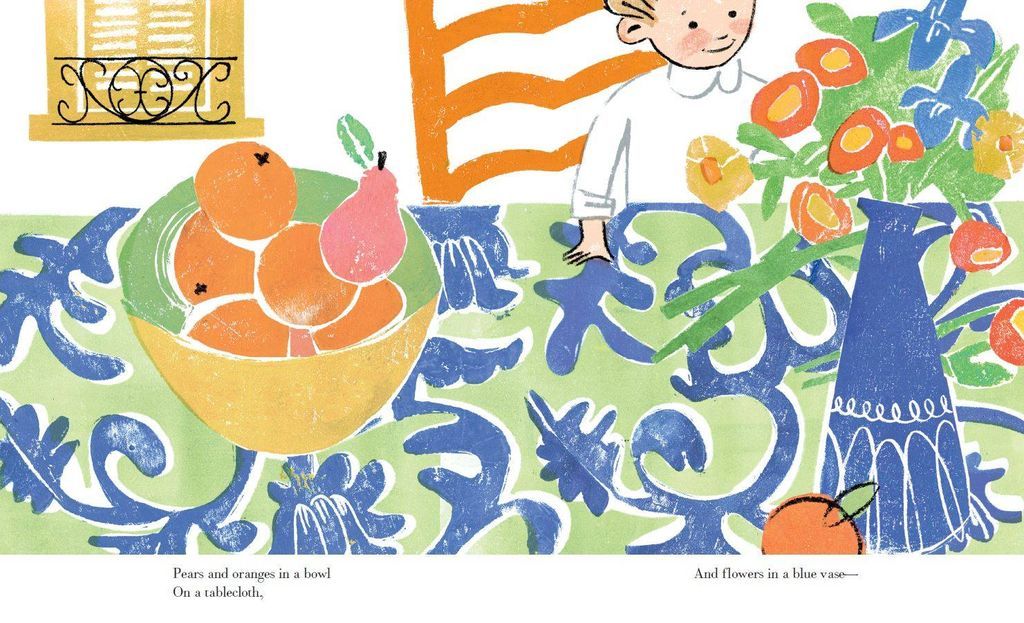 Illustrator: Hadley Hooper; The Iridescence of Birds: A Book About Henri Matisse by Patricia MacLachlan (Macmillan)
---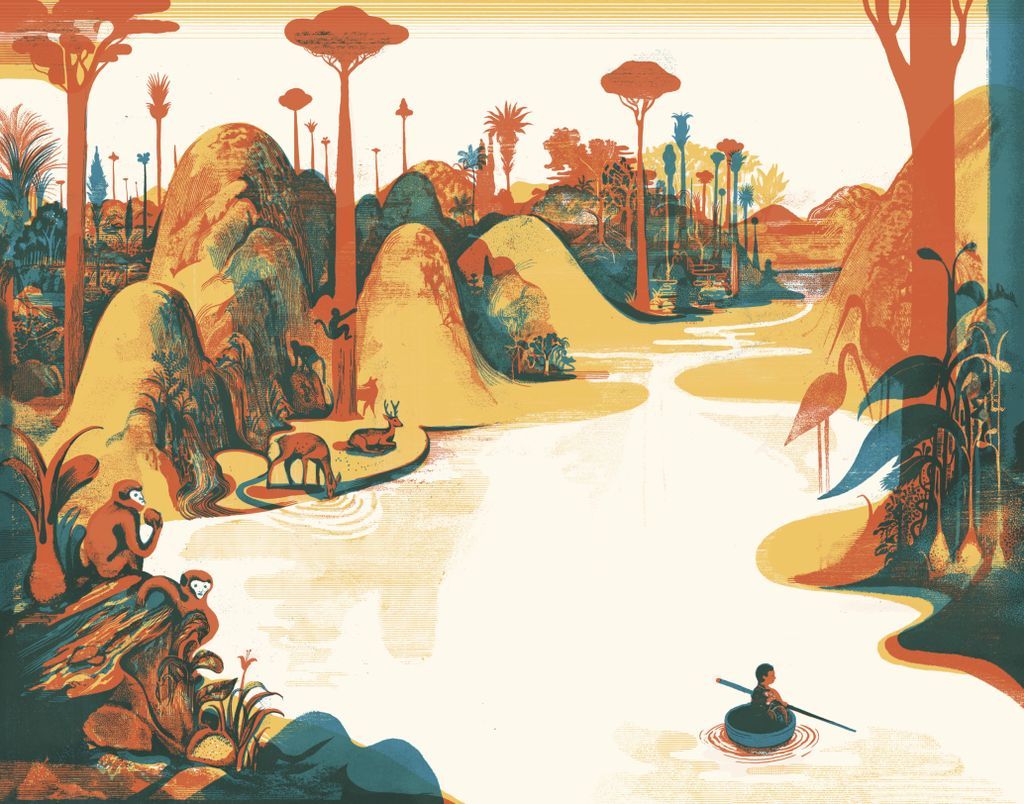 Illustrator: Icinori (Mayumi Otero and Raphaël Urwiller); Issun Boshi: The One-Inch Boy (copyright Gestalten 2014)
---
Illustrator: Gary Kelley; Harlem Hellfighters by J. Patrick Lewis (Creative Editions)
---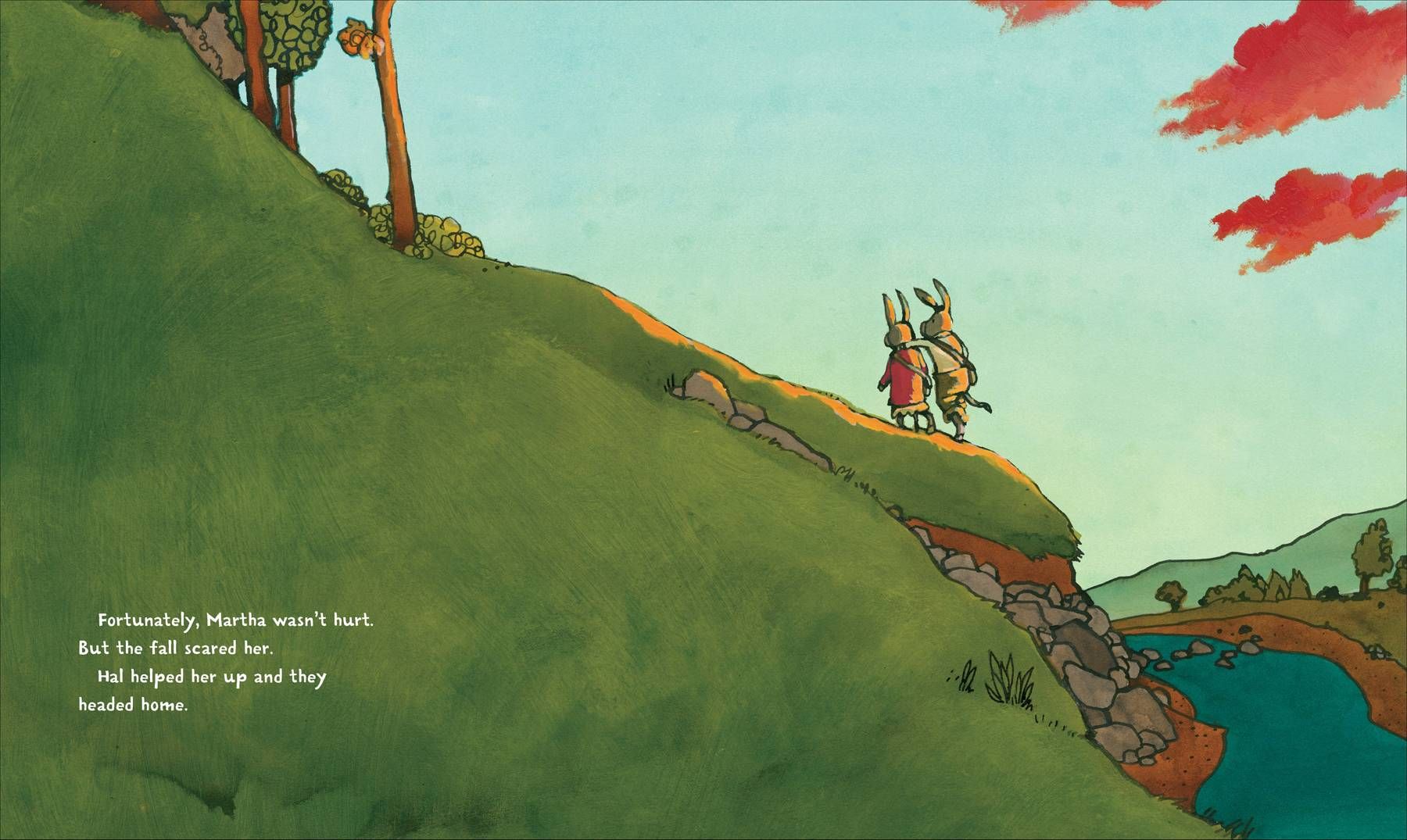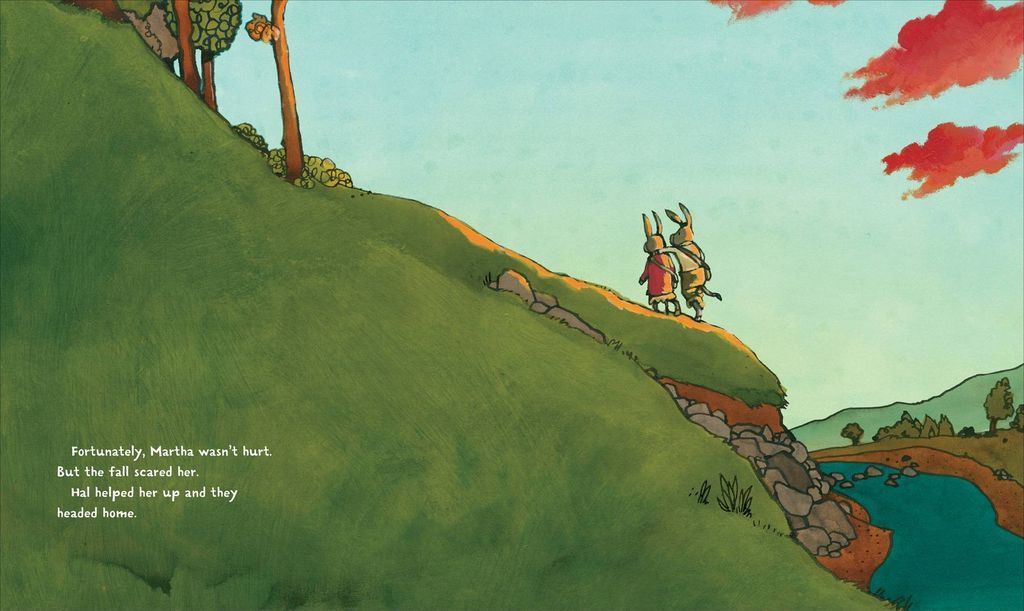 Illustrator: Max Kornell; Me First (Penguin)
---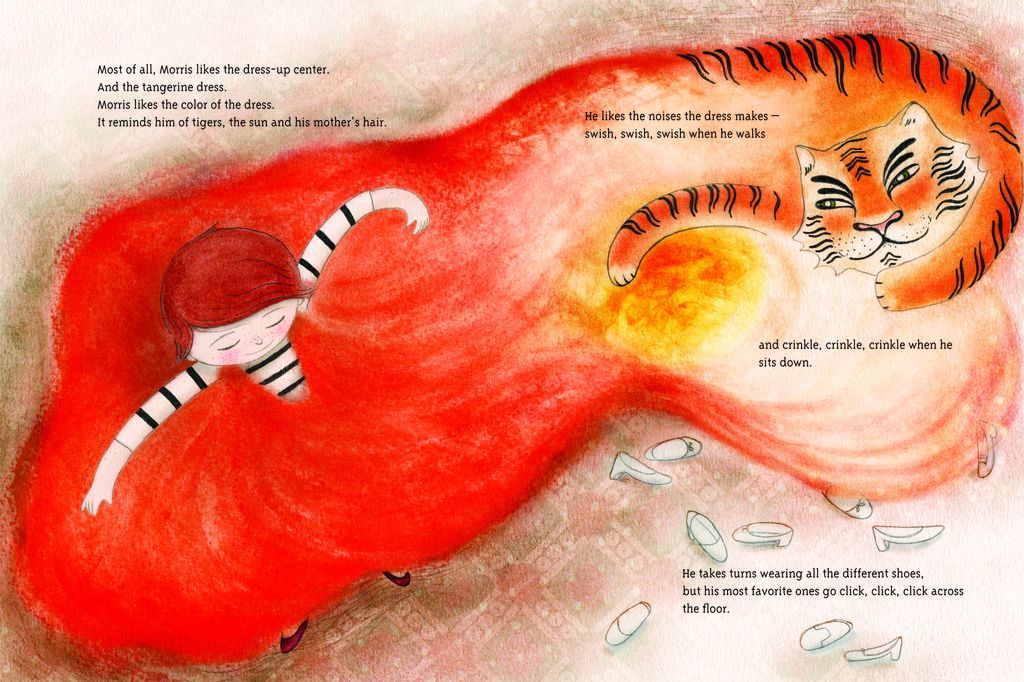 Illustrator: Isabelle Malenfant; Morris Micklewhite and the Tangerine Dress by Christine Baldacchino (Groundwood)
---
Illustrator: Nikki McClure; May the Stars Drip Down by Jeremy Chatelain (Abrams)
---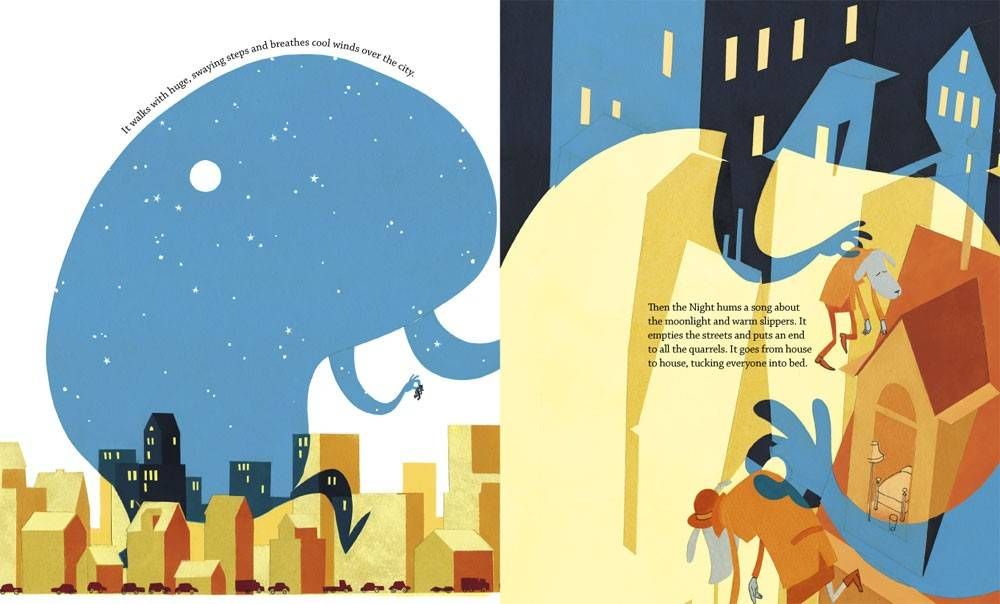 Illustrator: Jöns Mellgren; Elsa and the Night (copyright Gestalten 2014)
---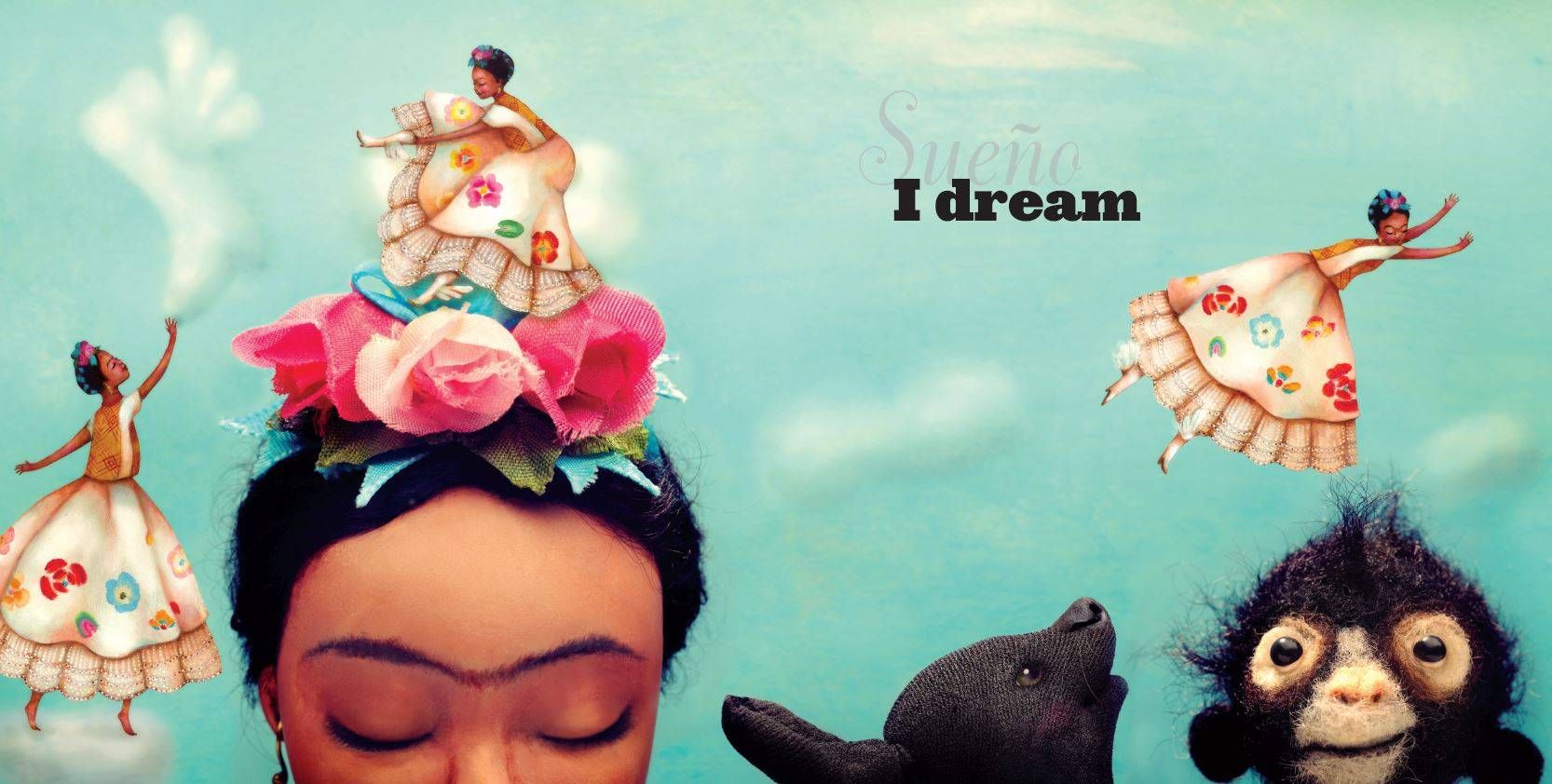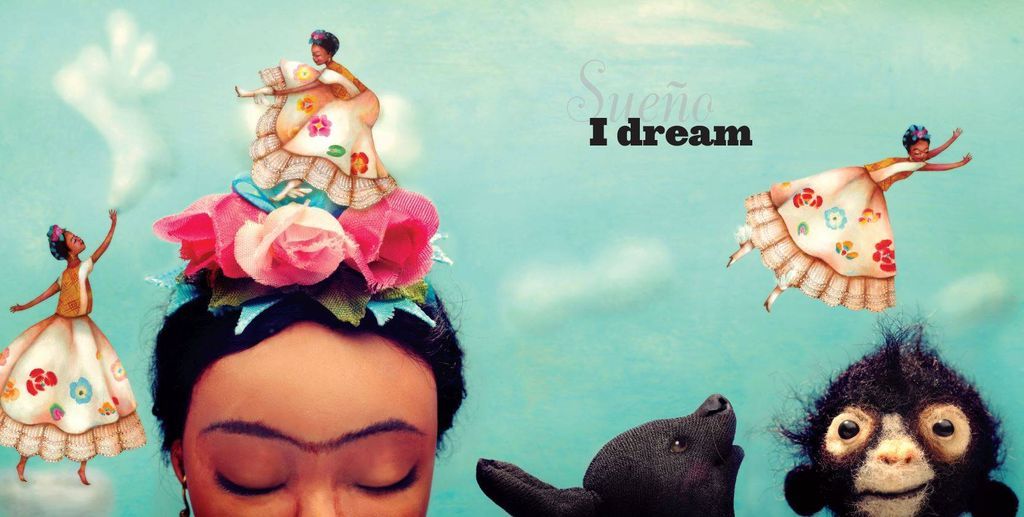 Illustrator: Yuyí Morales and Tim O'Meara; Viva Frida (Macmillan)
---
Illustrator: Frank Morrison; Little Melba and Her Big Trombone by Katheryn Russell-Brown (Lee & Low)
---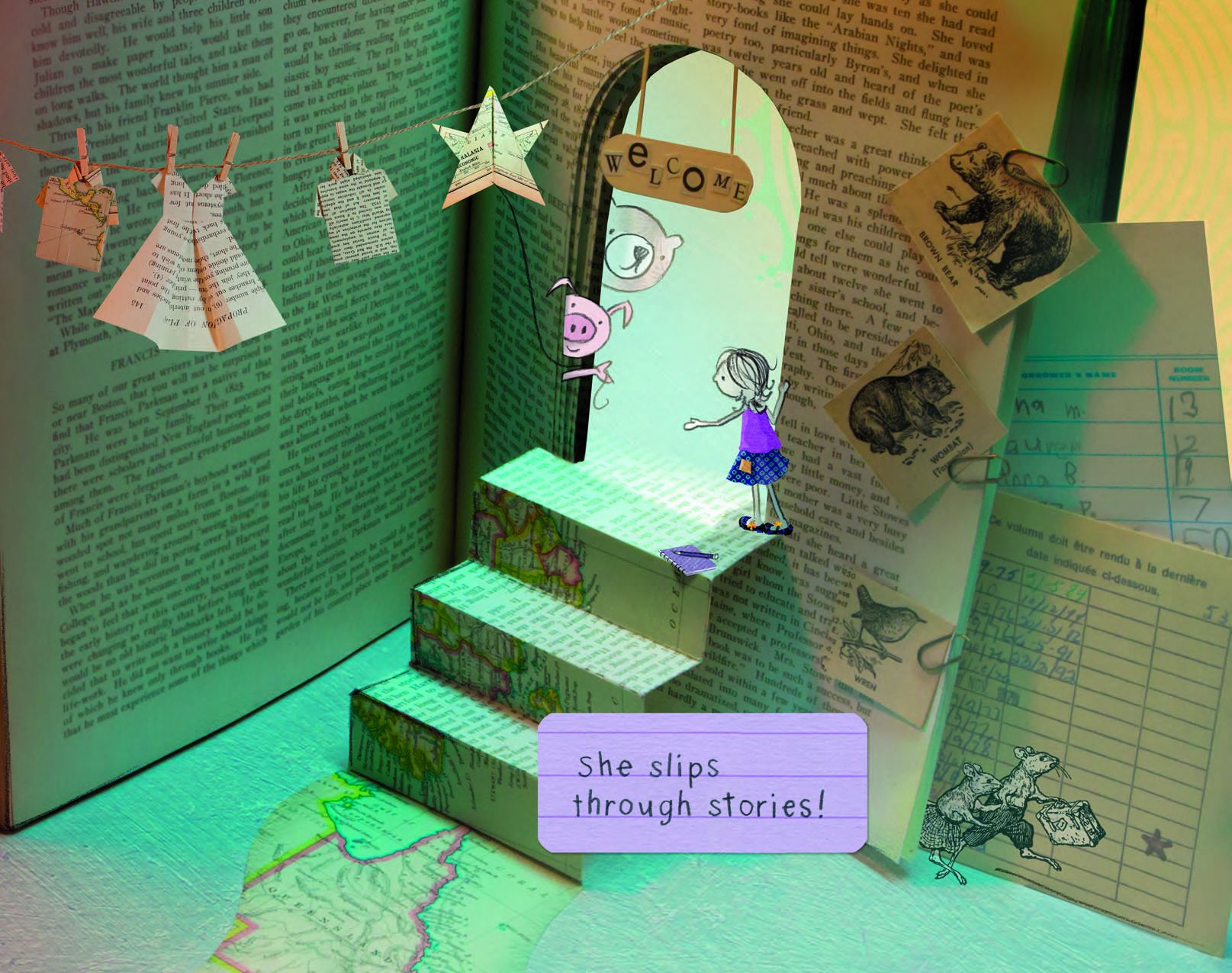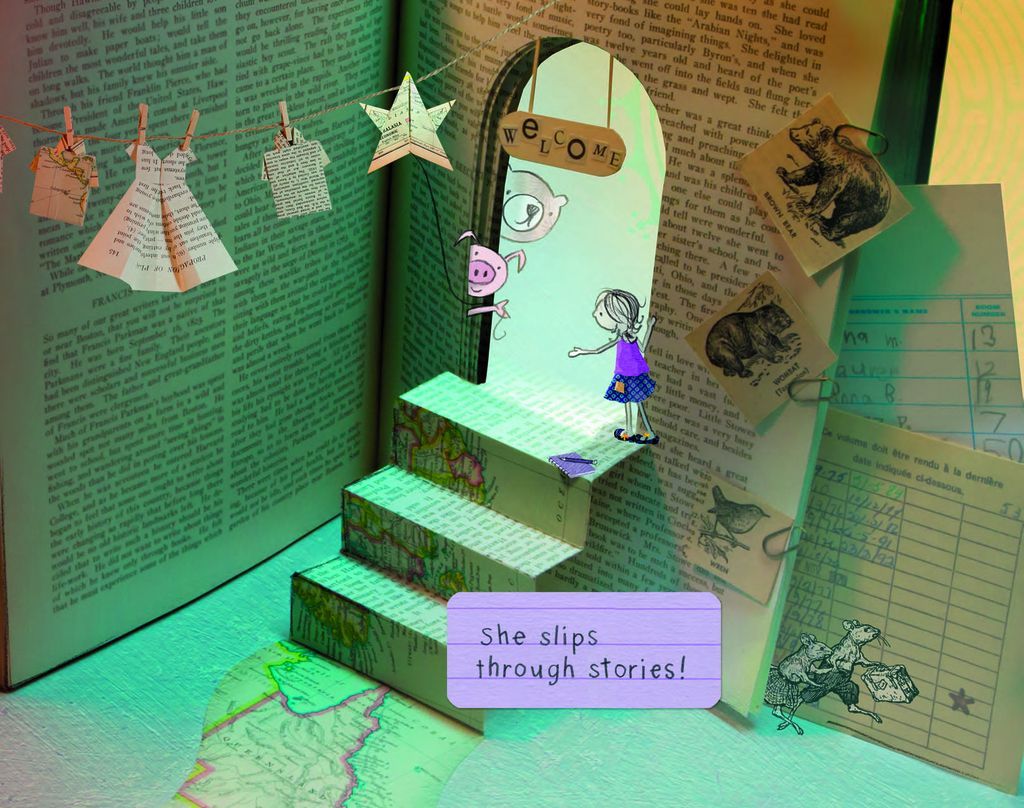 Illustrator: Bethanie Murguia; Violet and Victor Write the Best-Ever Bookworm Book by Alice Kuipers (Little, Brown)
---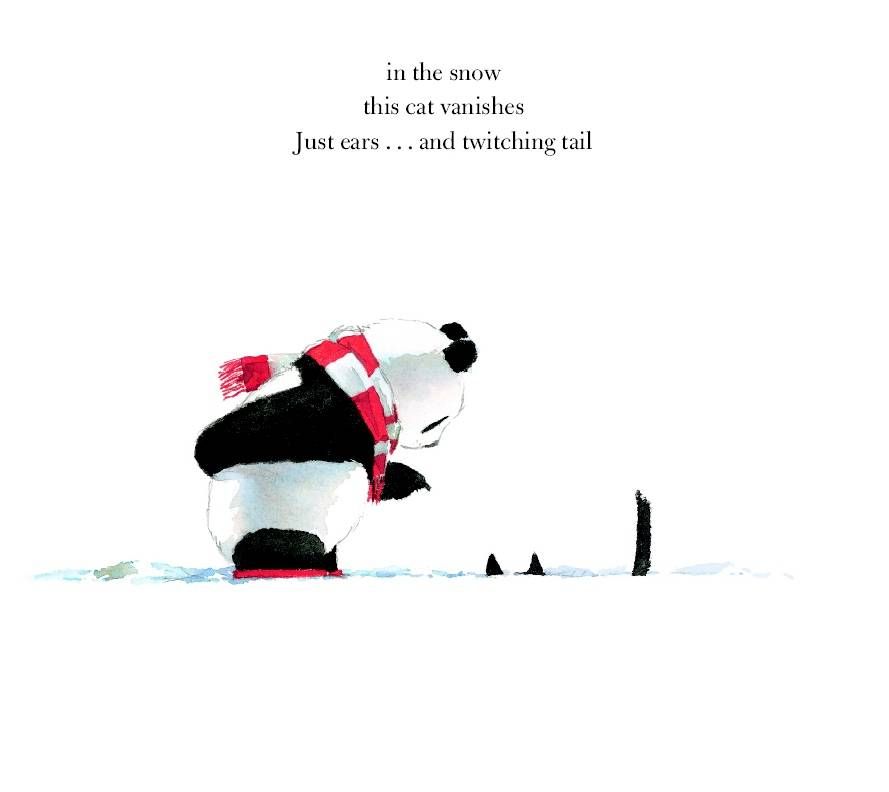 Illustrator: Jon J Muth; Hi, Koo! A Year of Seasons (Scholastic)
---
Illustrator: Alexandria Neonakis; Sweetest Kulu by Celina Kalluk (Inhabit Media)
---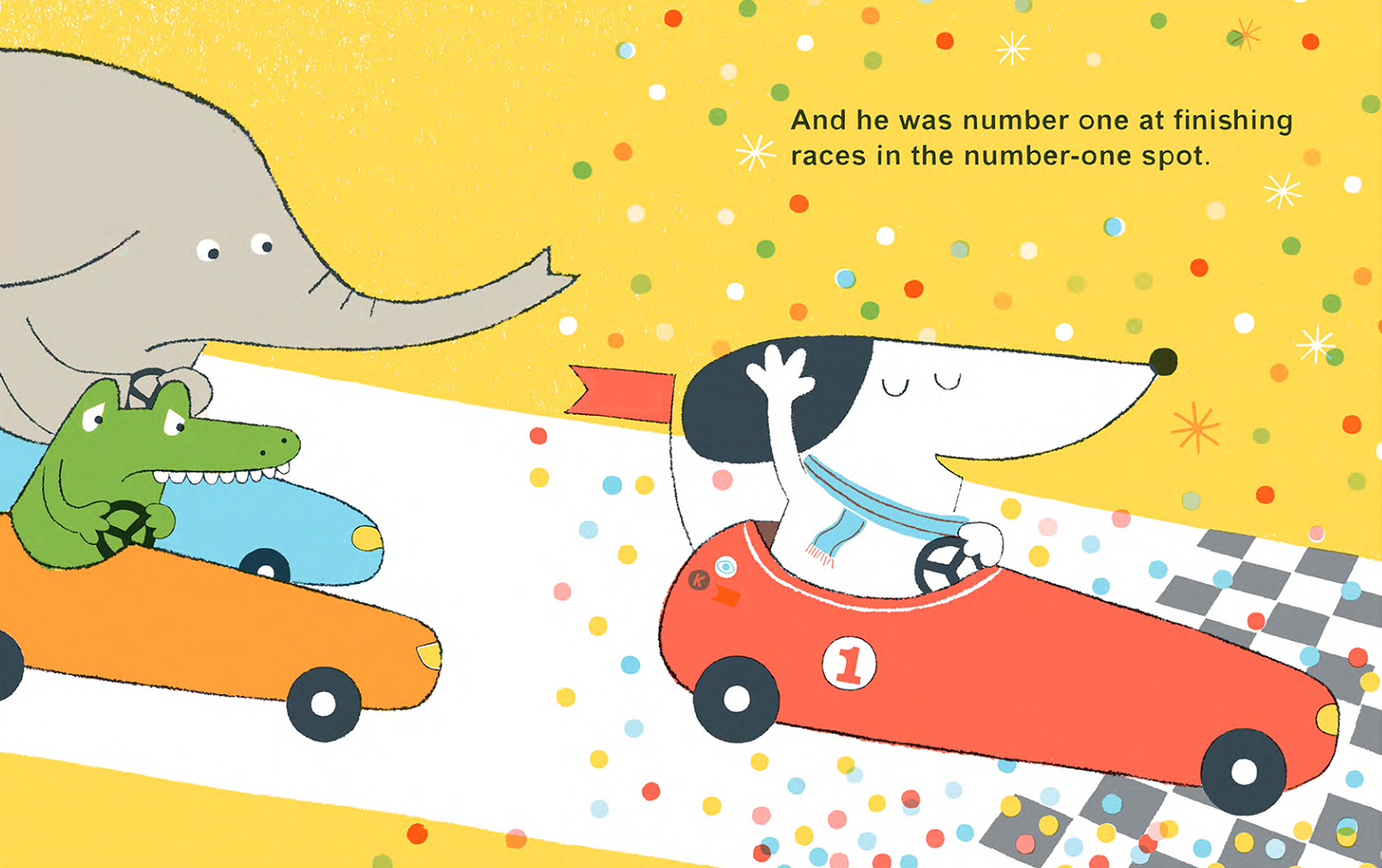 Illustrator: Greg Pizzoli; Number One Sam (Disney-Hyperion)
---
Illustrator: Chris Raschka; The Cosmobiography of Sun Ra: The Sound of Joy Is Enlightening (Copyright © 2014 by Chris Raschka. Reproduced by permission of the publisher, Candlewick Press, Somerville, MA.)
---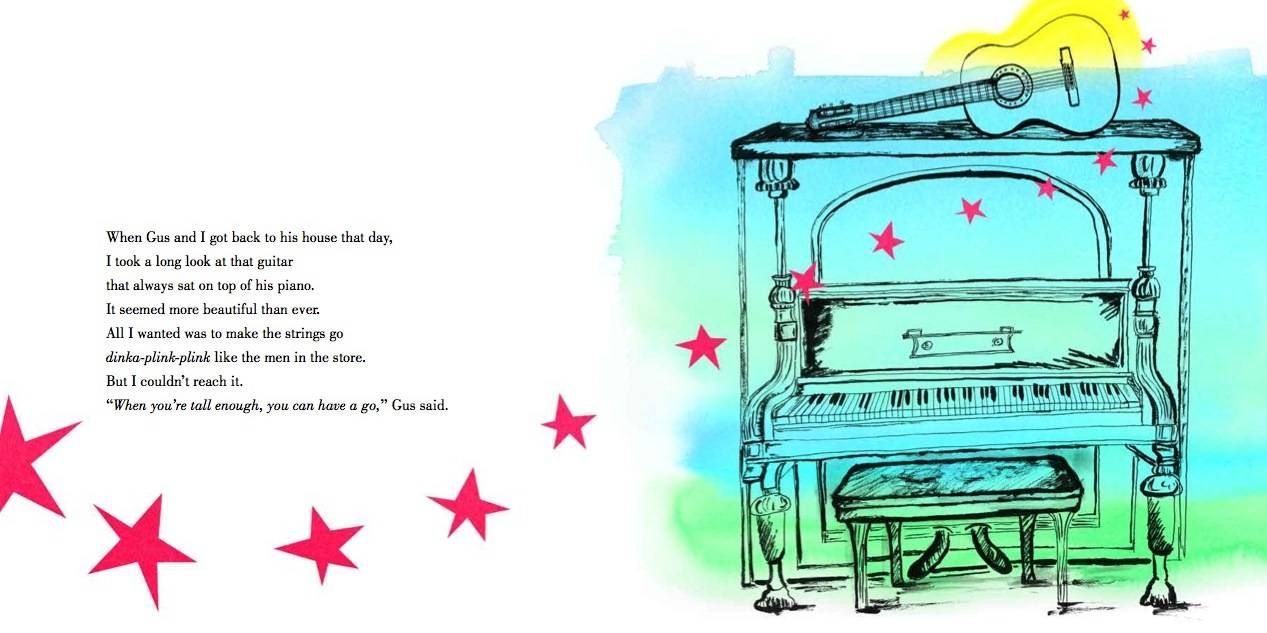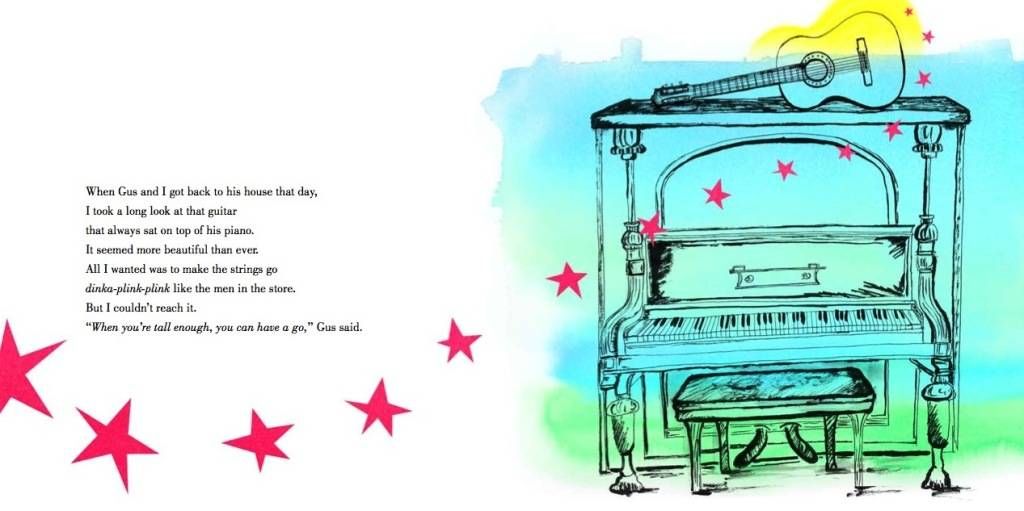 Illustrator: Theodora Richards; Gus & Me: The Story of My Granddad and My First Guitar by Keith Richards (Little, Brown)
---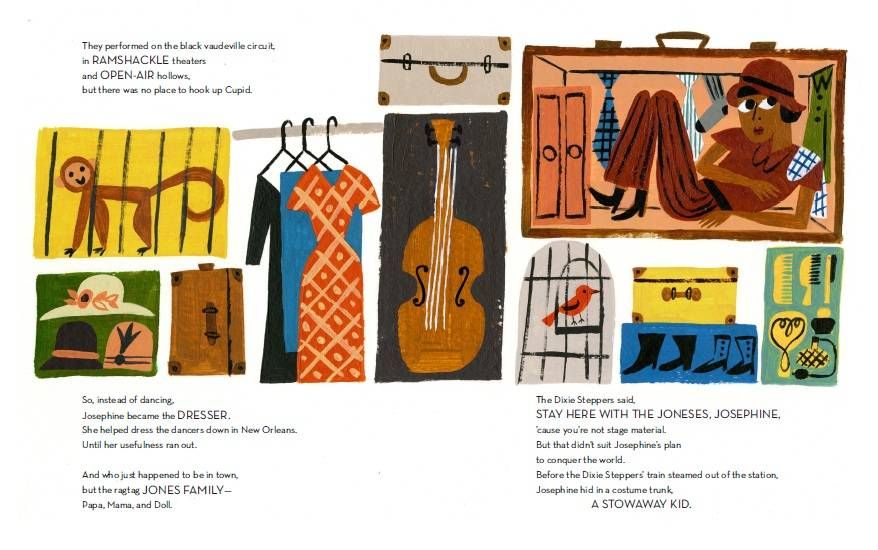 Illustrator: Christian Robinson; Josephine: The Dazzling Life of Josephine Baker by Patricia Hruby Powell (Chronicle)
---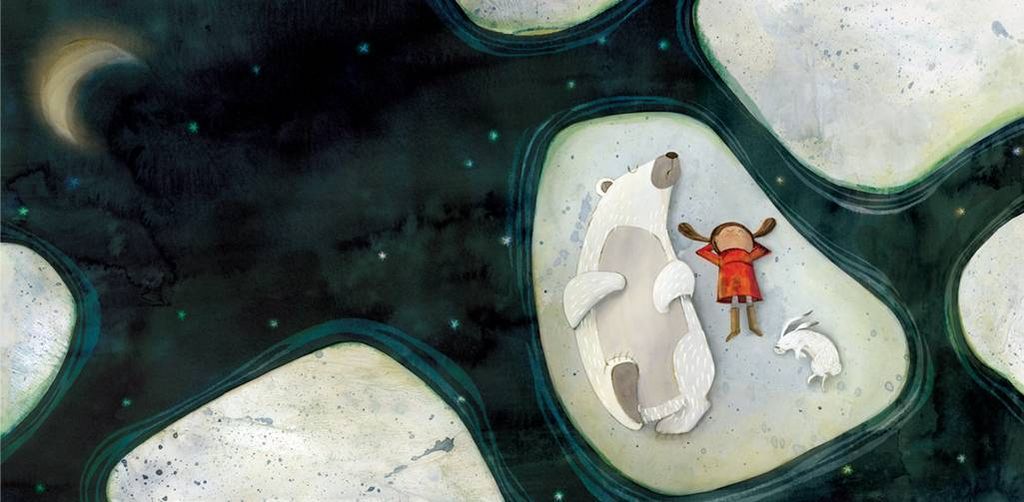 Illustrator: Isabel Roxas; Goodnight Songs: Illustrated by Twelve Award-Winning Picture Book Artists by Margaret Wise Brown (Sterling)
---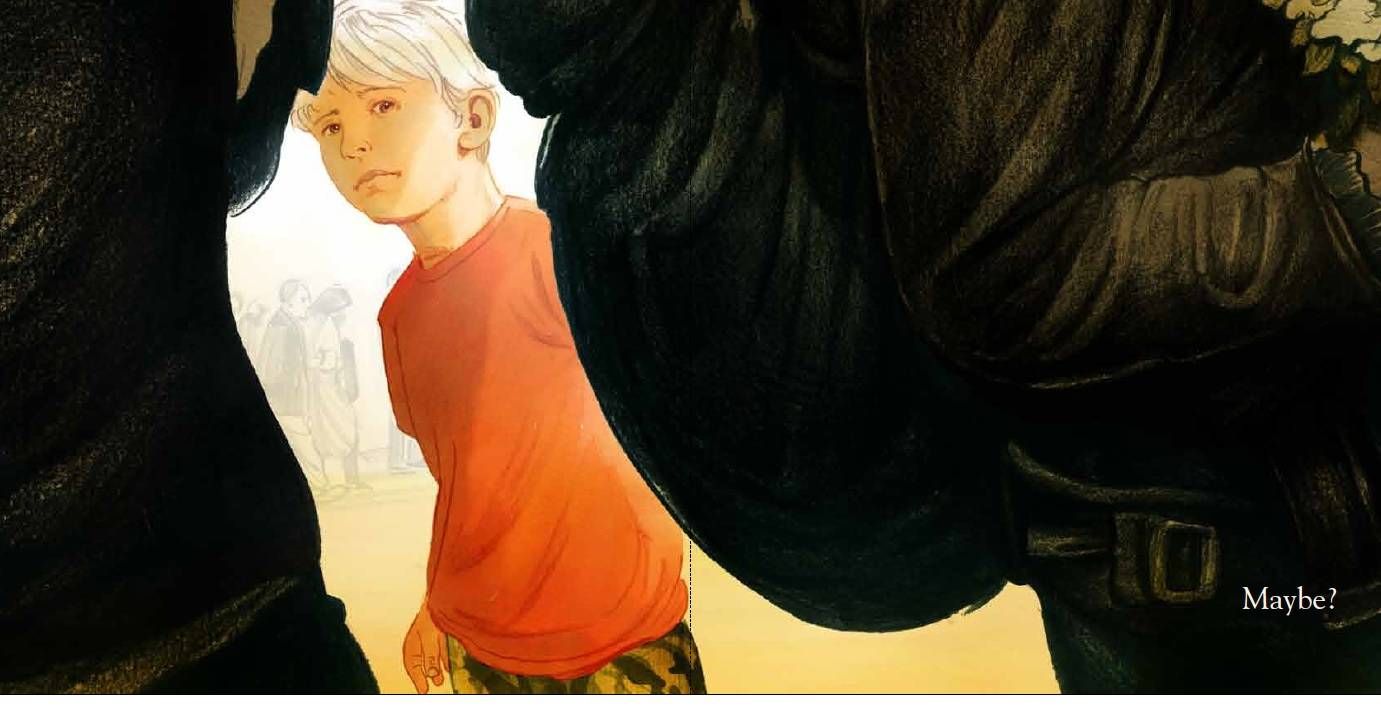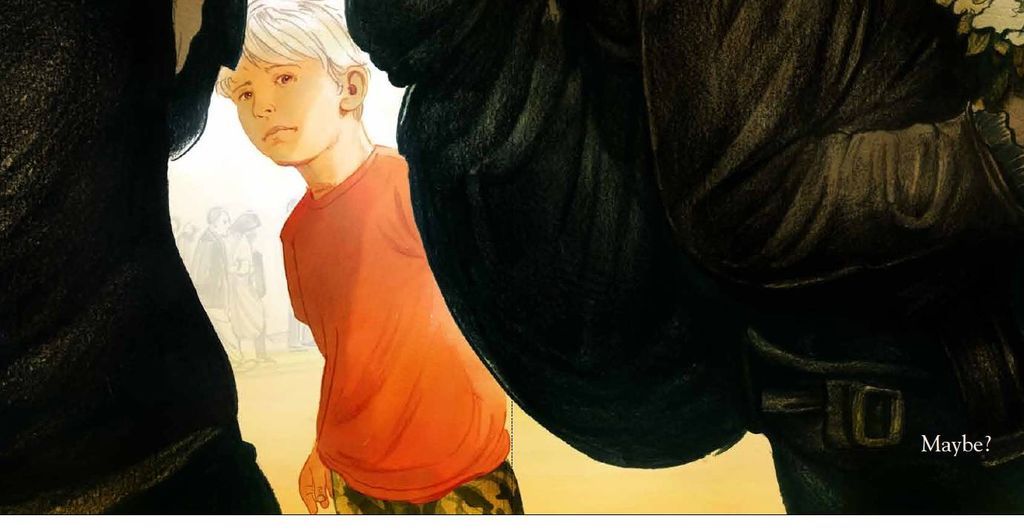 Illustrator: Greg Ruth; Coming Home (Macmillan)
---
Illustrator: Kamako Sakai; Hannah's Night (Gecko)
---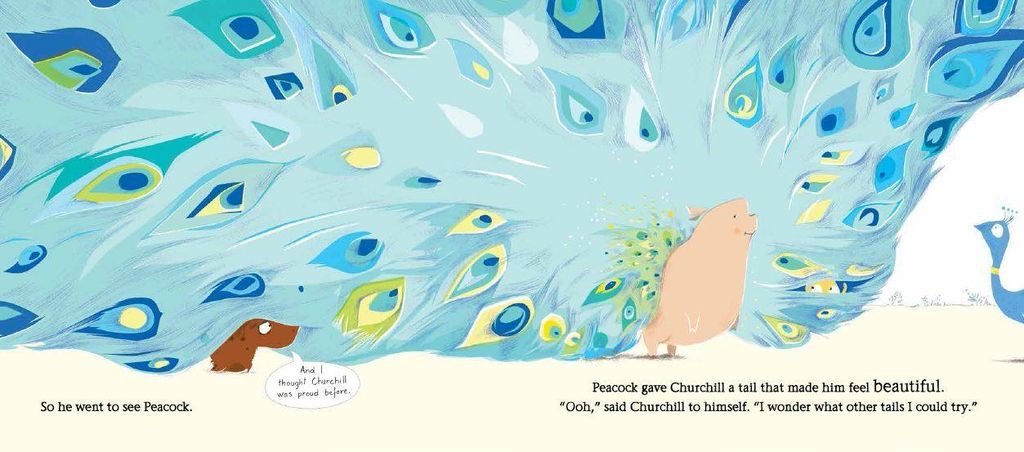 Illustrator: Anca Sandu; Churchill's Tale of Tails (Text and illustrations © 2012 by Anca Sandu. Permission to reproduce granted by Peachtree Publishers.)
---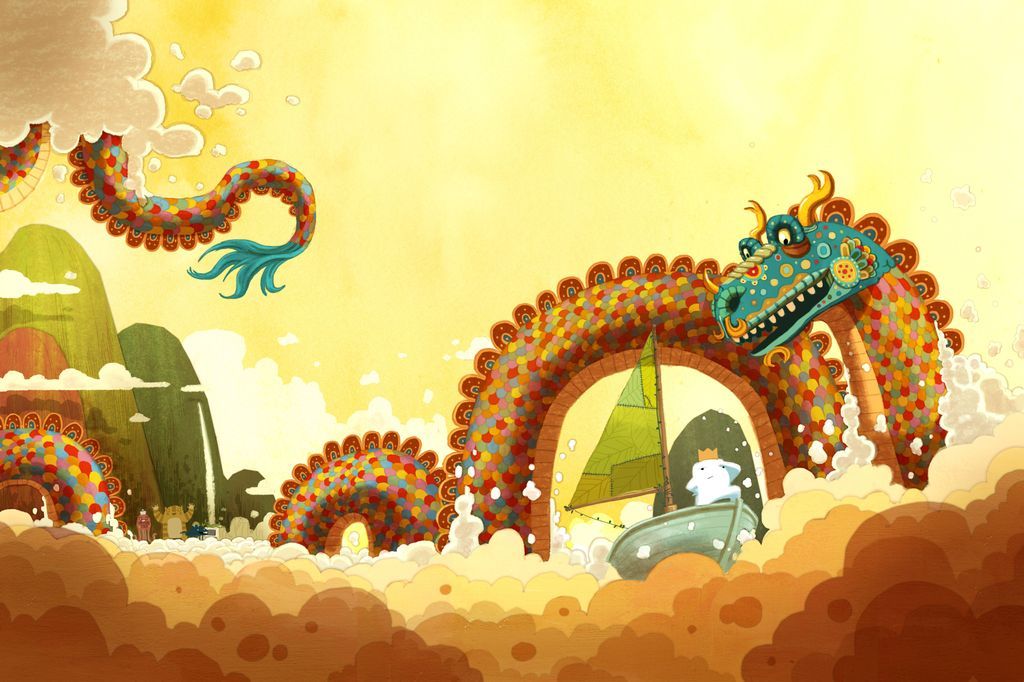 Illustrator: Dan Santat; The Adventures of Beekle: The Unimaginary Friend (Little, Brown)
---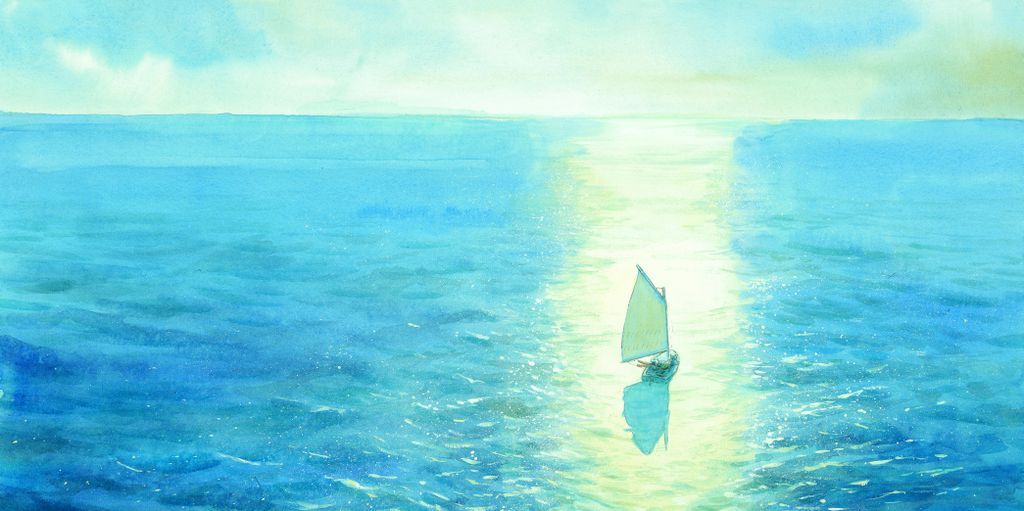 Illustrator: David Soman; Three Bears in a Boat (Penguin)
---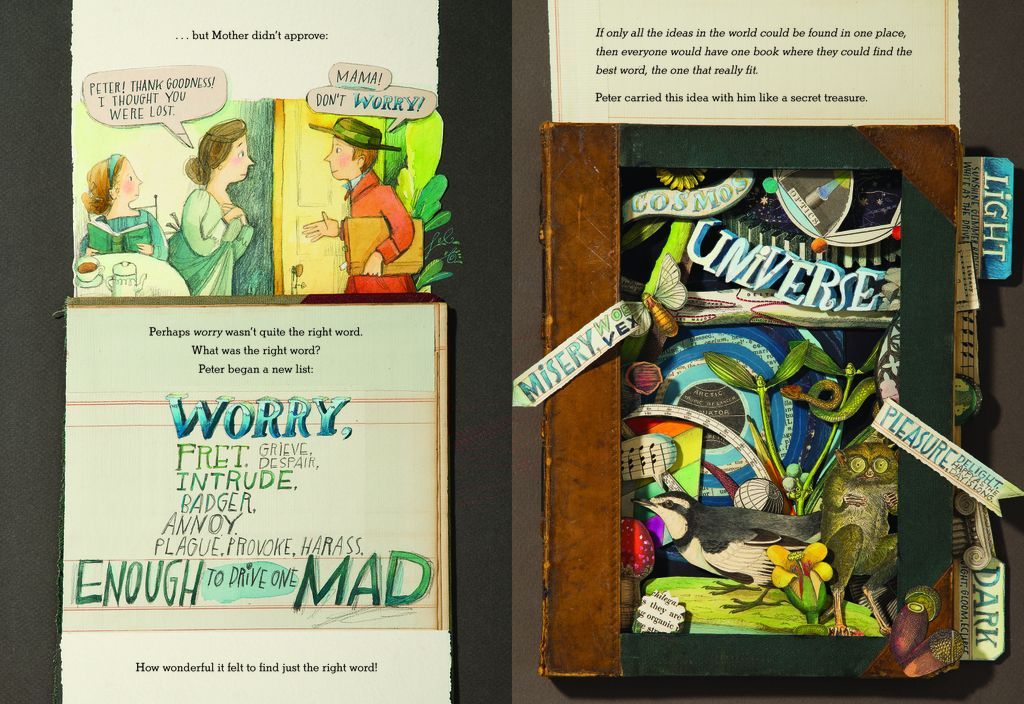 Illustrator: Melissa Sweet; The Right Word: Roget and His Thesaurus by Jen Bryant (Eerdmans)
---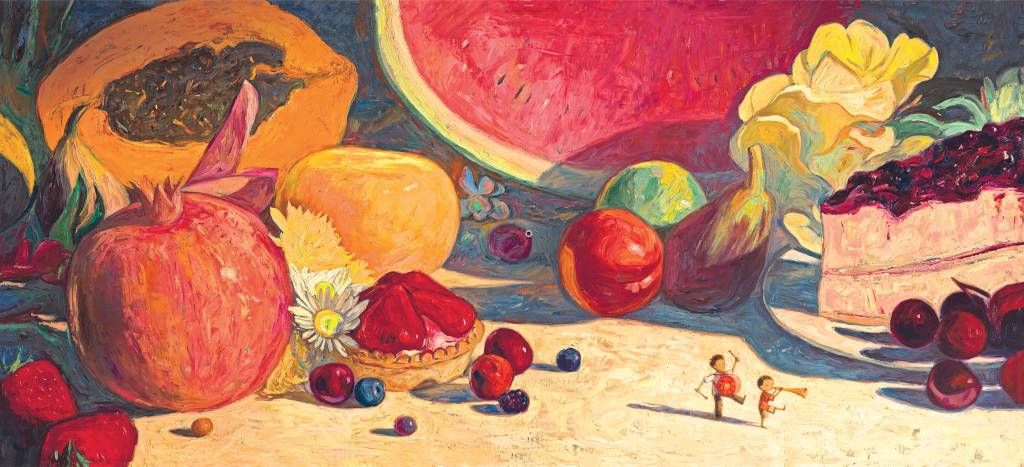 Illustrator: Shaun Tan; Rules of Summer (Scholastic)
---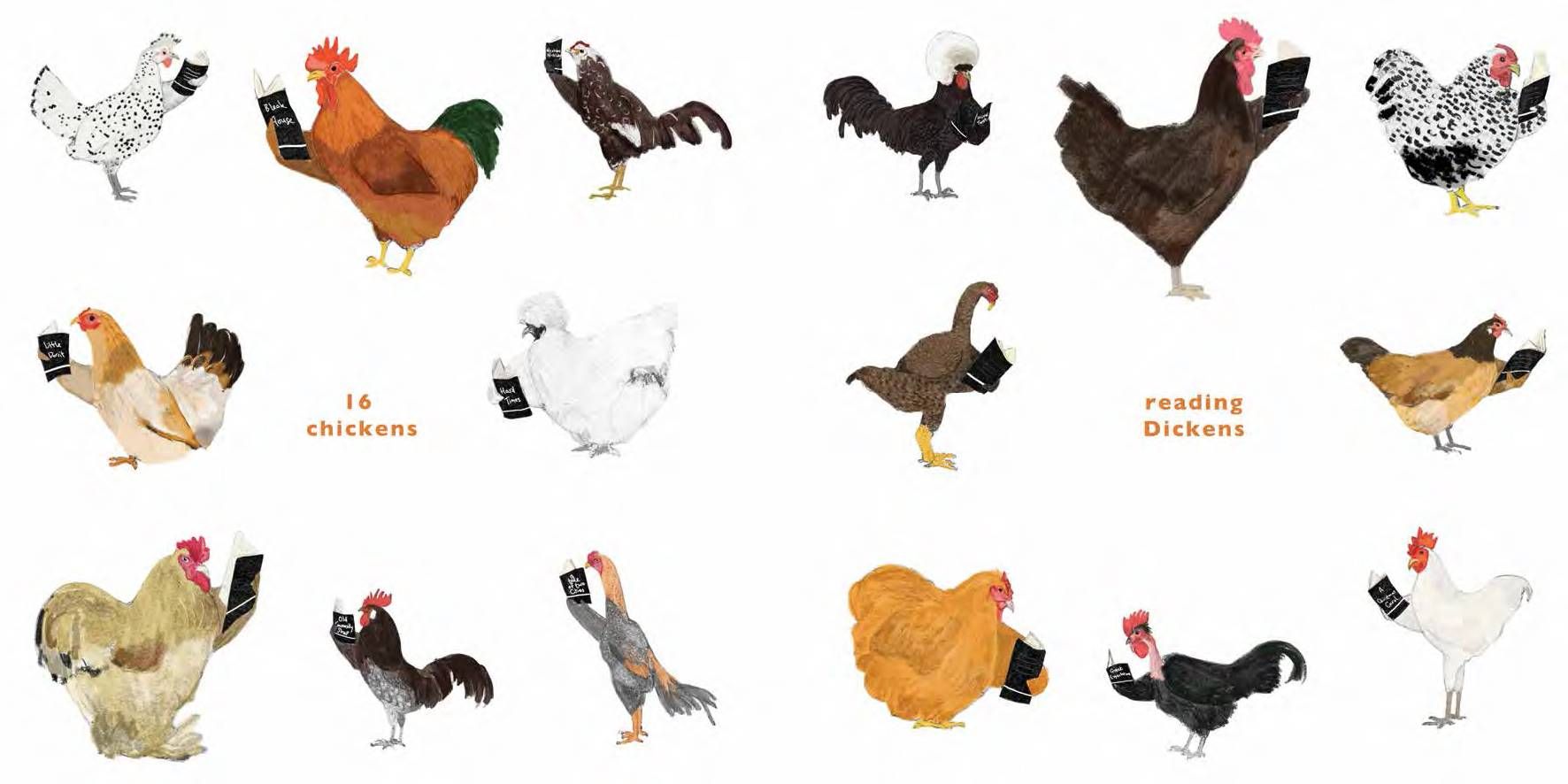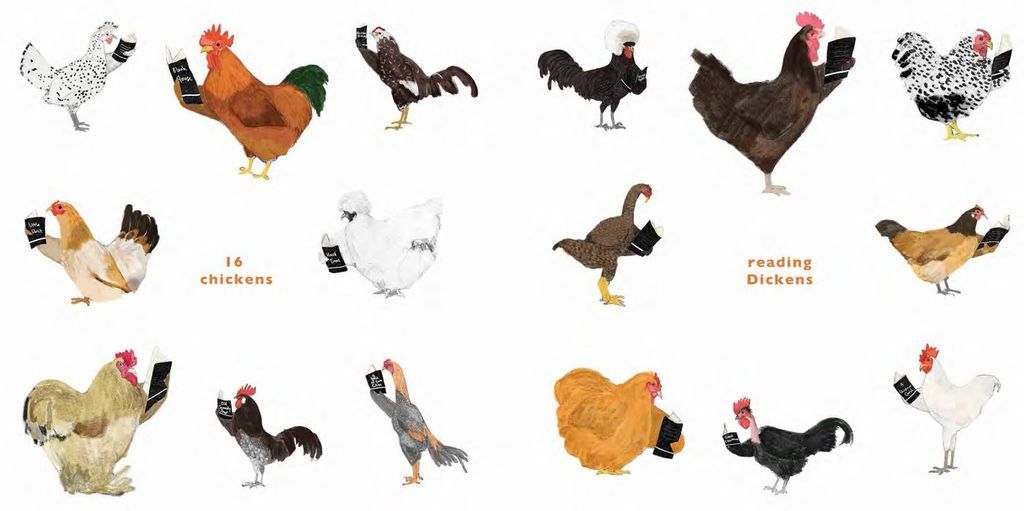 Illustrator: Katie Viggers; 1 to 20, Animals Aplenty (POW!)
---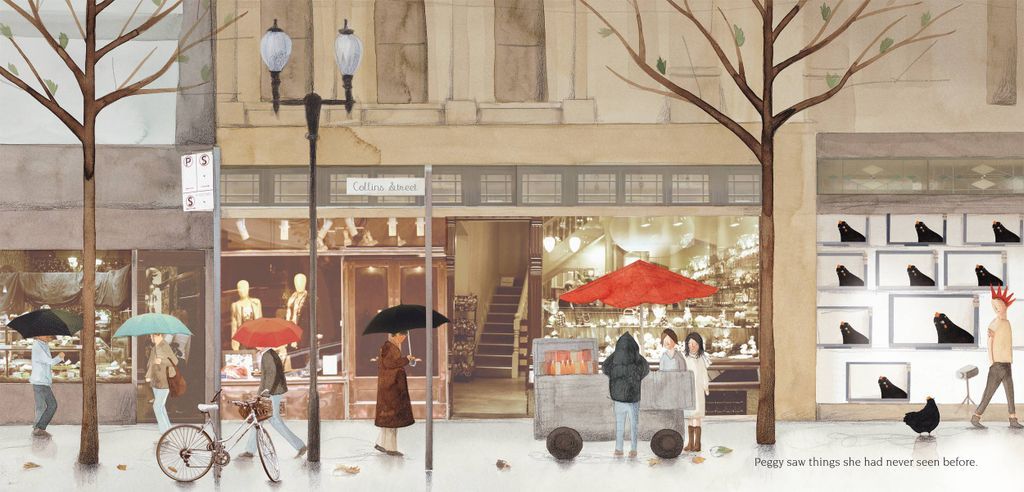 Illustrator: Anna Walker; Peggy: A Brave Chicken on a Big Adventure (Houghton Mifflin Harcourt)
---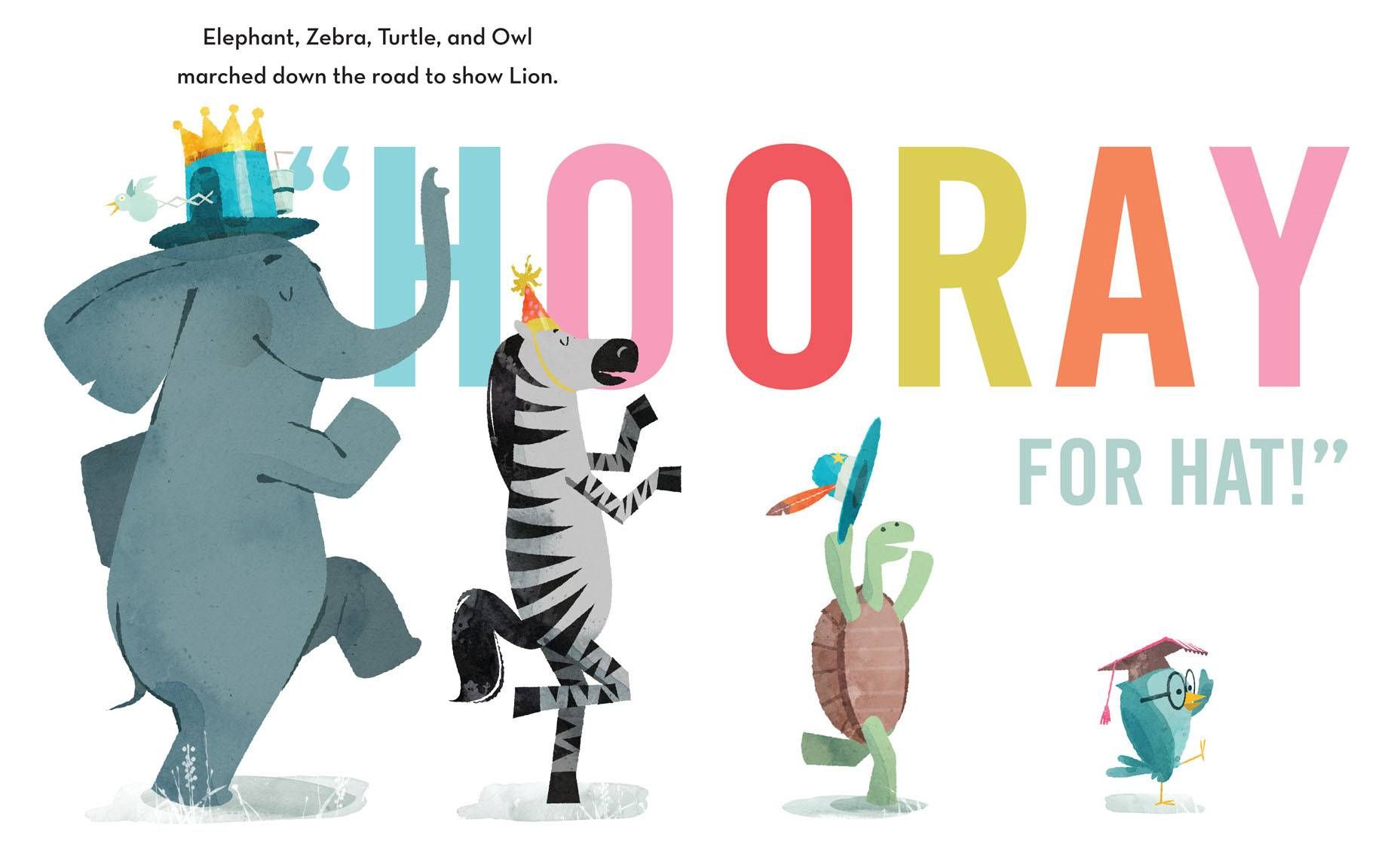 Illustrator: Brian Won; Hooray for Hat! (Houghton Mifflin Harcourt)
---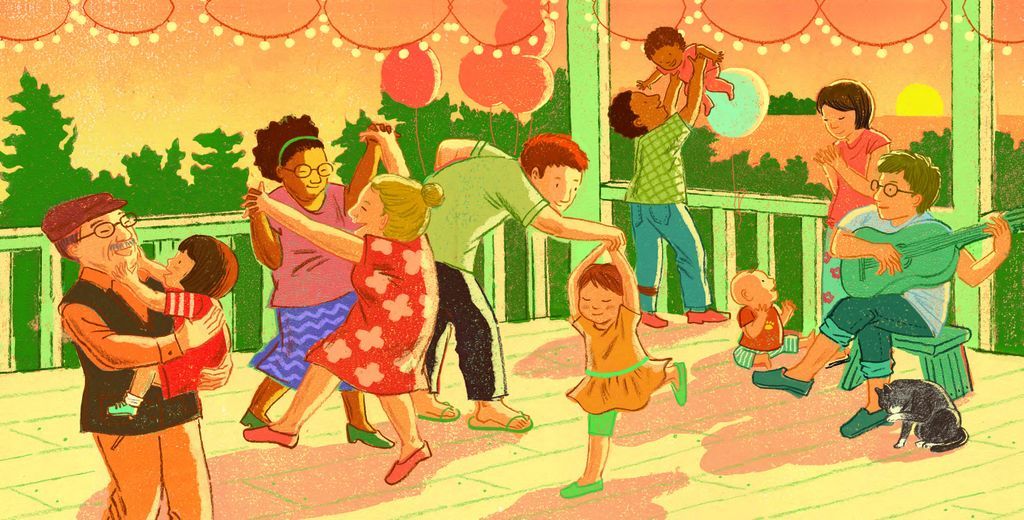 Illustrator: Taeeun Yoo; Hands Say Love by George Shannon (Little, Brown)
---
Illustrator: Cybèle Young (Excerpted from Nancy Knows by Cybèle Young. Copyright © 2014 by Cybèle Young. Reprinted by permission of Tundra Books, a division of Random House of Canada, a Penguin Random House company. All rights reserved.)
---
____________________
Want more bookish goodness, news, posts about special book deals, and the occasional puppy reading pic? Follow us on Facebook: