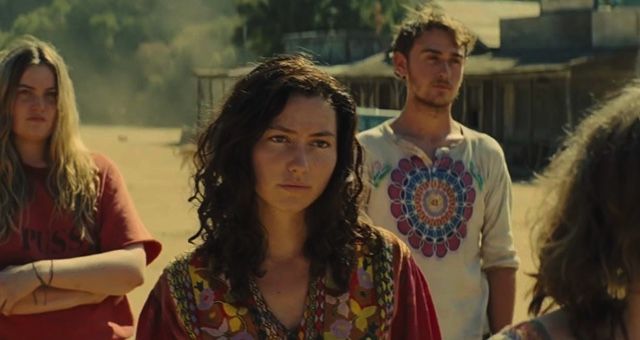 Lists
Manson Girls: A Reading List for ONCE UPON A TIME IN HOLLYWOOD
This content contains affiliate links. When you buy through these links, we may earn an affiliate commission.
The new film Once Upon A Time…In Hollywood, written and directed by Quentin Tarantino, incorporates a fictional portrayal of Charles Manson and his followers, known as the Family. These followers were mostly young white women, who became notorious as the Manson girls. In August 1969, Manson ordered four Family members to commit a gruesome murder. By the time the spree had ended, nine people had been killed including married couple Bianca and Leno LaBianca and actor Sharon Tate. Collectively, these became known as the Tate-LaBianca murders.
In the numerous films, documentaries, and books created about the cult and its crimes, Manson himself is usually given most of the attention. Much as in this latest film, the Manson girls themselves become something of set dressing. These books focus on the experiences of these young women, examining how seemingly average, normal people fell under the thrall of Manson and how some of them wound up murderers.
Manson Girls in Their Own Words
Dianne Lake, the youngest of the Manson girls at just 14, is played in the movie by Sydney Sweeney. This memoir shares the ways she was abused and manipulated by Manson, as well as how she made the courageous decision to help out the prosecution's case against her former friends.
This book is based on the author's prison visits over 20 years with convicted murderers Leslie Van Houten and Patricia Krenwinkel (played in the film by Victoria Pedretti and Madison Beaty). Along with the women's own words, the author broadens her thesis to explore broader questions of violence, trauma, and rehabilitation.
Susan "Sadie" Atkins, portrayed in the film by Mikey Madison, was one of the Family members responsible for perpetuating the Tate-LaBiance murders. Once incarcerated, she became a born-again Christian. It was during that time that she wrote this memoir. Her story explores how and why an average middle-class woman chose to follow Manson and what it was like to live with him.
Manson Girls in Nonfiction
Fromme, portrayed in the film by Dakota Fanning, was not involved in the murders but was a vocal supporter of Manson during the trial. Later, she was arrested for her attempted assassination of President Gerald Ford. The author of this biography consulted hundreds of interviews and thousands of pages of testimony to provide a psychological profile of this infamous woman.
Watson, played in the new film by Austin Butler, helped lead the violence of the Tate-LaBianca murders and, like Susan Atkins, became a born-again Christian once behind bars. His personal account reckons with his journey from good Southern boy to killer, providing insight about what life was like with Manson and the girls.
Watkins, another of the male members of the Manson family, left the group prior to the murders. This memoir details his experiences living in the cult, sharing how he became disenchanted with the group and how he eventually chose to testify against them.
Manson Girls in Fiction
This novel tells the Manson girls–inspired story of a fictional 14-year-old girl named Evie Boyd. The fictional backdrop allows Cline room both to explore how and why young women can be susceptible to men like Manson, as well as insight into teen girlhood and the dangerous boredom and longing for approval that so often accompanies it.
This YA novel explores the Manson girls through the lens of a 21st-century teenager. The contemporary narrator of this book is helping out with a new film project about the Manson family, and becomes drawn to learn more about the girls themselves. The more she learns about the Manson girls, the more parallels she sees between them and her own life and experiences.
Sharon Tate in Nonfiction
For those who leave the film curious to learn more about Sharon Tate, luminously portrayed in the film by Margot Robbie, this account from her family's perspective offers a well-rounded image of a woman who was far more than just a murder victim.
---
For more books about cults, try our list of 100 Must-Read Books About Life In Cults And Oppressive Religious Sects.
Editor's Note: There's a dearth of true crime books, not to mention true crime books about the Manson family, written by authors of color. This list reflects that.