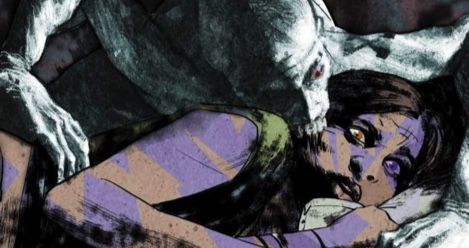 Critical Linking
On the Importance of the Horror Comics Renaissance: Critical Linking, October 31, 2019
Critical Linking is a daily roundup of the most interesting bookish links from around the web sponsored by Libro.fm.

---
"Now here we are, at a time that is as turbulent a period in American history as we've seen. The present day resembles the upheaval of the early-to-mid-'70s, with a president facing a potentially impeachable scandal, economic divisiveness at a precarious peak, and overall uncertainty over the nation's global standing. Back then, horror comics as well as feature films like The Exorcist were planting a flag in the zeitgeist. Is it a coincidence that during a similarly tumultuous time we're seeing the same sort of stories gaining a foothold?"
On the horror comics renaissance and why you should care.
---
"As I often do at these kinds of events, I searched the crowd for some Latino faces. Of the 144 authors, I had counted about 13 Latinos in the festival lineup — including two I knew personally, Julia Alvarez and Valeria Luiselli — but I found no familiar Latino faces in the crowd. Most of the Latinos there were part of the waitstaff weaving between the guests with trays of wine and finger foods.
As I made my way into the crowd, a white man stopped me.
'Excuse me, where are the restrooms?' he asked."
The last line of this piece by Reyna Grande is pure gold, and I salute her.
---
"There is not a bad place for an audiobook. Be it in the bath, at the airport, or during your commute to work or school—an audiobook is there to take your mind off reality, while saving you the eye strain. We all want to read more, but who has the time? That's where audiobooks come in—with the voices of Stephen Fry or Jim Dale doing the reading for you there are no excuses to get some reading done."