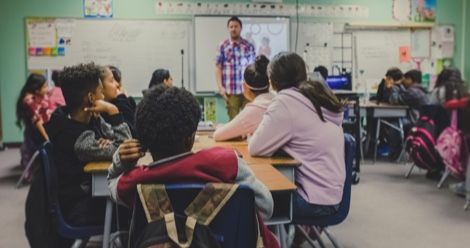 Critical Linking
On Reevaluating Back-to-School Reading Lists: Critical Linking, August 25, 2019
Critical Linking is a daily roundup of the most interesting bookish links from around the web sponsored by Roar, the YA imprint of Lion Forge.
---
"Over the years, exactly which books belong in that stack has been a fraught topic, as seemingly everyone holds a different view on what should be considered part of the high-school canon. Debates about the inclusion in school curricula of modern LGBTQ novels such as The Miseducation of Cameron Post; radical, diverse stories by 18th- and 19th-century women authors such as Catharine Sedgwick; and formerly 'banned books such as To Kill a Mockingbird and the Harry Potter series continue to rage, with very little consensus on what is and is not 'appropriate' for young readers."
A lot of back-to-school reading lists could stand to undergo a similar reevaluation.
---
"As the bookstore's school events coordinator, Norman currently coordinates between 70 and 80 author visits to local schools annually for Copperfield's, but Title 1 schools have often been left out. 'The problem is that the store can't send them to schools where the kids won't buy books, but they can't buy books,' said Norman.
'Knowing that kids need books, I was trying to figure out a way to make it work,' she said. The challenge was to create an incentive to make it possible for the bookstore, publisher, and author to arrange a visit. 'I felt I was perfectly positioned to do something about it.'"
---
"This has not stopped Rare Birds Book Clubs going global – but Rachel jokes that it wasn't always this way, saying: 'The first month I had fourteen members and I was related to at least half of them.'
'When we got the first stranger, it was a very exciting day.'
But soon this Leith-based book club began to grow, capturing the attention of weekly magazine Stylist and other media outlets, giving it the platform it needed to become what it is today."
How a tiny Edinburgh book club grew to reach readers in over 20 countries.