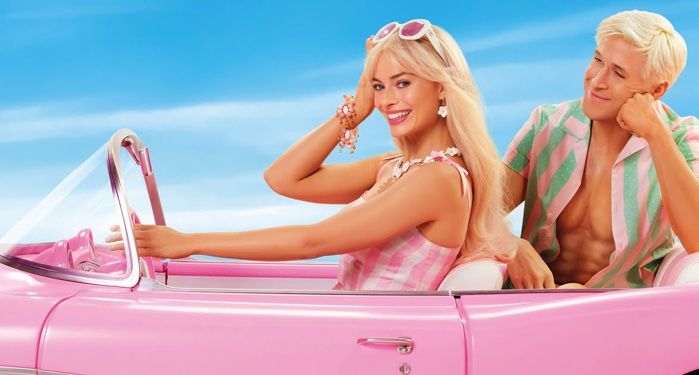 Essays
Give Us What We Want: On BARBIE, FLASH, and BATGIRL
As of the end of September, when I am writing this, Greta Gerwig's Barbie is sitting at just under $1.5 billion at the box office, which does not include streaming purchases and rentals. It is at #11 in total domestic lifetime gross and #14 worldwide, despite only being released two months ago. Barbie is based on a doll, not a book, but I think it's reasonable to compare it to other IP movies, including those based on books. And the most successful IP movies overall are comic book movies.
There have been more live-action Spider-Man movies than there have been total live-action female superhero movies. This is true even if you count female supervillain movies like Catwoman and Elektra and lower-budget movies about lesser-known superheroines like Barb Wire and Tank Girl. If we eliminate the three 1970s made-for-television Spider-Man movies, the women take the day by a grand total of two movies (the exact number of supervillain movies), but then again, if we add in the animated Spider-Verse movies, Spidey wins by a landslide. So maybe we call it a tie.
Before anyone argues with my math, I am referring to U.S. studio films based on comic books. Here are the titles in question. Female leads: Super Girl (1984), Tank Girl (1995), Barb Wire (1996), Catwoman (2004), Elektra (2005), Wonder Woman (2017), Captain Marvel (2019), Birds of Prey (2020), Wonder Woman 1984 (2020), and Black Widow (2021). Spider-Man: Spider-Man (1977), Spider-Man Strikes Back (1978), Spider-Man: The Dragon's Challenge (1981), Spider-Man (2002), Spider-Man 2 (2004), Spider-Man 3 (2007), The Amazing Spider-Man (2012), The Amazing Spider-Man 2 (2014), Spider-Man: Homecoming (2017), Spider-Man: Far From Home (2019), Spider-Man: No Way Home (2021).
It's hardly a secret that movies in general — and superhero movies in particular — cater to men, but it's definitely a problem. Women and men attend movie theaters in roughly equal numbers: according to the MPAA, in 2019, it was 50/50 (I guess they don't survey for nonbinary attendance), and in 2021, it was 53/47, skewing male for the first time in over a decade (considering that women are the majority of caregivers and we are in a mass disabling event, the slight drop does not seem like significant data to me). Female-led movies out-perform the competition consistently, according to data based on 2014–2017 box office. And yet, female characters are extremely underrepresented in media. Not to mention the fact that female directors helmed about 4% of studio movies in 2018 and had only crawled up to 18% in 2022 (oops, I mentioned it, so I will also say that indie film and streaming are doing much better, but still well below 50%).
So what does it mean when a female-helmed, female-led movie dominates the box office like Barbie has? I am not a professional analyst of such things, but my layperson's conclusion is:
GIVE US MORE MOVIES LIKE THIS.
Unfortunately, Warner Brothers (the studio behind Barbie) does not seem to have taken that message from their newly acquired fortune. (Yes, I am aware of how this works, and I realize they do not literally have $1.5 billion in profit.) WB handles several major franchises, including DC. You know DC, of course, for its major superheroes such as Batman, Superman, about a hundred other dudes, and also Wonder Woman and Harley Quinn. You also might remember that they made a Batgirl movie and then unceremoniously dumped it despite the movie being finished and ready to go to its planned streaming home. They made various claims about the movie not being releasable for this reason or that and have likely destroyed all copies of it. In short, they took it as a tax write-off, allowing the new CEO to dictate the film slate by erasing his predecessor's choices instead of letting girls see a young woman of color don the Batsuit.
Cool cool cool cool.
You know what movie WB kept from the old slate and gave a big marketing push? The Flash. Already gone from theaters, it grossed just over $250 million worldwide, approximately $50 million over its budget (which, due to studio math not looking like real math because marketing is not included as part of the budget but is counted against profit, is a huge loss). The movie stars Ezra Miller as Barry Allen. Miller has been arrested multiple times both prior to and since filming began on Flash, and they are accused of various counts of harassment, burglary, child endangerment, stalking, abuse, grooming, and assault (please be aware that there are details at the Rolling Stone link). Warner Brothers delayed the film's release due to bad press around Miller but decided that shelving it would be "unprecedented" [stares in Batgirl].
This is the studio that benefits from Barbie. A studio run by men who would rather promote Ezra Miller and lose money doing so than quietly release an uncontroversial movie for girls onto streaming. Barbie is their highest-grossing film ever, surpassing Harry Potter and the Deathly Hallows: Part 2 within six weeks of release. So, what's on their upcoming slate of films? A lot of remakes and sequels, very few of them aimed at girls. Their next Mattel property is Hot Wheels, with the movie being produced by Bad Robot, J.J. Abrams's company.
Have the WB brass decided that the selling point for Barbie was the fact that it's based on a toy? Probably! MGM is making a Polly Pocket movie to be directed by Lena Dunham. It seems likely that we are going to be overrun with toy movies, totally missing what was appealing about Barbie.
And audiences — specifically girls — are the losers here. Film studios keep making money despite their absolutely incomprehensible choices. They simply do not care if those choices are not profitable (like Flash) because they have the money from "surprise" hits like Barbie (surprise to whom, exactly?) and from their shady tax write-offs (RIP Batgirl).
It's a damn shame.
The one bright spot in the post-Barbie world is that director Greta Gerwig has been handed the keys to another major franchise: Narnia. Sure, that deal was made before Barbie did box office numbers, but I am choosing to be happy about it and about whatever she does next.