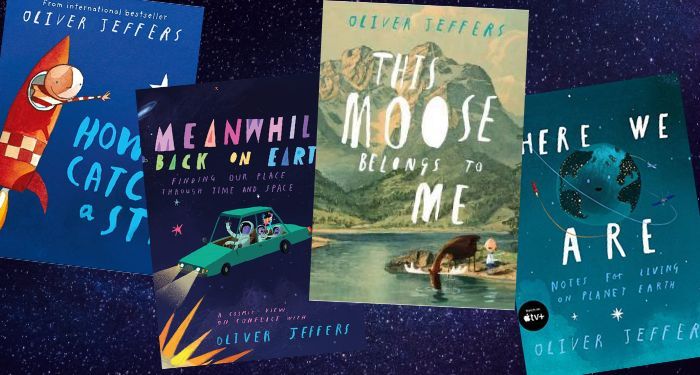 Children's
How to Catch a Star: Why I Love Oliver Jeffers' Books
This content contains affiliate links. When you buy through these links, we may earn an affiliate commission.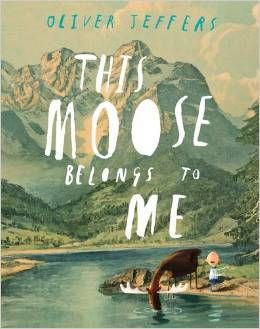 Recently I watched Here We Are: Notes for Living on Planet Earth, an animated film based on Oliver Jeffers's picture book by the same name. While wiping away my tears, I thought that the film beautifully demonstrated what I love about Jeffers' books: they exist in a world that's cute and whimsical, but also so insightful and filled with occasionally devastating earnestness. That's a line he often walks, perilous as it is, but he maintains it steadily. For instance, in This Moose Belongs to Me, the main character, Wilfred, learns that humans cannot really own a wild animal, even if said animal is excellent at providing Wilfred with shelter from the rain. Jeffers never shies away from life's big questions or from an unbelievable premise and it's his mix of wisdom and humour that has contributed to his success as an author and illustrator.
When I discovered Oliver Jeffers' books 10 years ago, I hadn't read a children's book since my own childhood. At the time, I was living in London and working at the Selfridges department store, specifically as a kids' book section supervisor. I didn't know much about children or the books they liked, but being an emphatic lover of lists and feeling excited about my new responsibility to help kiddos and their adults, I began some picture book recon.
Off I went to fill a binder with lists based on new releases, books by theme and animal protagonist, and what was popular for kids in the UK. I read through my shop's stock and then visited Foyles, Waterstones, and many a branch of the City of Westminster libraries. Through my investigation, I unearthed Jeffers' oeuvre. Actually, at the time Foyles had a whole line of merch based on his books, so I knew I was on to something.
Jeffers' The Incredible Book Eating Boy was the first of his books I came across. It's got a delightfully absurd narrative sure to appeal to book nerds and is a perfect showcase for his dry wit. Check out the ending of the story that comes in the form of a bite-shaped cutout section of the book's back cover.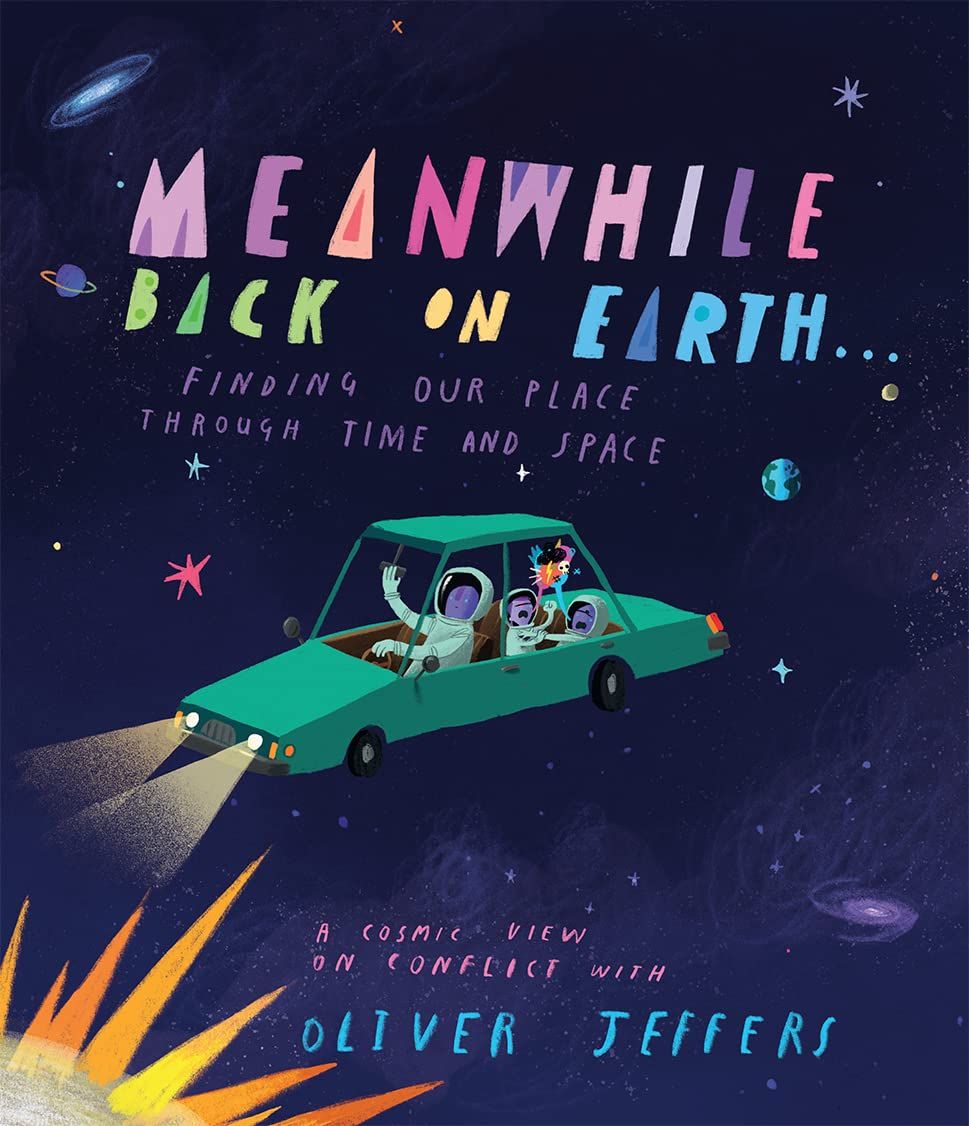 On the other hand, he can also deftly write on more serious topics. In The Heart and the Bottle, a little girl experiences loss and decides to store her heart in a bottle for safekeeping. She loses her sense of wonder about the world, focused instead on the heaviness of her heart. His latest book, Meanwhile Back on Earth, is as much an exploration of kindness in the face of conflict as it is a story about space travel and family dynamics. Those are big, looming concepts for a picture book to juggle but, as always, Jeffers pulls it off.
The illustrations are mixed media, with changing fonts and art that incorporates painting, drawing, and collage. His trademark is for people to have pencil stick legs and their faces have no real details, just dots for eyes and long noses that begin above their eye line. His debut book, How to Catch A Star, is part of a series of books where the main character is known as "The Boy" — again going for less over more detail. That was very much a choice.
As Jeffers explained to Creative Bloq, "It was almost a case of making the characters as simple as possible but then applying a realistic sense light and shadow off very very simple objects…And I think the simplicity and lack of origin for any of the characters helped globally as well because all across the world people think the boy could be where they're from. And that the geography of the place could be their place."
Since the release of his debut in 2004, Jeffers has been nominated for and won many prestigious children's book awards, including The New York Times Best Illustrated Books and the Irish Book of the Year. He also juggles his children's book releases with working as a well-respected artist, his paintings and installation pieces appearing in gallery shows across the world — a merging of careers which isn't all that common. Yet he manages to retain both his cred as an award-winning artist and a prolific picture book author and illustrator.
The National Center for Children's Illustrated Literature recently put on a retrospective of Jeffers's work called 15 Years of Picturing Books. It featured almost 100 of his artworks. I love the Jeffers quote used on the exhibit's official page: "A lot of my art has been about duality and looking at things from two perspectives. I had a wonderful upbringing in Belfast. Yes, I saw some terrible things. Yes, I learned that people have an awful tendency to be mean to each other and inflict violence, but I also saw the capacity for love."
Overall, that dichotomy is part of what makes his work so meaningful. Oliver Jeffers' books don't shy away from the bad parts of life, but they perfectly encapsulate the magic of the good stuff.