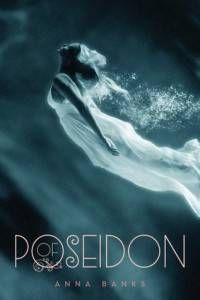 It has been suggested that "mermaids are the new vampire" when it comes to YA fiction on too many blogs to cite, and the number of mermaid books that have been published or are coming out is impressive. This GoodReads list has 84 books, including some classics. So when the opportunity came for me to read a review copy of Of Poseidon by Anna Banks, I took it.
Of Poseidon hits all your basic paranormal romance plot points:
– hot boy with a secret (Galen), bonus points for violet eyes
– clumsy girl (Emma), bonus points for violet eyes
– hot boy stalks clumsy girl, feels irresistibly drawn to her, risks ire of his kind for having feelings for a human
– clumsy girl has both a) looks and b) powers that she is completely unaware of even though she talks to fish
– ends in a cliffhanger; a new YA series is born
Of Poseidon rarely strays from the conventions of YA paranormal romance to the point where it almost felt like a parody of the genre. There were times when the author seemed to deliberately address the problems that you usually find in these types of books. There is a minority character, though she is killed off in the first 30 pages to both demonstrate Emma's powers and create some kind of conflict. I would have much preferred to see their relationship as an integral part of the book, rather than have her death be the catalyst for the story. Galen is obsessive and creepy, but Emma always tells him he's crossing the line, which was refreshing (though a non-creepy hero would have been even better). Emma's mother is actively involved in her life rather than being invisible.
If you are a regular reader of this type of book, you'll probably be able to guess the plot long before the characters come around, but there is something comforting about that. I enjoyed reading Of Posedion, even when I was shaking my head at it. It's ridiculous, but that also seems to be the point. It is a book about mermaids, after all.
At the same time, I'm not willing to let it off the hook. You see, we all know YA, including paranormal romance, can be amazing. Mermaid plots have something going for it that other versions of this genre don't: an entire new world to describe. Like vampires and werewolves, there's plenty of mythology to dive into, but I think what makes or breaks the mermaid novel are the descriptions of life in the ocean. The descriptions of Galen's home deep in the ocean were weak, which prevented Of Poseidon from becoming something more than just a silly weekend read.
So, are there any amazing mermaid books out there? Do you have suggestions? Sirena by Donna Jo Napoli comes to mind, though it's been years since I read it.