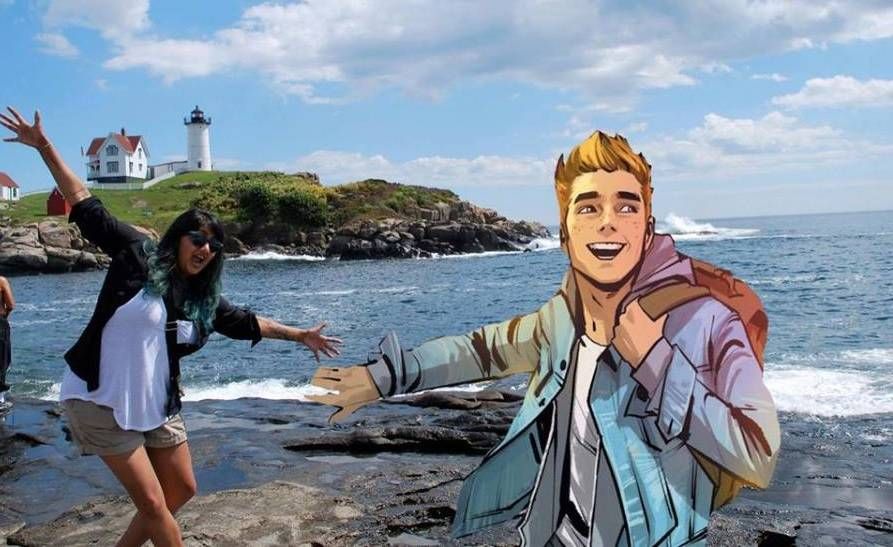 Archie Andrews, the goofy lookin' goober next door who somehow always got the two hottest girls in school, has some news.
I mean, you know Archie. He's got a jalopy that will always quit, flies in his wallet, and a hairstyle that I have trouble imagining in real life (are those bangs? Is it buzzed on the side? Is it a houdini?). At least he got his teeth fixed, I mean, homeboy had some chompers back in the day.
And while I can recognize a good bow tie when I see one, I'm not sure this constitutes a "good" bow tie situation.
I mean, look at this nerd!
Let's be real, he's no Kevin Keller.
… Or is he.
I'm not sure how to go about admitting this. Should I admit it? This will live on forever on the internet. It will follow me around in the digital airwaves. It might end up on my gravestone.
But I should be honest. Honesty is the best policy, right?
Guys.
Friends.
Trusted readers.
Archie Andrews… is hot.
Archie-kins (as he will heretofore be referred to as) has gotten undeniably attractive.
We got a glimpse of this way back when Archie Comics announced that the one and only Fiona Staples would be kicking off a brand-new Archie #1 this summer (and he'll probably have a kickass story, courtesy of Mark Waid).
But, bro. Bro, look at this fella. Look at ole' Arch. Excuse me, Archie-kins. That's the coolest way he's ever held his guitar. And that side-eye, like he knows we want the whole face but ain't no way we're getting it yet. He is TEASING US. He's got his chucks, a white tee, and gurrl that jawline.
(Betty, you don't look so bad yourself, mmmhhmm.)
But any way.
And then we got all these variant covers, or should I say, pin-ups. Because.
I JUST WANNA PUT MY FINGERS IN HIS HAIR IS THAT SO WEIRD. I mean, clearly that is what Francesco Francavilla was going for here. This is not my fault. These are natural feelings, okay.
UGH THAT V-NECK. THAT. V-NECK. And the hoodie under his letterman jacket. I mean, he's so cool. J. Scott Campbell really knows how to dress a dude, alright.
Oh, my heart. Look at how sensitive Archie-kins is. He's writing a song about you. Or me. And you know it's going to have some serious "Hey There Delilah" vibes. So I hope your heart strings are ready to be tugged. Mine are. (And look at him with his Josie and the Pussycats poster! He is so deep, Mike Norton. So deep.)
Those girls taking video better be careful, 'cause for real, I will fight them. (Thank you for this, Greg Scott and Steve Downer).
Seriously I am so into the jacket over the hoodie thing, and the giant smile, and the backpack, and the face. The face, you guys. THE FACE.
Ok, in a tailored suit with flowers in hand? Clearly getting on the subway to come see me in Brooklyn? What are you listening to, babe? Hot Chip? Vampire Weekend? What do you say, Moritat?
WHERE IS YOUR JAMES DEAN MOTORCYCLE BECAUSE I WILL GET ON IT. THEN WE CAN DRIVE TO THE BEACH. OR WHEREVER. I WILL GO WHEREVER. Joe Eisma, this was an excellent decision.
I mean. I mean. Thank you, Colleen Coover for some sportsy Archie-kins who looks like he has all the right moves. Also, I'm pretty sure soccer has the highest hot player to not-hot player ratio. So yes, also excellent sports-choice. It really accentuates Archie's muscle tone. Or something. What was I saying?
Ok, so don't take my weird ranting as gospel, go check out the full line of pin-up covers on your own (and then you can drool right along side me.) But also you had best back off, because we are already vacationing together, okay?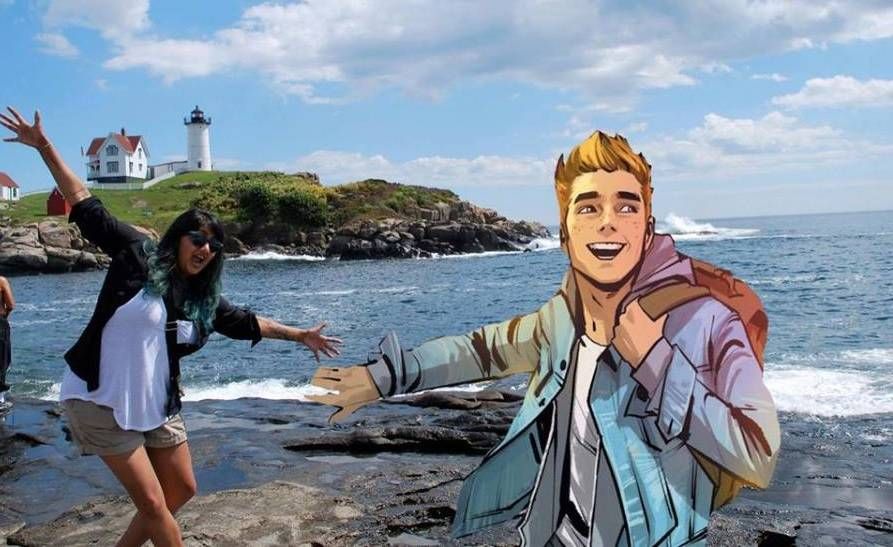 Oh man, what do you think Reggie's going to look like?!
____________________________
Join us for Book Riot Live this November—hang out with people who love books, comics, and geeking out!