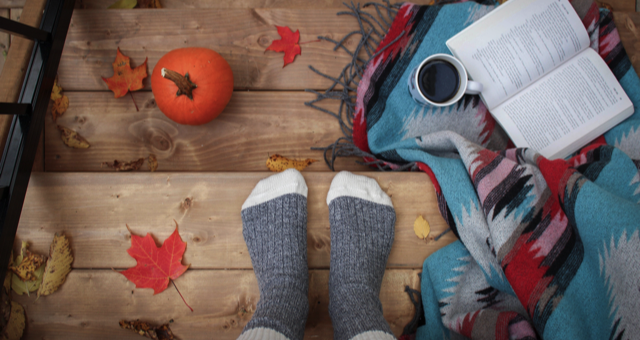 This list of October 2019 YA books is sponsored by Michigan vs. the Boys by Carrie S. Allen from KCP Loft.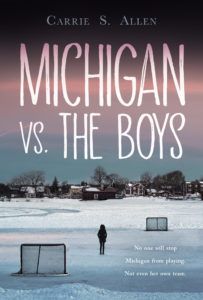 Michigan Manning lives for hockey, and this is her year to shine. That is, until she gets some crushing news: budget cuts will keep the girls' hockey team off the ice this year. If she wants colleges to notice her, Michigan has to find a way to play. Luckily, there's still one team left in town … The boys' team isn't exactly welcoming, but Michigan's prepared to prove herself. She plays some of the best hockey of her life, in fact, all while putting up with changing in the broom closet, constant trash talk and "harmless" pranks. But once hazing crosses the line into assault, Michigan must weigh the consequences of speaking up—even if it means putting her future on the line.
---
As L.M. Montgomery once wrote, "I'm so glad I live in a world where there are Octobers." This is so true, and I am especially glad to live in a world where there are so many great October YA releases! This is a great month for YA, including exciting new debuts and releases from YA powerhouses. I couldn't possibly limit myself to a handful of picks—here are seven great new releases you'll want to TBR right away!
The Fountains of Silence by Ruta Sepetys
Ruta Sepetys is a tremendous historical fiction writer, and her newest book takes us to 1950s Madrid, where Spain is still reeling from the Civil War that ended with General Franco in power. The protagonist is American teen Daniel, who is visiting Spain and eager to learn more about his mother's homeland. He's a photographer, and his lens lands on Ana, a young Spanish woman whose family is still very much effected by the war. As Daniel's photographs shed light on the dark side of Madrid and life under Franco, he and Ana are put into grave danger.
The Good Luck Girls by Charlotte Nicole Davis
I am beyond excited for this western-inspired fantasy about five young women who are branded with curses and known facetiously as "Good Luck Girls." When one of them accidentally kills a man, they must all flee for their lives across a hostile landscape, hunted each step of the way. They are pursuing a story, a myth, that will either prove to be their undoing…or their redemption.
The Last True Poets of the Sea by Julia Drake
Perseverance runs in Violet and Sam's family. Their ancestor survived a shipwreck, swam to shore, and founded Lyric, Maine, where they spend every summer. But when Sam attempts to take his own life, Violet is sent to Lyric without him, and finds herself adrift until she decides that she is going to find the shipwreck her great-great-great grandmother survived. She is helped by local amateur historian, Liv, and together to two embark on a transformative journey.
The Grace Year by Kim Liggett
Tierney lives in Garner County, where girls are told they hold incredible power to lure men and disrupt society. Therefore, they must endure a "grace year"—their 16th year spent in banishment in the wilderness. As Tierney approaches her 16th year, she must reckon with the reasons behind the grace year and figure out who the real enemy is. This novel has already been optioned for film by Elizabeth Banks and Universal!
Jackpot by Nic Stone
Ricco works at a gas station to help pay bills, and on her off time helps care for her younger brother. Between that and school, it makes for a grueling, exhausting life. But when she sells a winning lottery ticket and the winner doesn't come forward, she teams up with her (much richer) classmate Zan to find this person, in the hopes of changing her life. But when Ricco and Zan's investigation bring up painful truths about money, finding a winning lotto ticket becomes much more difficult. I love that Stone is tackling financial privilege in her latest YA!
The Beautiful by Renée Ahdieh
When Celine is forced to flee Paris and her life as a dressmaker, she lands in New Orleans, taking refuge in a convent. As Celine falls for the city, the excitement, and the enigmatic people who encounters, the body of another young woman at the convent is discovered, dead. As murder spreads, Celine decides to take matters into her one hands, bringing her face to face with her own past and unspeakable darkness.
Thirteen Doorways, Wolves Behind Them All by Laura Ruby
This book has already been nominated to the National Book Award Longlist! It follows Frankie and her sister Toni, teens who are abandoned to an orphanage after their mother dies and their father finds a new wife rather than saving money to bring them home. As the country escalates to World War II, Frankie must find the strength to forge her own path in an uncertain world.
---
Want more "3 On A YA Theme" posts? Gotcha covered.