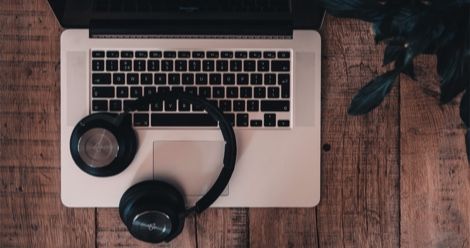 A version of this post first appeared in the audiobooks newsletter. To sign up for the audiobooks newsletter or any of our other great newsletters, click here.
There are tons of new audiobooks to keep you busy all through the spooky, scary (or just normal) October nights. Let's take a look at some of the most exciting new releases this month!
October 2018 Audiobook Releases
Publisher's description in quotes
For Colored Girls Who Have Considered Politics by Donna Brazile, Yolanda Caraway, Leah Daughtry, Minyon Moore, Veronica Chambers; narrated by Robin Miles; release date: 10/02/18
"The lives of black women in American politics are remarkably absent from the shelves of bookstores and libraries. For Colored Girls Who Have Considered Politics is a sweeping view of American history from the vantage points of four women who have lived and worked behind the scenes in politics for more than 30 years – Donna Brazile, Yolanda Caraway, Leah Daughtry, and Minyon Moore—a group of women who call themselves the Colored Girls."
All four women have worked on presidential campaigns and they take listeners behind the scenes of those campaigns as well as black female politicians whose stories too often go untold.
All You Can Ever Know by Nicole Chung; narrated by Janet Song; release date: 10/02/18
The buzz around this book is SO GOOD and having read my share of Nicole Chung's essays, I'm confident in that buzz. Really can't wait to get my hands on this one.
"Nicole Chung was born severely premature, placed for adoption by her Korean parents, and raised by a white family in a sheltered Oregon town. From childhood, she heard the story of her adoption as a comforting, prepackaged myth. She believed that her biological parents had made the ultimate sacrifice in the hope of giving her a better life, that forever feeling slightly out of place was her fate as a transracial adoptee. But as Nicole grew up—facing prejudice her adoptive family couldn't see, finding her identity as an Asian American and as a writer, becoming ever more curious about where she came from—she wondered if the story she'd been told was the whole truth."
What if This Were Enough written and read by Heather Havrilesky; release date: 10/02/18
I am a HUUUUGE Ask Polly fan; Havrilesky is so wise and compassionate (and funny!) about all things. I've had the galley of this forever but haven't had the chance to read it, so I am hoping hearing her narrate it will inspire me to follow through because I think she's the BEST.
I LOVE that these two are a couple and I'm positive their narration of this book alone will make it worth a listen. "Eighteen years [after meeting], Offerman and Mullally are still very much in love, and have finally decided to reveal the philosophical mountains they have conquered, the lessons they've learned, and the myriad jigsaw puzzles they've completed, in an audiobook. Featuring anecdotes, hijinks, interviews, photos, and a veritable grab bag of tomfoolery, this is not only the intoxicating audiobook that Mullally's and Offerman's fans have been waiting for, it might just hold the solution to the greatest threat facing our modern world: the single life."
This Life or the Next by Demian Vitanza; Tanya Thresher, translator; narrated by Assaf Cohen; release date: 10/09/18
"Tariq Khan is a Pakistani born and raised in Norway. An outsider in his own country—adrift between two worlds divided by class, race, and culture—he's always been searching for home…Idealistic, driven by faith, and empowered with purpose, he's drawn to radical Islam—his last resort for achieving a sense of belonging, for embracing and being embraced. It's only when he enlists in the war against Assad that Tariq's eyes are truly opened. Dispirited with the violence, faced with the consequences of his choices, and increasingly distanced by the brutalities of jihad, Tariq contends with spiritual struggles that are his alone."
Trinity by Louisa Hall; narrated by Cassandra Campbell, David Colacci, Saskia Maarleveld, John Lee, Brittany Pressley, Yetta Gottesman, Charlie Thurston, Amy Landon; release date: 10/16/18
This fictionalized account of the "father of the atomic bomb," Robert Oppenheimer, "a set of characters bears witness to the life of Oppenheimer, from a secret service agent who tailed him in San Francisco, to the young lover of a colleague in Los Alamos, to a woman fleeing McCarthyism who knew him on St. John. As these men and women fall into the orbit of a brilliant but mercurial mind at work, all consider his complicated legacy while also uncovering deep and often unsettling truths about their own lives."
The author of the hilarious and wise You Can't Touch My Hair is back with another highly anticipated essay collection. "Written in her trademark unfiltered and singularly witty style, Robinson's latest essay collection is a call to arms. She tackles a wide range of topics, such as giving feminism a tough-love talk in hopes it can become more intersectional; telling society's beauty standards to kick rocks; and taking a hard look at our culture's obsession with work. Robinson also gets personal, exploring debt she has hidden from her parents, how dating is mainly a warmed-over bowl of hot mess, and, maybe most importantly, meeting Bono not once but twice."
Family Trust by Kathy Wang; narrated by Joy Osmanski; release date: 10/30/18
"Meet Stanley Huang: father, husband, ex-husband, man of unpredictable tastes and temper, aficionado of all-inclusive vacations and bargain luxury goods, newly diagnosed with pancreatic cancer. For years, Stanley has claimed that he's worth a small fortune. But the time is now coming when the details of his estate will finally be revealed, and Stanley's family is nervous. As Stanley's death approaches, the Huangs are faced with unexpected challenges that upend them and eventually lead them to discover what they most value." Library Journal says, "Readers who enjoy complicated novels about family issues will find this engrossing work impossible to put down."
One half of the comedy duo that is Broad City shares her reflections on any and everything, with some original illustrations to boot. "Driving across the country alone, Abbi Jacobson "mulled over the big questions: What do I really want? What is the worst possible scenario in which I could run into my ex? How has the decision to wear my shirts tucked in been pivotal in my adulthood? In this collection of anecdotes, observations and reflections – all told in the sharp, wildly funny, and relatable voice that has endeared Abbi to critics and fans alike – listeners will feel like they're in the passenger seat on a fun and ultimately inspiring journey."
A plethora of choices for October! What are you most excited to get in your ears? Let me know in the comments, or on twitter where I'm msmacb.
Happy listening!