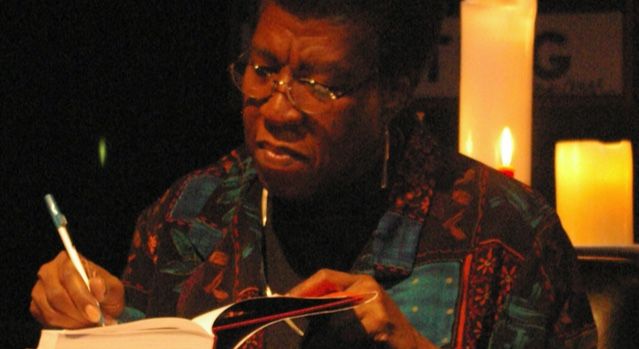 This content contains affiliate links. When you buy through these links, we may earn an affiliate commission.
Octavia Butler was the author of more than 15 books. If you've ever wanted to read more of her work, this is our guide to the best Octavia Butler books and a look at her life and legacy.
Who is Octavia Butler?
A native of Pasadena, California, Butler was an only child who was raised mostly by her mother and grandmother. Her father died when she was 7 years old. She spent much of her time as a child on jobs with her mother, who worked as a housekeeper, and reading books at the Pasadena Central Library.
She attended Pasadena City College and the Clarion Workshop. After graduating from college, she would continue to work temp jobs while getting up at 2:00 or 3:00 in the morning to write. She was eventually able to leave these jobs behind to write full time. In 1995, she became the first science fiction writer to win a McArthur Fellowship. In 2000, she received a Lifetime Achievement Award in Writing from the PEN American Center.
Huntington Library, which has her papers in their research collection, published an image of one of her notebooks that periodically resurfaces on Twitter. In the notebook, Butler declared that "This is my life. I write bestselling novels. My novels go onto the bestseller lists on or shortly after publication. […] So be it! See to it!" and that "My books will be read by millions of people!"
Her vision more than came true. She also expressed a wish to help poor black students get an education and to travel whenever and wherever she wanted. Today, the Octavia E. Butler Memorial Scholarship provides Clarion Writers' Workshop scholarships for young writers of color. There is also a scholarship in her name at her alma mater, Pasadena City College.
Butler died in 2006 at the age of 58, having written her own dreams into existence.
Butler's legacy lives on in so many ways. In addition to her immortal body of work and the scholarships that have been established in her name, there is also an asteroid named after her. In 2019, the Los Angeles Public Library opened the Octavia Lab, a maker space named in Butler's honor.
Octavia Butler Books
Butler read science fiction growing up, but was disenchanted with the genre's portrayal of women and race. Her work sought, in part, to correct these gaps. Here are more reasons why Octavia Butler is essential sci-fi reading.
This is your guide Octavia Butler books, from her first series to standalone novels.
Patternist Series
This was Butler's first series and is about a secret history taking place from the 17th century into the far future and featuring a race of selectively bred telepaths who come to dominate the Earth. There are five books in this series, which can be read in order of publication or chronologically as Wild Seed, Mind of My Mind, Clay's Ark, Survivor, and Patternmaster. Butler was not fond of the novel Survivor later on, and it is not included in the most recent Patternist omnibus.
Xenogenesis (Lilith's Brood) Series
A woman, Lilith, awakes in what seems to be a prison cell with memories of this happening before. She remembers being questioned. She is asked the same questions again and eventually learns that the Earth has been rendered uninhabitable by nuclear war and that humans are nearly extinct. The Oankali wish to save humanity by cross-breeding with the surviving humans. Lilith's Brood is sold as an omnibus but the individual novels are, in order, Dawn, Adulthood Rites, and Imago.
Parable (Earthseed) Series
Parable of the Sower is the story of Lauren Olamina, who was born with hyperempathy, meaning that she feels others' pain in her own body. The United States has turned into warring city-states and company towns. There is an influential senator who uses the slogan, I kid you not, "Make America Great Again." His supporters are known to burn people at the stake for not being Christian, or not being the right kind of Christian. When her community is attacked, Olamina travels to Northern California to build a community called Earthseed. The story of the community continues in the Nebula Award–winning Parable of the Talents. Butler planned several more Earthseed novels, including Parable of the Trickster. The beginnings of Trickster can also be found at the Huntington Library.
Standalone Novels
In Kindred, Dana, a black woman living in modern times, is celebrating her birthday with her boyfriend when she suddenly disappears and reappears in the antebellum South to save the son of a slave owner, who would have otherwise drowned. Dana returns to her own time but continues to be drawn back to past and specifically to the boy, Rufus, for longer and longer periods of time until she is uncertain whether she will ever be able to return to her own life.
In Butler's other standalone novel, Fledgling, protagonist Shori does not remember who she is, but a closer study of her needs leads her to an unusual conclusion: she is a genetically modified adult vampire, not the little girl she seems to be. She sets herself on a path to remember who is after her and how to survive. In this book, Butler imagines a symbiotic relationship between vampires and humans.
Short Story Collections
There are two collections of Butler's short stories. Bloodchild and Other Stories ("Bloodchild" won several awards including a Hugo and a Nebula) and Unexpected Stories, which was published in 2014 and features two never-before-published stories: "A Necessary Being" and "Childfinder."
---
Not sure where to start with her work? There's a Reading Pathway for that.