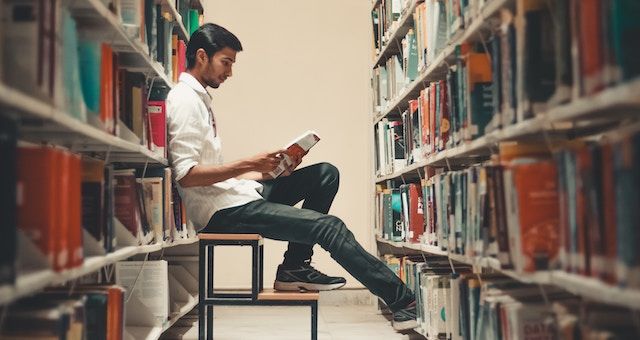 Libraries
Some Observations From Library Tourism
Look. You probably know this already: libraries are about more than books. Every day, it seems, there are articles written about how libraries are now community spaces and anchors; they are becoming tourist destinations in the way other cultural institutions like museums have been for decades. At least, every day it seems like these kinds of articles are popping up in my Google alerts and friends are sending me links about it. Surely everyone knows now that libraries are enchanting, vibrant public spaces that are about so much more than books? Right?
Well, maybe yes. But also maybe not. I started doing a PhD about public libraries in 2012, and in the past eight years, I have visited 112 libraries in six different countries (primarily USA and Australia). I have been to libraries in the heart of bustling global cities, in quiet suburbia, in small country towns. I have seen some very old libraries, and some very new ones. Along the way, I've noticed a few things.
General Observations from Library Tourism
There is one fantastic reason why public libraries should be a tourist destination the way museums are. One reason to visit a museum is to learn, often about the place you are visiting — its history, its people, its culture. At the library, you get to do exactly that, in a very nerdy-geographer kind of way. You can tell a lot about a place and its local population by its library. You can get a sense of whether there is much of an ageing population (what proportion of the collection do large print and audio books take up?); whether it's an area populated with many young families (how large are the children's/teen areas? what about programming? how many storytimes does the library run per week?); what immigrant communities are prominent (what non-English books does the library have? how big is this collection?); what kind of community and local government is this (check out the noticeboards at the library, what sorts of notices are on there?). A library is a reflection of the community it serves, and it can be fascinatingly revealing.
Related to this first point, libraries are a fantastic place to spend unexpected free time. Recently, I travelled with my husband and toddler to Australia. We were flying out of LAX, and because I am paranoid about traffic in L.A., we left for the airport with plenty of just-in-case time. We ended up with a bit too much, and with about two hours of extra time in L.A., we were thinking of ways to keep a rowdy toddler entertained. My husband looked up nearby McDonald's; I searched for the closest library. We ended up spending two hours at the library. The reason I mention this here is because it seems that 'where's the library?' is not the first question most people think of when they need to find a place to hang out for a few hours. They think about Starbucks, cafes, McDonald's, shopping centres. Even my husband, who has been dragged along to many libraries with me in the three years we've been married, does not automatically think of libraries. But they are great! They are free, protected from the elements, have public toilets, comfortable seating, sources of entertainment, and there are usually quite a few of them easily accessible in most places. Why wouldn't you think of the library first?!
This observation is specific to one subset of the library-going population: the single-digit age crowd. Libraries are wonderful, incredible places for kids. There are, of course, books for them. Board books, picture books, young readers, early chapter books. There is fiction and nonfiction. But even more than that, there are often toys and other sources of entertainment, like interactive toy walls, soft toys and puppets, building blocks, and children's computers with brightly coloured keyboards and educational games and programmes. There is really no better (indoor and free) place to spend a few hours with a bored toddler than the library.
Related to the previous point, and this is definitely an observation borne out of visiting a lot of libraries but is still a generalisation of sorts: American libraries are better than Australian libraries for having toys in the children's areas. A lot of American libraries I've visited in the past year or two (so, since having a kid) have more than just books in their children's areas. There are often soft toys and blocks, and sometimes there are even more than that. By contrast, a lot of the Australian libraries only have books in the children's area. This is something I didn't really notice during the course of my PhD (it was about books and libraries; I wasn't really looking for toys). But then on this recent trip to Australia, I took my 22-month-old daughter to a few libraries. She kept looking around and asking for toys, and it was then that I realised: there are only books here. And so here is my request to Australian librarians and library designs: please include some toys and other interactive playthings in your children's libraries!
Some of the Best Things I've Seen Recently in Libraries
Beyond these general observations about libraries, there are also some specific great things I've seen in libraries that I think deserve attention. As I mentioned earlier, I've been doing this library tourism thing for awhile now. I've written about cool things I've seen in libraries before. Here is an update to that post, with more cool things I've seen in public libraries.
At Castle Hill Library in Sydney, Australia, they built a castle in the children's area: a great wooden structure for climbing on/through and reading in, complete with turrets. In keeping with my fourth observation above, the library had no toys and only books, but the castle is very cool.
The children's floor of the Vancouver Community Library in Washington is incredible. It is one of the top ten children's libraries in the U.S., and includes the largest library-based Early Learning Center in the country. There is a play kitchen, a kid-sized rowboat and submarine, a lot of hands-on displays and exhibits, quiet nooks for reading and homework, and an extensive story time program. I went to this library in 2017 when I was pregnant, and wish I lived closer so we could visit more regularly.
Just to prove that the best things don't have to be elaborate, this is a less extravagant example of a great children's library. Scripps Miramar Ranch library in San Diego, California, is an unassuming library in the suburbs of San Diego. It was built in 1993, so while it's not a very old library, it's also not one of the new modern ones that have recently opened or been refurbished. Its children's library, however, is great. There is a long interactive toy wall, a puppet theatre, puppets and soft toys, a lot of puzzles, crayons and colouring paper, stacking rings and cups, an abacus, foam and magnetic letters, a chess and checkers table, and a car for kids to climb and sit in. This is a library where a child can easily be easily entertained for an afternoon even if they don't want to read.
To get away from the children's section completely, this is something else I saw recently that I loved: the Culinary Literacy Center at the Free City of Philadelphia in Pennsylvania. It is a kitchen classroom and the first space of its kind in a public library. It aims to promote literacy through cooking and programs include cookbook authors demonstrating recipes, children's cooking classes, and dietitians giving classes on healthy eating. What a marvellous thing for a library to be doing! I love this idea so much.
Borrego Springs Library in California is a library that rises out of the desert. It opened in December 2018, and it is a truly gorgeous space, with community rooms, a large teen space, and a great children's area. It is a source of pride for the community, and one of my favourite things about it is that it is designed to be a Zero Net Energy building. Solar panels built above the car park are designed to offset the energy required to operate the building which, as a library in the desert, will be substantial.
So there you have it: some of the best things I've seen and learnt in public libraries in recent years. Despite years researching visiting, and writing about libraries, it doesn't get old. They are delightful places that still enchant me after all this time. When you have a free hour or two, pop in for a visit. It might surprise you.
For more on public libraries and how they are more than just books, we've got you covered: Seeing the Library as a Geographer Would, Libraries as Community Spaces, and Public Libraries: A Love Letter.