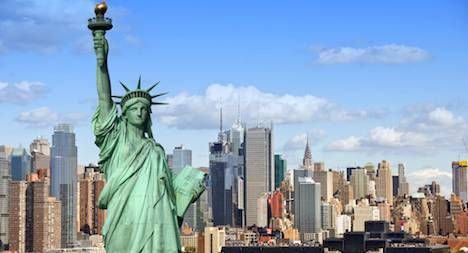 News
NYC Launches Largest Community Read in the U.S.
This content contains affiliate links. When you buy through these links, we may earn an affiliate commission.
If you live in New York City, you may have seen the subway posters of five celebrities holding up books. The posters promote the new "One Book, One New York" program, spearheaded by the Mayor's Office of Media and Entertainment. One Book, One New York, if successful, will be the largest community read in the United States, ever. Beginning with the provocative question, "What if everyone in New York was reading the same book at the same time?", the program aims to get all New Yorkers on the same page – literally.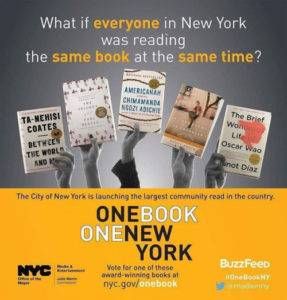 It isn't the first city-wide read attempted. That honor goes to Seattle, which in 1998, collectively read The Sweet Hereafter by Russell Banks. Since then, the trend caught on and other cities followed suit. Chicago, Philadelphia, and Austin are just a few examples.
A failed attempt in NYC several years ago fell apart due to a disagreement on which book should be chosen. But this time, the Mayor's Office gets over that hurdle by trying something new: allowing participants to select the book through a popular vote. Instead of choosing one book, a committee recommended five. The finalists are up for a public vote until Tuesday, February 28.
What's more, each finalist touches on themes familiar to any New Yorker, no matter how long they've lived in the city:
1. Americanah by Chimamanda Ngozi Adichie
2. The Brief Wondrous Life of Oscar Wao by Junot Diaz
3. Between the World and Me by Ta-Nehisi Coates
4. The Sellout by Paul Beatty
5. A Tree Grows in Brooklyn by Betty Smith
The idea of a city-wide community read is compelling for many reasons. In a recent interview with public radio station WNYC, Commissioner Julie Menin reports that other cities who have attempted community reads witnessed enormous spikes in book sales at independent bookstores. Menin admits that this factor was one of the largest in spurring NYC to adopt the program.
There are only 65 independent bookstores across New York City. That's not a lot for a city of over eight million people. There are none in the Bronx (though that is changing), and Staten Island only has one. The hope is that One Book, One New York will help drive bookstore sales at these important locations, as well as increase library traffic. Menin reports that there are 4,000 copies of the five finalists in the 219 public library branches across the city.
Voting ends on Tuesday, and the winning book will be announced at the beginning of March. From there, the winning book will be the subject of a discussion at the New York Public Library, as well as events throughout the spring and summer. If you live in NYC and want to take part of this exciting initiative, head over to the One Book, One New York webpage and vote now!