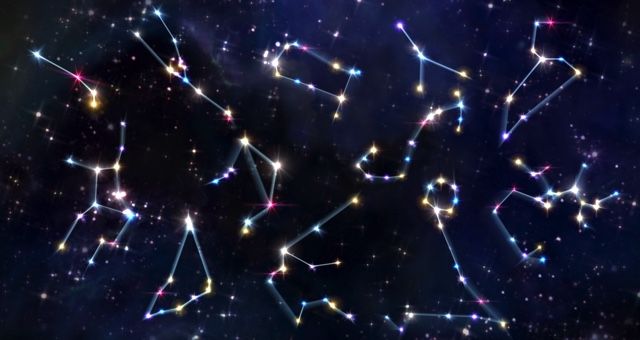 Lists
November 2019 Horoscopes and Book Recommendations
This content contains affiliate links. When you buy through these links, we may earn an affiliate commission.
Welcome to Book Riot's November 2019 Horoscopes and Book Recommendations! There are a ton of wonderful books coming out this month. Where to begin? Let the stars be your guide! Find your astrological sign below for your November horoscope, perfectly paired with a newly released book.
Aries (March 21–April 19)
As the year draws to a close, you're looking for something bigger. As an Aries, you're always looking for the next big opportunity, the next chance to win. But this is different. Now you're looking for something outside of your bubble, maybe even outside of this universe. You'll spend much of November thinking about the big spiritual questions. Answers may be found through travel or in deep conversations with loved ones. Don't be afraid to get philosophical. You might enjoy On Swift Horses (November 5, Riverhead Books) by Shannon Pufahl. Muriel is newly married and lonely in her new hometown of San Diego. Her brother-in-law, Julius, is working in casinos and lovesick for a handsome, young card cheat. This queer Western is an exploration of desire, risk, and uncertainty with stunning prose and wonderfully complex characters.
Taurus (April 20–May 20)
Relationship building is key for your this month, Taurus. Your close family and friends and important to you, and you are happy to put time and effort into those relationships. But sometimes you get tunnel vision when it comes to your professional and social life, forgetting to think about the other people around you. Playing nice with colleagues and acquaintances will set you up for success in November, so take that extra time to check in. I recommend The Revisioners (November 5, Counterpoint) by Margaret Wilkerson Sexton. Josephine freed herself from slavery as a child and is now the owner of a thriving farm. When a white woman moves onto the property next door and tries to strike up a tenuous friendship, their relationship may cause Josephine irreparable harm.
Gemini (May 21–June 20)
November will present many forks in the road for Geminis. This is not unfamiliar for the twins; you're known to be adaptable and creative, but also indecisive and restless. Don't rush into any big decisions this month. Consult with trusted advisors when it comes to financial and professional matters. You may also face a dilemma in your romantic life. Talking things out is a great help to you, so discuss your situation with a loved one to find a solution. Check out In the Dream House (November 5, Graywolf Press) by Carmen Maria Machado. In this stunning, inventive new memoir, Machado explores an abusive relationship from her past through classic horror and fairytale tropes. It's an entrancing book that will haunt you far past the last page.
Cancer (June 21–July 22)
You've got a warm fuzzy month coming up, Cancer! November will hold blissful family fun and wonderful memories for you, so carve out time to spend with your loved ones. Your creative side is also seeking an outlet this month. Look out for opportunities that engage your artistic abilities and imagination. Spending time with children may help bring out your inner playfulness. Professional success is on the back burner, so don't expect to get too much done at work. Read Little Weirds (November 5, Little, Brown and Company) by actress and stand-up comic Jenny Slate. This memoir isn't what you picture when you think of a celebrity memoir; it's funny, but also poetic, bizarre, honest, and surprising. It's deeply personal and wonderfully artistic, and it's sure to bring you joy.
Leo (July 23–August 22)
November is all about caring for others for Leos. You get a bad rap for being self-absorbed, but Leos' affinity for loving and indulging themselves also makes them great friends. Leos will always be the first to encourage their besties to take a fake sick day and go to the spa. This month, you'll spend much of your time pampering your loved ones and encouraging them to practice self-care. You need no reminder, but don't forget to take care of yourself, too. Check out The Bromance Book Club (November 5, Berkley) by Lyssa Kay Adams. When professional baseball player Gavin's wife asks for a divorce, he will do anything to save their relationship. Lucky for him, that's where the Bromance Book Club comes in. He joins a group of men seeking to repair their broken relationships by reading and discussing romance novels. What results is hilarious and heartwarming.
Virgo (August 23–September 22)
November may not hold big wins for Virgos, but it will certainly bring progress. As a methodical and detail-oriented person, you can find great satisfaction in progress. Careful planning at work will send you in the right direction, even if there isn't a lot to show for it just yet. It's also a great time to learn something new. You make an excellent student, and your persistence in educational pursuits may provide opportunities in the near future. You might enjoy Queen of the Conquered (November 12, Orbit) by Kacen Callender. Sigourney is the last survivor in her noble family line on a colonized Caribbean island. When a childless king announces he will choose an heir from noble families, she uses her power of mind control to gain the throne and seek vengeance for the death of her family.
Libra (September 23–October 22)
Good news, Libra. November is going to be a great month for you! The stars predict success in many aspects of your life, including your career, family life, health, and even romance. Use your good fortune to prepare for the end of the year and get your affairs in order before the holidays, as things may be rockier in December. Your finances are also strong this month; money will come to you easily. It's always good to save, but treat yourself to something nice, too. Read Get a Life, Chloe Brown (November 5, Avon) by Talia Hibbert. When chronically ill computer geek Chloe has a near-death experience, she decides it's time to move out of her family's home and get a life. In order to do so, she enlists the help of her handsome, tattooed, new neighbor, Red. As he helps Chloe tackle her goal, she learns some of his secret dreams, too.
Scorpio (October 23–November 21)
You're making big moves this month, Scorpio. Some characterize you as conniving, but you like to think of yourself as strategic. When you've got your eye on something, you can always find a way to get there. That's true for you in November; you're perfectly capable of getting what you want. But while focused on your goal, you may accidentally step on some toes, particularly with your significant other. Some apologies may be in order…after you win. You might enjoy The Witches Are Coming (November 5, Hachette Bookes) by Lindy West. In this essay collection, columnist Lindy West looks at some of the most toxic yet unsuspecting parts of our culture—Adam Sandler movies, Twitter, internet famous cats—and unpacks how they explain our current political situation. West's unique perspectives on racism, sexism, climate change, and more are so necessary, and this collection is a call to action that can't be ignored.
Sagittarius (November 22–December 21)
Love is in the air for Sagittarius! November is a great time for romance. For those in relationships, your time together will be full of laughter and good memories. For those that are single, romance may be found while traveling or while visiting new locations in your hometown. You're also in great health this month and eager to get outside in nature. Work may bring some frustrations in November; destress while being active outdoors. I recommend Not the Girl You Marry (November 12, Berkley) by Andie J. Christopher. Hannah is an event planner who needs to convince her boss she can fall in love to break into the wedding market. Jack is a pop culture journalist writing an article on how to get dumped by a girl. When the two meet, will they use each other for their own secret reasons, or really fall for each other?
Capricorn (December 22–January 19)
Capricorns' to-do lists just keep getting longer this month. You're known for being responsible and level headed, which means that when someone has a great new idea, you often end up bearing the brunt of the work. This can be frustrating for you, but you also get satisfaction from a job well done. Remember the end goal when things get tough. You can take care of your mental health during this busy period by spending quality time with loved ones. Check out The Starless Sea (November 5, Doubleday) by Erin Morgenstern. Graduate student Zachary stumbles upon a fantastical book with a story from his own childhood. To find out how it got there, he goes on a scavenger hunt that leads him to a doorway in an ancient library. The doorway introduces him to a whole new realm, full of pirates, distant shores, and magical surprises.
Aquarius (January 20–February 18)
You're a social butterfly this month, Aquarius! People are drawn to you in November, and you're excited to expand your network. Social events abound as the holidays approach; your attendance may lead to important connections that benefit you personally and professionally down the line. Be your charming self when meeting new people and you can't fail. But make sure you don't neglect your older relationships while building new ones. I recommend The Deep (November 5, Gallery) by Rivers Solomon, based on the song of the same name by Daveed Diggs, William Hutson, and Jonathan Snipes. Deep in the Atlantic Ocean live mermaids descended from pregnant African slaves thrown overboard. While most mermaids have forgotten their traumatic history, Yetu is tasked as the historian who must store painful memories for everyone.
Pisces (February 19–March 20)
November brings Pisces great visions for the future. But while big things may be in store down the road, you may be the only one who can visualize them right now. Others may not be so quick to get on board, causing tension with folks that should be on your side. Use your intuition to learn their reservations; you can win them over if you look at it from their perspective. It's also important to take care of your body this month, as stress can take a toll on your health. Read The Book of Lost Saints (November 5, Imprint) by Daniel José Older. Ramon is a hospital security guard by day and a DJ by night. He never met his aunt Marisol, as she disappeared during the Cuban Revolution before he was born. But once her spirit starts following him and rediscovering her own story through his dreams, he must uncover what happened to her in order to set her free.
---
Looking for more? Check out your August, September, and October horoscopes and book recommendations!