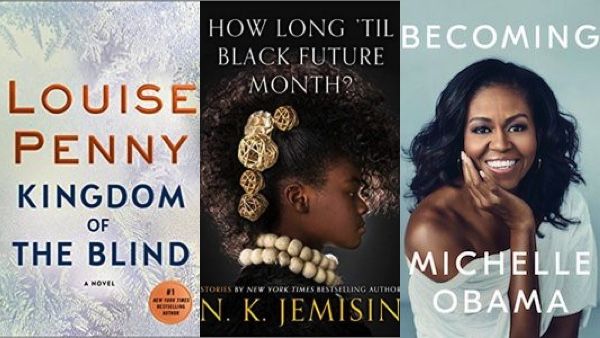 Lists
10 November New Releases To Put On Hold at the Library Right Now
This content contains affiliate links. When you buy through these links, we may earn an affiliate commission.
Want to read some of the big fall titles, but don't want to wait forever for your turn at the library? I have the cure for the common hold: Beat the waiting lists at the library by putting these ten November new releases on hold now, and then get ready to claim bragging rights! I have picked a bunch of great books you'll be fall-ing over yourself to read.
The author of Big Little Lies and several other novels returns with a look at—you guessed it—nine perfect strangers spending ten days together at a health resort. Will it be life-changing? In a good way? Or will they drive each other mad?
Two sisters torn apart by the Korean War seek to reunite as adults. Miran grew up in America, her younger sister Inja was raised in their homeland. Will the two sisters be able to reconnect after such a long time, and with so many family secrets being revealed?
Pulitzer Prize winner and two term U.S. Poet Laureate Trethewey returns with a powerful new collection about the state of America today, and highlights unsung heroes from the country's past and present. (This just made the 2018 National Book Award for Poetry longlist!)
Gorey was a ghoulish, cat-loving eccentric and a giant in publishing. He worked as a cover designer and illustrator of other people's work, as well as publishing his own amazing illustrations and stories. (The Gashlycrumb Tinies, anyone? And let's not forget the opening credits to Mystery!) We are long overdue for a Gorey Renaissance, and I hope this book does the trick.
A comprehensive examination of one of America's largest problems: its opioid epidemic. McGreal relays facts on doctors, pharmaceutical companies, and the government, all to get to the bottom of how this problem grew so large, and details the lives of the everyday people it affects.
Becoming by Michelle Obama (November 13)
In what I predict will be the biggest selling book of the year, the former First Lady discusses her life, from growing up in Chicago all the way up to her history-making time in the White House.
The author of The Heart's Invisible Furies returns with another fantastic novel, this time about an untalented writer who will stop at nothing to gain the fame he craves. His opportunity comes in the form of a lonely celebrated novelist and that author's long-held secrets about World War II.
Korede has always taken care of things when her sister, Ayoola, kills her boyfriends. But then Ayoola begins dating the man that Korede loves. Will Korede let it stand? THIS BOOK IS SO GOOD. Yes, her sister kills men, but this is really a metaphor for beauty and love and the treatment of women in their country. It's so smart and so, so good.
Jemisin, who just became the first author to win the Hugo Award for Best Novel three years in a row, returns this fall with her first collection of stories. Is it November 27th yet??? I am especially interested in the story about dragons and ghosts haunting the flooded streets of New Orleans in the aftermath of Hurricane Katrina.
In her 14th entry to the Inspector Gamache series, Gamache learns a complete stranger has named him one of the executors to her will, and even weirder, the other two executors were also unknown to the woman. Then a body turns up. (A body always turns up.) Penny is writing one of the most consistently great mystery series going today.
Looking for previously recommended releases? Check out 10 October New Releases To Put On Hold at the Library Right Now and 10 September New Releases To Put On Hold at the Library Right Now.