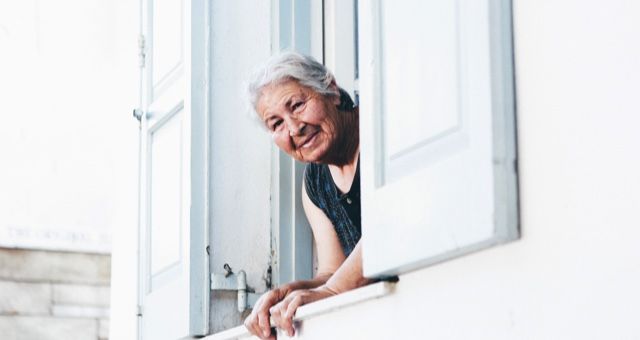 Fiction
50 Must-Read Fiction Books Featuring Older Women
This content contains affiliate links. When you buy through these links, we may earn an affiliate commission.
Last year I turned 50. To celebrate, I wrote a post suggesting books with strong female characters over 50, stories about empowered women who were living a great second act in their lives. Now I am about to turn 51 and am finding myself in the mood for even more novels about older women. So I have created a new reading list.
This list is longer and broader, and the characters are more diverse⁠—you'll find a murderer, a few scientists, a space traveler, a detective or two, a famous actress, and an entrepreneur, along with homemakers, grandmothers, and retirees. The women in these stories range in age from age 50 to 110 and represent a wide variety of experiences, personalities, and genres. All these novels feature older women as crucial characters. Enjoy!
Descriptions in quotes taken from publisher descriptions and condensed when necessary.
"Dr. Marina Singh embarks upon an uncertain odyssey into the insect-infested Amazon. Charged with finding her former mentor Dr. Annick Swenson, a researcher who has disappeared while working on a valuable new drug, she will have to confront her own memories of tragedy and sacrifice as she journeys into the unforgiving heart of darkness."
"Hannah, the now-elderly narrator, remembers each of her two husbands, and all places and community connections threatened by twentieth-century technologies. At risk is the whole culture of family farming, hope redeemed when her wayward and once lost grandson, Virgil, returns to his rural home place to work the farm."
This book is a riveting, beautifully written zombie apocalypse tale with heart. It features three dynamic female characters, including the older Dr. Caldwell, a scientist with questionable intentions. "The Girl With All the Gifts is a groundbreaking thriller, emotionally charged and gripping from beginning to end."
"Nearing her one-hundredth birthday, Roseanne McNulty faces an uncertain future, as the hospital where she's spent her adult life prepares for closure. Refracted through the haze of memory and retelling, Roseanne's story becomes an alternative, secret history of Ireland's changing character and the story of a life blighted by terrible mistreatment and ignorance, and yet marked still by love and passion and hope."
"Meet Stanley Huang: father, husband, ex-husband, newly diagnosed with pancreatic cancer. As Stanley's death approaches, the Huangs are faced with unexpected challenges that upend them and eventually lead them to discover what they most value. A compelling tale of cultural expectations, career ambitions and our relationships with the people who know us best."
"Alma is nearing the end of her long and eventful life. Irina Bazili, a care worker struggling to come to terms with her own troubled past, meets the elderly woman and her grandson, Seth. As Irina and Seth forge a friendship, they become intrigued by a series of mysterious gifts and letters sent to Alma, eventually learning about an extraordinary secret passion that has endured for nearly seventy years."
"Mitsuki Katsura, a Japanese woman in her mid-fifties, is a French-language instructor at a private university in Tokyo. Her husband is having an affair with a much younger woman. In addition, Mitsuki must deal with her ailing eighty-something mother. Inheritance from Mother is a profound work about mothers and daughters, marriage, old age, and the resilience of women."
"The Robinas have shared a wonderful life for more than sixty years. With Ella as his vigilant copilot, John steers their '78 Leisure Seeker RV along the forgotten roads of Route 66 toward Disneyland in search of a past they're having a damned hard time remembering. Yet Ella is determined to prove that, when it comes to life, you can go back for seconds—even when everyone says you can't."
"With her gift for sniffing out the malevolent side of human nature, Miss Marple is led on her first case to a crime scene at the local vicarage. Colonel Protheroe, the magistrate whom everyone in town hates, has been shot through the head. No one heard the shot. There are no leads. Yet, everyone surrounding the vicarage seems to have a reason to want the Colonel dead."
"Ruth Young and her widowed mother, LuLing, have always had a tumultuous relationship. Now, before she succumbs to forgetfulness, LuLing gives Ruth some of her writings, which reveal a side of LuLing that Ruth has never known. The truth that Ruth learns from her mother's past will forever change her perception of family, love, and forgiveness."
"Evison has crafted a bighearted novel with a supremely endearing heroine at its center. He paints a bittersweet portrait of a postmodern everywoman with great warmth, humanity, and humor. Part dysfunctional love story, part poignant exploration of the mother/daughter relationship, nothing is what it seems in this tale of acceptance, reexamination, forgiveness, and, ultimately, healing."
"An elderly artist and her six-year-old granddaughter while away a summer together on a tiny island in the gulf of Finland. Gradually, the two learn to adjust to each other's fears, whims and yearnings for independence, and a fierce yet understated love emerges – one that encompasses not only the summer inhabitants but the island itself, with its mossy rocks, windswept firs and unpredictable seas."
"For forty years, Colony 3245.12 has been Ofelia's home. And it is here that she fully expects to finish out her days–until the shifting corporate fortunes of the Sims Bancorp Company dictates that Colony 3245.12 is to be disbanded. But while her fellow colonists grudgingly anticipate a difficult readjustment, Ofelia savors the promise of closing out her life in blissful solitude, in the place she has no intention of leaving. A population of one."
"Born in 1905, Daisy Stone Goodwill drifts through the roles of child, wife, widow, and mother, and finally into her old age. Her life is vivid with incident, and yet she feels a sense of powerlessness. She listens, she observes, and through sheer force of imagination she becomes a witness of her own life: her birth, her death, and the troubling missed connections she discovers between."
"In this breathtaking portrait of a reclusive woman's late-life crisis, readers follow Aaliya's digressive mind as it ricochets across visions of past and present Beirut. Insightful musings on literature, philosophy, and art are invaded by memories of the Lebanese Civil War and Aaliya's volatile past. As she tries to overcome her aging body and spontaneous emotional upwellings, Aaliya is faced with an unthinkable disaster that threatens to shatter the little life she has left."
"Emily Maxwell dreams of visits from her grandchildren while mourning the turnover of her quiet Pittsburgh neighborhood. When her sister-in-law and sole companion, Arlene, faints at their favorite breakfast buffet, Emily's life changes in unexpected ways. As she grapples with her new independence, she discovers a hidden strength and realizes that life always offers new possibilities."
"A moving novel about three people who find their way back from loss and loneliness. Arthur, a widow, meets Maddy, a troubled teenage girl who is hiding out at the cemetery, where Arthur goes every day for lunch to have imaginary conversations with his late wife. With Arthur's nosy neighbor Lucille, they create a loving and unconventional family, proving that life's most precious moments are sweeter when shared."
"New York City was once Nora's dream destination, and her clannish dead-end block has become a safe harbor, a tranquil village amid the urban craziness. Then one morning she returns from her run to discover that a terrible incident has shaken the neighborhood, and the fault lines begin to open: on the block, at her job, especially in her marriage."
"Alice Howland, happily married with three grown children, is a celebrated Harvard professor at the height of her career when she notices a forgetfulness creeping into her life. As confusion starts to cloud her thinking and her memory begins to fail her, she receives a devastating diagnosis: early onset Alzheimer's disease. Fiercely independent, Alice struggles to maintain her lifestyle and live in the moment, even as her sense of self is being stripped away."
"A June day in the life of Clarissa Dalloway—a day that is taken up with running minor errands in preparation for a party and that is punctuated, toward the end, by the suicide of a young man she has never met. Originally published in 1925, Mrs. Dalloway is Woolf's first complete rendering of what she described as the 'luminous envelope' of consciousness: a dazzling display of the mind's inside as it plays over the brilliant surface and darker depths of reality."
"After losing her husband, Rosie Lee could easily have become an idle rich lady devoted to mah-jongg and luxury shopping. Instead she threw herself into building a culinary empire from her restaurant. But when a body is found in one of Singapore's beautiful tourist havens, and when one of her wealthy guests fails to show at a dinner party, Aunty Lee knows that the two are likely connected."
Celine by Peter Heller
"A luminous, masterful novel of suspense–the story of Celine, an elegant, aristocratic private eye who specializes in reuniting families, trying to make amends for a loss in her own past. Working out of her jewel box of an apartment at the base of the Brooklyn Bridge, Celine has made a career of tracking down missing persons, and she has a better record at it than the FBI."
Yo! by Julia Alvarez
"Yolanda García–Yo, for short–is the literary one in the family. Her first published novel, in which uses as characters practically everyone she knows, was a big success. Now she's basking in the spotlight while those 'characters' find their very recognizable selves dangling in that same blinding light. So here, Yolanda García's family and friends tell the truth about Yo. They take turns telling their side of the story."
"In the center of Paris, Renee is the building's concierge. She is short, ugly and cantankerous, but also a lover and student of art, philosophy, music and Japanese culture. Paloma is a super smart 12 year old and has decided that she will end her life on her 13th birthday. Paloma and Renée hide both their true talents and their finest qualities from a world they suspect cannot or will not appreciate them. They discover their kindred souls when a wealthy Japanese man named Ozu arrives in the building."
"Nikki takes a job teaching a 'creative writing' course in the heart of London's close-knit Punjabi community. Eager to liberate these modest women, she teaches them how to express their untold stories, unleashing creativity of the most unexpected—and exciting—kind. But when the widows' gossip offers shocking insights into the death of a young wife and some of the class erotica is shared among friends, it sparks a scandal that threatens them all."
"It's the last day of 1984, and 85-year-old Lillian Boxfish is about to take a walk. She encounters bartenders, bodega clerks, chauffeurs, security guards, bohemians, criminals, children, parents, and parents-to-be—in surprising moments of generosity and grace. While she strolls, Lillian recalls a long and eventful life that included a brief reign as the highest-paid advertising woman in America—a career cut short by marriage, motherhood, divorce, and a breakdown."
"Winner of the Pulitzer Prize, Olive Kitteridge offers profound insights into the human condition – its conflicts, its tragedies and joys, and the endurance it requires. As the townspeople grapple with their problems, mild and dire, Olive is brought to a deeper understanding of herself and her life – sometimes painfully, but always with ruthless honesty."
"Howard Belsey is an Englishman abroad and a long-suffering professor at a liberal New England arts college. He has been married for thirty years to Kiki, an American woman who no longer resembles the sexy activist she once was. Their three children passionately pursue their own paths. An infidelity, a death, and a legacy set in motion a chain of events that sees all parties forced to examine the unarticulated assumptions which underpin their lives."
"A stunning first novel about a retired surgeon with dementia who clings to bits of reality through anger, frustration, shame and unspeakable loss. When Dr. Jennifer White's best friend, Amanda, is found dead with four of her fingers surgically removed, Dr. White is the prime suspect. As the investigation into the murder deepens, a chilling question lingers: is White's shattered memory preventing her from revealing the truth or helping her to hide it?"
"Aging and reclusive Hollywood movie icon Evelyn Hugo is finally ready to tell the truth about her glamorous and scandalous life. She chooses unknown magazine reporter Monique Grant for the job. Evelyn unspools a tale of ruthless ambition, unexpected friendship, and a great forbidden love. As Evelyn's story nears its conclusion, it becomes clear that her life intersects with Monique's own in tragic and irreversible ways."
"A novel about a cub reporter and her eighty-six-year-old subject—and the unlikely and life-changing friendship that develops between them. What begins as a simple local interest story for Kate soon blossoms into a beautiful friendship that provides sustenance to both women. Meanwhile, Rosemary slowly, finally, begins to open up to Kate, transforming them both in ways they never knew possible."
"When Britt-Marie walks out on her cheating husband and has to fend for herself in the miserable backwater town of Borg she finds work as the caretaker of a soon-to-be demolished recreation center. The fastidious Britt-Marie soon finds herself being drawn into the daily doings of her fellow citizens, an odd assortment of miscreants, drunkards, layabouts. In this small town of misfits, can Britt-Marie find a place where she truly belongs?"
"84-year-old Florence has fallen in her flat at Cherry Tree Home for the Elderly. As she waits to be rescued, Florence wonders if a terrible secret from her past is about to come to light; and, if the charming new resident is who he claims to be, why does he look exactly like a man who died sixty years ago?"
"A Clan Mother story for the twenty-first century, Sacred Wilderness explores the lives of four women of different eras and backgrounds who come together to restore foundation to a mixed-up, mixed-blood woman—a woman who had been living the American dream, and found it a great maw of emptiness. These Clan Mothers are women of joy and grief, risking their hearts and sometimes their lives for those they love."
"Marianne is stuck in a loveless, unhappy marriage. After forty-one years, she has reached her limit, and one evening in Paris she decides to take action. Following a dramatic moment on the banks of the Seine, Marianne leaves her life behind and sets out for the coast of Brittany, also known as the end of the world. Marianne learns it is never too late to begin the search for what life should have been all along."
"Maud is an irascible 88-year-old Swedish woman with no family, no friends, and…no qualms about a little murder. But when the local authorities are called to investigate a murder in her apartment complex, will Maud be able to avoid suspicion, or will Detective Inspector Irene Huss see through her charade?"
"When the curator of a Danish museum responds to a query about ancient exhibits, he doesn't expect a reply. When Tina Hopgood first wrote it, nor did she … Oceans apart, an unexpected correspondence flourishes as they discover shared passions. Through intimate stories of joy, anguish, and discovery, each one bares their soul to the other. But when Tina's letters suddenly cease, Anders is thrown into despair. Can this unlikely friendship survive?"
"The story of an apparently young, amnesiac girl whose alarmingly inhuman needs and abilities lead her to a startling conclusion: She is in fact a genetically modified, 53-year-old vampire. Forced to discover what she can about her stolen former life, she must at the same time learn who wanted – and still wants – to destroy her and those she cares for and how she can save herself."
"When we meet septuagenarian Margaret Hughes, she is living alone in a mansion in Seattle. Enter Wanda Schultz, a young woman with a broken heart who has come west to search for her wayward boyfriend. Both women are guarding dark secrets. As their tentative friendship evolves, Margaret opens her house to the younger woman. Both funny and heartbreaking, Broken for You is a testament to the saving graces of surrogate families."
"One of the most unforgettable heroines in American fiction, a woman whose life has come to symbolize the struggle for freedom, dignity, and justice. Gaines's novel spans one hundred years of Miss Jane's remarkable life, from her childhood as a slave on a Louisiana plantation to the Civil Rights era of the 1960s. It is a story of courage and survival, history, bigotry, and hope—as seen through the eyes of a woman who lived through it all."
"The story of your life never starts at the beginning. So says 104-year-old Ona to the 11-year-old boy who's been sent to help her out every Saturday morning. As he refills the bird feeders and tidies the garden shed, Ona tells him about her long life, from first love to second chances. Soon she's confessing secrets she has kept hidden for decades."
At 22, Aviva Grossman finds herself the central figure in a political sex scandal. Through the voices of five women⁠—a college student and her mother, a congressman's wife, a young mother and her daughter⁠— the book tells how this pivotal event connects them and changes their lives. Clever, thought-provoking, and thoroughly entertaining.
"Vonny lives on the island of Martha's Vineyard with her husband Andre and son Simon. Their neighbour Elizabeth, a woman in her seventies, falls from an upstairs window and her granddaughter Jody is summoned to nurse her through her convalescence. The scene is set for a magical story of love and loneliness, of terror and human frailty, of the mystery and grace of ordinary experience."
"Rick Nagano is a graduate student in the history department at USC, struggling to make rent on his South Los Angeles apartment. When he lands a job as a research assistant for the elderly Mrs. W—, the heir to an oil fortune, he sees it at first simply as a source of extra cash. But as he grows closer to the iconoclastic, charming, and feisty Mrs. W—, he gets drawn into a world of privilege and wealth far different from his racially mixed, blue-collar beginnings."
"Hildy Good meets the world with a wry smile, a dark wit and a glass or two of Pinot Noir. When her two grown-up children stage 'an intervention' she thinks all this fuss is ridiculous. But as the story progresses, we start to see the lies and self deceptions needed to support her drinking, and the damage she causes to those she loves. When a cluster of secrets become dangerously entwined, the reckless behaviour of one threatens to expose the other, with devastating consequences."
The Hole by Hye-Young Pyu
"Ogi has woken from a coma after causing a devastating car accident that took his wife's life and left him paralyzed and badly disfigured. His caretaker is his mother-in-law, a widow grieving the loss of her only child. The Hole is a superbly crafted and deeply unnerving novel about the horrors of isolation and neglect. As Ogi desperately searches for a way to escape, he discovers the difficult truth about his wife and the toll their life together took on her."
"During the twilight of a Sunday afternoon in March, Phillip Carver receives an urgent phone call from each of his older, unmarried sisters. They plead with Phillip to help avert their widower father's impending remarriage to a younger woman. He reluctantly agrees to go back south, only to discover the true motivation behind his sisters' concern. Phillip is forced to confront his domineering siblings, a controlling patriarch, and flood of memories from his troubled past."
"Etta's greatest unfulfilled wish, living in the rolling farmland of Saskatchewan, is to see the sea. And so, at the age of eighty-two she gets up very early one morning and begins walking the 2,000 miles to water. Meanwhile her husband Otto waits patiently at home, left only with his memories. Their neighbour Russell remembers too, but differently – and he still loves Etta as much as he did more than fifty years ago, before she married Otto."
"The wonderfully moving and surprising story of Ira and Maggie Moran. She's impetuous, easygoing; he's patient, seemingly infallible. They've been married for 28 years. Now, as they drive to the funeral of Maggie's best friend's husband, Anne Tyler shows us all there is to know about a marriage – the expectations, the disappointments, the way children can create storms in a family, the way a wife and husband can fall in love all over again."
In West Mills by De'Shawn Charles Winslow
"Azalea "Knot" Centre is determined to live life as she pleases. The neighbors' gossip won't keep Knot from what she loves best: cheap moonshine, nineteenth-century literature, and the company of men. And yet, Knot is starting to learn that her freedom comes at a high price. Alone in her one-room shack, ostracized from her relatives and cut off from her hometown, Knot turns to her neighbor, Otis Lee Loving, in search of some semblance of family and home."
---
Want to find more exciting books about women? Try these!
15 Books About Badass Women from History
Searching for Strong Women in Books About the West