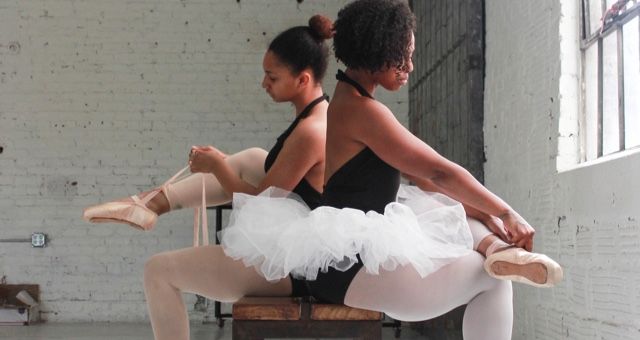 Lists
9 Novels About Dance That Will Have You Tapping Your Feet
This content contains affiliate links. When you buy through these links, we may earn an affiliate commission.
Ever since I started writing a book about dancers, I've been wanting to read more novels about dance. My work-in-progress is in the rough, rough opening stages, but reading more polished material inspires me to keep going when I just can't seem to find the right words.
I studied ballet, modern, and jazz for many years. Though I don't currently perform or take technique classes, dance books help me feel connected to the version of myself who spent plenty of free moments in the studio growing up. Interested in dance? These nine works of fiction will have you busting a move as you turn the pages.
Swing Time is a gorgeous meditation on family, heritage, and friendship between young girls. It's also a moving, accurate portrayal of what it's like to grow up dancing, the envy and joy that comes with it. The book follows two girls—Tracey and an unnamed narrator—as their relationship ebbs and flows over several decades. I couldn't put it down the first time I read it and I've been eager to pick it up again ever since.
Dancer by Colum Mccann
Ballet enthusiasts will love this fictionalized account of famed Russian dancer Rudolf Nureyev's life. Told from many different perspectives, it chronicles 40 years of ballet history through the lens of Nureyev's personal and professional life.
Flack uses her own experience as a former member of the New York City Ballet to inform her delightful novel. Hannah Ward is a dancer with the elite Manhattan Ballet Company when a new love interest causes her to reevaluate her priorities.
Many dance books are about the world of ballet, but there are so many other movement traditions worth reading about. A Time to Dance is about a dance prodigy named Veda who reconnects with her art form after an injury leaves her with a prosthetic leg.
This book deals with the darker side of the ballet world. It grapples with issues like eating disorders, depression, and perfectionism. The story follows a former professional dancer who enters a treatment facility at 17 Swann Street. There, she meets a host of other women who share her struggles.
Eighteen-year-old Violet is an accomplished ballet dancer preparing to take the world by storm. The only problem? A dark secret from her past is threatening to ruin all she's worked for. Violet's life intersects with two other girls, Amber and Orianna, in meaningful, life-changing ways that have a far-reaching impact.
The blurb describes this as "Black Swan meets Pretty Little Liars," which honestly sounds like the set up to my perfect comfort read. Set at an elite ballet academy in New York City, this series follows June, Bette, and Gigi as they strive to be the absolute best. If you love it, there's a sequel called Shiny Broken Things that continues the story.
This books has been on my TBR for years and I have no idea why I haven't gotten to it yet because it sounds right up my alley. Shipstead's narrative follows Joan, a former ballerina turned dance teacher. Now grooming her son Henry to follow in her professional dancer footsteps, an encounter with someone from her past causes her to reflect on the world she left behind.
So Done by Paula Chase
This sweet middle grade novel stars two African American girls, Jamila Phillips and Tai Johnson, who are forced to grapple with their changing friendship as they move through early adolescence. The dance plot involves auditions for their school's new talented-and-gifted program.