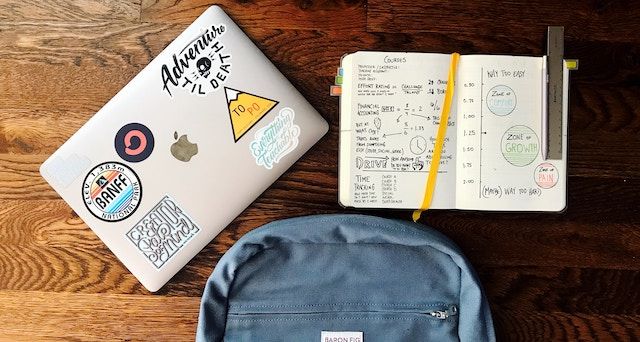 Lists
8 Novels About College Life: Calling All Future, Current, & Former Students
This content contains affiliate links. When you buy through these links, we may earn an affiliate commission.
There's nothing else quite like the collegiate years. Not only is it your first time away from home, but it's the first time you're truly in charge of your life: your schedule, your meal choices (sugary cereal for dinner!), your laundry, your everything. More importantly, it's the perfect opportunity to explore your identity away from everyone who's known you your whole life—an identity you believe will carry you through an adulthood that suddenly looms large. It's stressful and exhilarating and terrifying all at once.
Whether you want to get a taste of what's to come, to feel reassured you're not alone, or to relive memories, these novels about college life celebrate the entire journey—from the application process to freshman year and all the way into graduate school.
In honor of all the dorm rooms, lecture halls, and student centers that are buzzing back to life this month, here are eight novels about college life.
Novels About College Life: Pre-College
The kickoff to your journey? Getting into the school you want. Nobody knows this better than laser-focused Reshma Kapoor, who is determined to stand out from her peers at her Silicon Valley high school and land a spot at Stanford. When a literary agent notices an article Reshma has written and offers to represent her, Reshma decides that publishing a YA novel is her way in. But as a self-described "study machine," she has no idea what a relatable high school experience is like. So, of course, she comes up with a plan. In the course of six weeks, she will make a friend, get a boyfriend, go to parties, and—as Reshma herself puts it—"all that other bullshit." Enter Title Here gives us a peek into a community notorious for its cutthroat competitiveness.
What I found most intriguing about this story is the unapologetically ruthless and unreliable narrator—not something you often find in a YA novel.
Roomies by Sara Zarr and Tara Altebrando
It's hard to forget that summer between high school and college—letting go of one world and trying to find your footing in another. This is where Elizabeth Owen and Lauren Cole find themselves when they learn they'll be roommates at Berkeley. From their homes on opposite coasts, they begin a months-long email correspondence that provides the alternating perspectives that take us through this story. Each girl is drawn into the other's struggles with transitioning from childhood into adulthood: fading high school friendships, uncertain romances, and challenges with parents. But even as Elizabeth and Lauren grow closer, miscommunications arise between them, resulting in a tension that only compounds both girls' anxiety about the fall.
The authors bring all of those feelings—sadness, excitement, worry, and hope—to life in a way that brought me right back into that familiar and uncertain time of transition.
Novels About College Life: Undergrad
Freshman year is all about trying to figure things out: What is this world? Who are these people? How do I fit in? In The Idiot, Selin Karadag is a second generation Turkish American adjusting to her first year at Harvard. Everything is new and strange: her living quarters, her classes, her peers. The story takes place in the '90s, so even email is new for these characters. Selin bravely throws herself into all of it and develops a close friendship with a girl named Svetlana and a complicated, not-quite-romantic relationship with Ivan. Over the summer, Selin travels to Europe to teach English in the Hungarian countryside—the perfect setting to grapple with her feelings about who she is and what she wants.
Not only do I find Selin particularly relatable (I've even written about this character previously), but I also appreciate how even the most mundane scenes—picking out a poster for her dorm room, for instance—are so authentic that I felt like I was right there in the story.
None of us knows how high school relationships will evolve once college begins. At the start of Normal People, Marianne Sheridan and Connell Waldron are still in high school. Marianne is an awkward loner from a wealthy family. Connell's single mother works hard to make ends meet on the wages she earns as a housekeeper for Marianne's family. Nevertheless, Marianne and Connell end up romantically involved, but still pretend not to know each other at school. They end up attending the same college, where Marianne becomes incredibly popular, leaving Connell on the sidelines. Over the course of their college years, they engage in an on-again-off-again relationship, which gets more complicated as Connell's future starts looking brighter than ever and Marianne's life takes a dark turn.
I found this to be a spot-on depiction of both the inevitable change that adulthood brings to childhood relationships, as well as the shift in social currency that happens once you get to college.
Fangirl by Rainbow Rowell
Much like Normal People, Fangirl explores the effects college life takes on relationships, but in this case, the focus is familial. Cath and her twin sister, Wren, were almost inseparable growing up as they bonded over the Simon Snow fantasy series. When they head off to the same college, Wren wants to branch out and tells Cath she doesn't want to room with her. While Wren makes new friends and adopts a partying lifestyle, Cath turns even more inward, spending hours writing Simon Snow fan fiction. Cath tries to navigate life with an intimidating roommate, a professor who hates the kind of writing Cath loves, and two different boys whose feelings for her are unclear. Cath isn't sure if she can get through all the changes without her sister—especially when her father suddenly needs help at home.
I don't have a sister, but the ache of growing apart from someone you're close to is universal—and portrayed so genuinely in this novel. Plus, I have a special appreciation for storylines around challenging dorm roommates.
The college experience has a way of throwing you off your path. In Henry Skrimshander's case, it's literally the throw of a baseball that changes the course of his life—and the lives of many of the people around him. When Henry starts his freshman year, everyone expects he'll be recruited to the MLB as a shortstop. But after he makes an errant throw at an important game, Henry's confidence is severely shaken. At the same time, Henry's mentor and team captain begins to question his choice to invest more time in Henry than in himself, while Henry's roommate gives in to an affair that could have destructive consequences. Meanwhile, the president of the school faces his own challenges as his newly separated daughter moves back home just as the president himself falls in love. Told from multiple perspectives, this is a story about rethinking your life choices, set in the one place where nothing is more important than finding your way: a college campus.
When I was on campus, I often wondered what was going on in the lives of the faculty and administration—thinking about it was almost like an escape from the stress of academics. So I found it fascinating to see so many perspectives on the same kinds of hopes, challenges, and uncertainties.
A brand new campus far away from home is the perfect opportunity to shed your high school skin and become whoever you want to be—and that's just what Richard Papen does when he arrives at Hampden College. Embarrassed about his working class roots, he tells everyone his family is wealthy and that he came from a boarding school. He becomes fixated with a group of students who appear eccentric, intellectual, and exclusive, which is just what Richard craves. He soon finds a way to become part of their clique, and is quickly swept up into a dangerous world of wealth, secrets, alternative morality, and murder.
I wouldn't say this book really resembles any college experience I had or know of—other than the desire to reinvent yourself—but sometimes a college student needs an escape. Any current, future, or former student looking for a dark, entertaining inverted detective story will find that this novel definitely delivers.
Novels About College Life: Grad School
Most of us would agree that academia is an unrelenting pressure cooker—and the unnamed character in Chemistry has reached her boiling point. Three years into a prestigious chemistry PhD program, everyone is waiting for her to do something. Her advisor is waiting for research results, her parents are waiting for her to graduate, and her fellow scientist boyfriend is waiting for her answer to his marriage proposal. Realizing she has no idea what she wants anymore, she leaves school and breaks off her relationship—even though she knows she is disappointing everyone. She then embarks on a two-year journey of self-discovery that includes tutoring undergraduates and holing up at home with her dog.
I love this witty, observant character for so many reasons, but mostly because the pressure of my own college experience also made me stop and ask myself: What do I really want? It was agonizing and lonely and it stayed with me for a long time afterward, but I was also relieved to learn it's a much more common experience than I knew at the time.
---
Now that you have a list of titles about every aspect of campus life, let the season of "hitting the books" begin. If you're looking for more reading to get you in the back-to-school spirit, we've you covered.