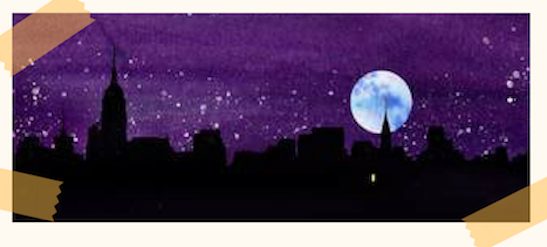 This content contains affiliate links. When you buy through these links, we may earn an affiliate commission.
Nova Ren Suma books are like the perfect little dreamy nightmare: they're written with gorgeous flair and a knack for some of the most lush turns of phrases and descriptions imaginable. But lurking beneath that is something darker and more haunting. In many respects, Nova Ren Suma's reputation of being the Shirley Jackson of YA literature is about as spot on as possible. Except, of course, for the fact she's a writer wholly unto her own style.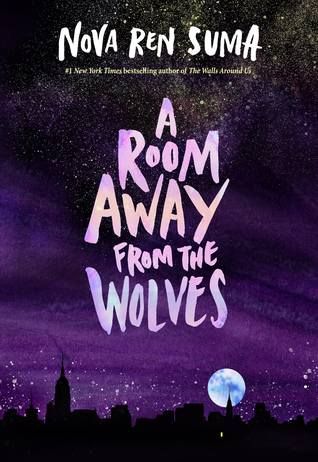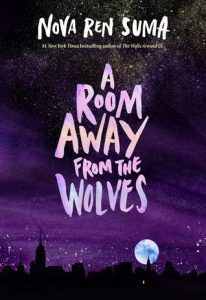 Suma's most recent offering to readers is A Room Away From the Wolves. This book, a shorter undertaking, follows Sabina as she leaves her home, where her mother has taken up with a man she's uncomfortable with and stepsisters with whom she carries no ties. Bina heads to New York City to find Catherine House; this young women's residence in Greenwich Village was a place tied to her mother, as well as a place full of lure, of tragic tales, and secrets. Through the cast of mysterious residents she meets, Bina begins to understand that getting into Catherine House might be a whole lot easier than leaving it. It's a mysterious, eerie ghost story that pays homage to not only New York City, but to girlhoods lost and missing due to circumstances beyond any girl's control. A Room Away From The Wolves is a story readers who like to reread and reread again will eat up, as it's a challenging and well-woven story where clues are dropped bit by bit, working up to an ending that will satisfy many and frustrate others. This isn't a criticism; it's a hallmark of what makes her books what they are.
Though Suma's catalog isn't prolific—at least not yet—it can be hard to decide where to begin reading Nova Ren Suma books. Find below a handy guide to reading your way into one of the most creative, unique. chilling, and, at times, perfectly confounding, YA writers of our time.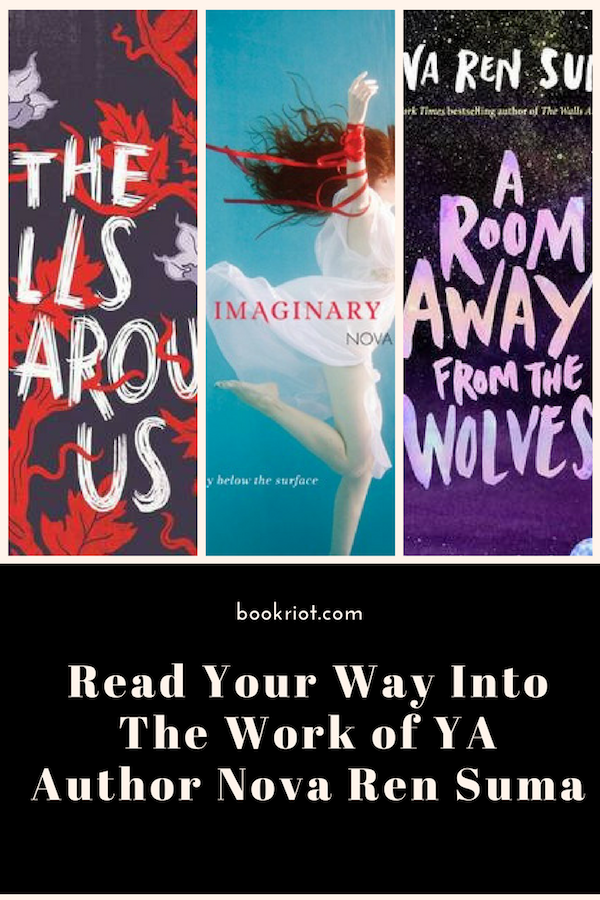 Nova Ren Suma Books
Before diving into her longer work, I can't recommend highly enough that Suma's shorter works be read either to start your experience with her writing or to round it out. Suma wrote an essay in Here We Are: Feminism For The Real World edited by me titled "Reading Worthy Women," which talks about an experience she had in high school with a Global Literature teacher whose syllabus contained no works by women. When she asked him why, he said that no woman had ever written something worthy of conclusion. This propelled her to read as much work by women as possible, and it shaped how she wanted to tell stories and why it is she puts the voices of girl and women at the forefront.
Another short story that's essential Nova Ren Suma reading is her entry into April Genevieve Tucholke's anthology Slasher Girls and Monster Boys. Her contribution, "The Birds of Azalea Street" is inspired by the horror films Rear Window and The Birds. It's a perfect marriage of haunting and gorgeous.
And now, where to start with her novels:
If you're a fan of dance-themed books or a fan of books set in prisons, then you'll eat up every single bit of this book that's been lovingly dubbed "Orange Is The New Black Swan." This is Nova Ren Suma's New York Times bestselling work and for good reason.
The story follows Violet, who is outside the prison, as well as Amber, who is locked up without any set release date. What connects the two girls is a third girl named Orianna. There's not a lot that can be said without spoiling this book, but it's a gorgeously-written and haunting story about innocence and guilt, about being locked up and being on the outside, and about the lies we tell ourselves and the truths other people can see, even if we try to hide them. It's about girls and how girls treat one another—how they can turn against and how they can turn toward fast, how those shifts do and do not make sense.
This book is a wonderful thriller, with a dash of paranormal. It bleeds across genres in a way that Suma is known for, while also feeling eerily familiar to readers.
Chloe adores her older sister Ruby and would do anything she says. This is pretty typical of anyone that knows Ruby: she's magnetic, she's enigmatic, and she's admired by everyone she knows. But when Chloe spends a night with Ruby and her friends and discovers the dead body of her classmate, she's sent away from town and away from the sister she's always loved.
The story doesn't end there, though. Ruby wants her sister back, and when Chloe returns two years later, she begins to unbury some of Ruby's deep, dark secrets.
And then there's the question: why was that girl's body in the water?
This story of sisterhood and ghosts, as well as longing and desire, was Suma's first YA-angled book. The writing is stirring, with passages that beg to be pored over. It's perfectly bizarre and unsettling.
If you're not so keen on ghost stories and would prefer a book that's set more in the world that you recognize, Suma's first book might be a great choice. It'll also be a great choice for readers who are familiar with her other titles but perhaps haven't gone back to give this one a read.
Originally published as a middle grade novel under the title Dani Noir, Suma was given the chance to rework the book years after publication with the intent of it being marketed and sold as YA. The premise remains the same.
It's the summer before eighth grade and Dani is only able to keep herself occupied in her body small town by the local movie theater which plays noir mysteries. But it's not long before a real mystery arises at the theater, and Dani is the girl who'll be best suited to solve it.
The writing style is rich, as is the setting, but what really sings in this book is the passion Dani has for noir film. It feels real, and watching Dani navigate her struggles as a young girl in a town where "nothing happens," is a wonderfully apt means of showcasing to her and to readers what it means to be 13.
____________________
Itching for more guides to reading well-known and well-loved YA authors? Spend some time reading your way into books by Meg Medina, books by Neal Shusterman, books by Sarah Dessen, books by Melina Marchetta, and books by Madeleine L'Engle.