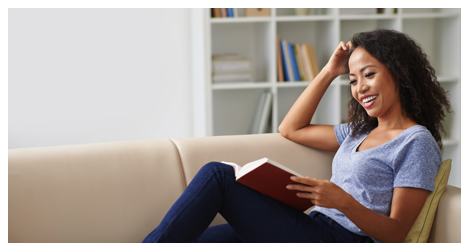 A little over two months ago, I had a baby. Prior to this, I was an avid reader — it was fairly normal for me to read a book a day. A few years ago, I read over 300 books in a year, according to my Goodreads challenge. When I got pregnant, I dealt with extreme fatigue and all-day sickness, and needless to say, my reading was greatly curtailed. When I wasn't working, I was sleeping.
I (obviously) knew that when the baby was born, my reading would be even more limited. I'm not sure I realized just how much (in every aspect, not just reading) my time would be monopolized by this tiny human. Can anyone really know how demanding a newborn is until you're actually in the thick of it? Plus the sleep deprivation, it's all-consuming. The only time I have to myself is when the baby sleeps, and that's usually spent either eating, showering, working, cleaning, or maybe sleeping myself.
I miss reading. As I sit here, I count more than 12 books in two piles on the table in front of me. Most of these have been here since before my son was born. I had hoped to get through most of them while I was on maternity leave. I went back to work part-time last week, and the dent I'd hoped to make is substantially smaller than I had imagined. And yet I recently bought a couple more. You know, just in case some free time comes along.
For me, reading isn't just escape, it's connection. I have been craving stories of parenting and motherhood. Motherhood can be incredibly isolating, especially in those early months, when they're not vaccinated yet, you don't feel entirely comfortable going out with them yet, and you're still finding your stride. You're recovering physically from birth, overwhelmed, shell-shocked, and you finally know why sleep deprivation is used as a form of torture. Your life has irrevocably changed overnight, and you're navigating this new terrain in which you're expected to thrive. I have been wanting to read both fiction and nonfiction about other women who are in the thick of parenting, dealing with ambivalence and changing roles and figuring out how to do the work of motherhood. Finding myself in the pages of a book, reading the words of others who have gone before me, has always been a comfort. Without this, the feelings of isolation are even stronger.
Several people (including some Book Riot readers) have suggested ebooks on my phone, while nursing. I'd probably get a lot of reading done this way, but reading on a phone or iPad annoys me. I'm not as focused, and don't like doing it for extended periods of time. I've tried to read a paperback while nursing, and it just doesn't quite work. I've tried reading my books out loud to my son, but it's like he knows they're not his books, and isn't having it. At all.
I'm still in the habit of tucking a book or two into the diaper bag when we go out, because I can't get used to the idea that I can't just pull out a book to read in a doctor's waiting room. I always think maybe I'll get lucky and my son will sleep…which doesn't happen. So I steal moments here and there, and stay up later than I should to read another chapter or two of a book that's already taken me a week to read.
And in those pages, if I'm lucky, I find the words I've been waiting for.