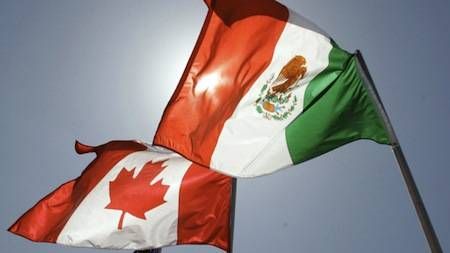 [North] American Literature[s]: Historical Fiction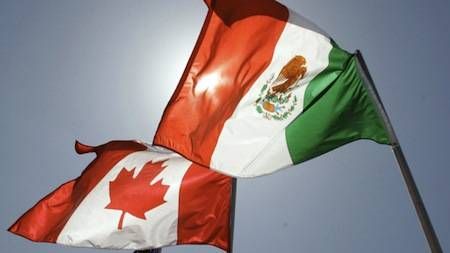 America! You're super neat. I'm a big fan of yours, in fact. I like lots of American things: John Cusack, Target, Land's End Canvas, Kate Spade, and American Shorthair cats. And literature-wise, you guys are pretty great. We've been talking about Great American Writers here at Book Riot over the last little while, and some of my favourite writers are American!
But. Y'know, we do need to talk a little about what's going on above and below you. Because there's some *awesome* writing coming out of Canada and Mexico, and if you don't know where to look then you don't always have a lot of access to those stories. So here at Book Riot, Cassandra Neace and I are going to spend some time telling you about what is going on in the literary scene in America's Hat and New Mexico Sr. in our new monthly feature, "[North] American Literature[s]." Each month, we'll tackle a theme common in Canadian and Mexican Literature and suggest one book from each literature for you to check out.
We're both pretty passionate about these literatures (we done did schoolin' in these areas and everything!), and we hope you will be too! For April, our theme is historical fiction. So let's dig in!
Canadians love historical fiction. We just love it. Some people think of CanLit and historical fiction as being somewhat synonymous. Our major awards, like the Giller and the Governor General's Award and the popular national book battle Canada Reads, all frequently feature historical fiction. There are lots of reasons for this. Canada is urbanizing rapidly, and there is some comfort and nostalgia in tales set before the hustle and bustle of urbanization. Canadians also seem to be unflinchingly interested in dark chapters from our history; titles like Kiss of the Fur Queen, which dealt with the horrors and aftermath of the residential school system (what you folks called Indian Schools in the US), and Book of Negroes, which dealt with slavery within and without Canadian borders, have been hugely successful and widely-read texts. But historical fiction of all kinds tends to be successful in Canada, from epic, sweeping narratives of nation building to small, focused examinations of the individual in the historical moment.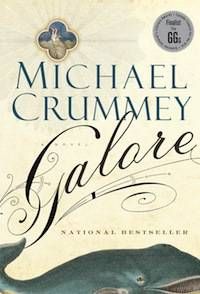 My favourite recent work of historical fiction is Michael Crummey's Galore. Crummey is a Newfoundland writer often interested in how the past shaped his beloved home province, and while he is sometimes criticised for having a nostalgic sense of that past, I think he has an underrecognized ironic gaze that makes his representations of the past delightfully complex. Galore spans two centuries of life in the outport community of Paradise Deep and chronicles the eternal feuding between two families whose lives, in this tiny space, can't help but interweave. Crummey has said he was inspired by reading Gabriel Garcia Marquez, which I thought made this a fitting text for this cross-border project, and there is haunting magic realism here (though Crummey, I think, would more simply call it folklore). The major criticisms of this book — that it sprawls, loses focus, and overwhelms with characters — are not inaccurate, but I think they miss a point Crummey is making about epic literature emerging from the scope of the stories we have to tell, and not the size of the space itself.
Now, over to Cassandra, who will talk Mexico:
Mexico as a country is going through an identity crisis. They have been trying to figure out who they are since Hernán Cortés first showed up in the 1500s and changed all the rules. It's his fault. In 1810, they finally managed to shake loose of Spain, but by then the European influence was so strong that it caused a lot of internal turmoil. In 1910, that turmoil boiled over into a (roughly) decade-long conflict that we call the "Mexican Revolution." What is most interesting about this conflict, at least from a literary standpoint, is the amount of amazing writing that was done during and about those years.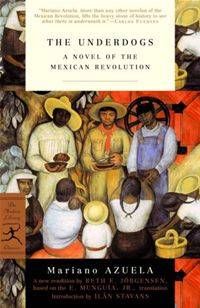 Perhaps the most notable example of revolution lit is a book called Los de Abajo or, The Underdogs, by Mariano Azuela. Originally published in serial form in 1915, it tells the story of Demetrio Macias, a peasant who must join the rebels to escape the Federales. The rebels are a band of outcasts, representative of the various groups of people who were mistreated by the government. In their quest to right the wrongs, they become no better than the people they are revolting against. And the cycle continues, unbroken. It offers little in the way of hope, but it goes a long way toward illustrating the dire circumstances faced by so many people during that time. It also helps to explain their motivations. Even today, it is a story with which many Mexican people are able to identify in some way.
And it's available for free from Project Gutenberg. That makes it worth a look, right?
We hope you've enjoyed this first edition of [North] American Literature[s]. We'll be back next month to look at female desire. (Hot!)