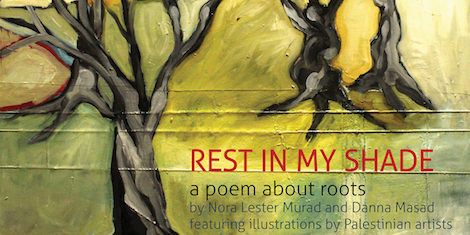 Interviews
What To Do With a Book That Defies Categorization: An Author Interview
This content contains affiliate links. When you buy through these links, we may earn an affiliate commission.
Nora Lester Murad and Danna Masad worked a long time on the category-defying book Rest in My Shade. What started as a children's book became a coffee table art and poetry volume. Nora talked about how, why, and what advice she has for other category-defiers.
M Lynx Qualey: How did this project come to be?
Nora Lester Murad: You are right that the book is more like a project than a mere book, because there were so many major changes in the concept over time and because so many people were involved.
The short version is that it was a story that was birthed from a writing prompt at a workshop taught by Randa Abdel Fattah at Tamer Institute in Ramallah. I turned my free writing into an adult story and sent it to Danna. She suggested a children's story. Together, we rewrote "Rest in My Shade" as a children's story. Then it was translated to Arabic and for a long time we tried to make it work as a bilingual book. Nora Shawwa was very encouraging so we plugged ahead.
We spent a lot of time in that phase, trying to figure out how to make the illustrations work in a bilingual book. The illustrations should "move" to the right in an English book and to the left in an Arabic book. We explored the idea of having the binding at the top so that the illustrations would move "down" for both languages. But we didn't find an agent or publisher who liked this vision. We never considered self-publishing because we understand how difficult it is to distribute a self-published book and we wanted both U.S. and Arab World distribution, at minimum. We finally were convinced to write it as an adult story, and after we had it translated into Arabic again (just as an exercise), we modified it further into a poem or poetic story.
At that point, we could have just submitted it to a poetry journal, but I think we knew it needed visuals. I felt like I could see the visuals but I couldn't describe them. Saleem Zaru at United Palestine Fund suggested we use old photographs, which immediately seemed like it would contradict the dreamy quality of the poem. But it gave us an idea: we could use existing art work. That's when we started crowdsourcing for Palestinian art with olive tree themes.
MLQ: This is something of an unusual format: a single poem accompanied by art in 48 pages with a primary audience of adults. Do you have a way you expect people to interact with it? (Reading from beginning to end, returning to certain pieces of art?) Was it difficult to explain to people what it is?
NLM: We certainly hope people will read it at least once from beginning to end. We hope they will read it to their children and that teachers will read it to their students of all ages. And we hope that faith-based groups will use it as the cultural portion of their meetings and that refugee and migrant rights groups will find ways to use it to strengthen their outreach, advocacy and fundraising.
Early feedback tells us that people like to read it over and over again and they certainly love flipping through the pages of artwork. Everyone seems to have a piece or two that especially speak to them. It's a wonderful conversation starter.
MLQ: What does it mean to co-write a poem?
NLM: The cooperation between Danna and I at each step of the process was very deep. I would write a line and Danna often disagreed with a word. That made me change something else in a different line. We got into deep and long philosophical discussions about how the tree thinks of the moon, what is the relationship between earth and roots. I found it the most enriching writing project I've ever been involved with, because Danna made me see my work a whole new way, and helped me to see how much I was projecting my own displacement onto the tree. The poem is truly a joint product, as is the book.
We never delegated; we made all the decisions together (and we often disagreed, which was especially enriching). I think the success of the cooperation came from our deep respect for one another and our differing but high standards for the outcome.
MLQ: How did you choose the artists involved?
NLM: We crowdsourced artwork on Facebook, which grew a nice audience of active contributors, and then reached out to those and other artists to find work we liked. Then the long negotiations began. Danna and I have different tastes and different priorities. She's an artist who cares a lot about the quality of the work. I care more about the story of the artist. We had a long but wonderful time negotiating the art—about as much work as cowriting the poem. And in the end, I think it all paid off. There were also pieces we would have liked to include but for various reasons, we couldn't. Once we had selected, the interaction with the artists was extremely pleasant. Each and every one was supportive and generous and lovely to work with.
MLQ: How did you decide on what to have in the book trailer? Is there a curricular aspect to the book, an aim to spark a discussion about the meaning of home?
NLM: We could have done a book trailer about displacement, and it is true, that I selected the people to speak in the trailer who were in some way, voluntarily or involuntarily, displaced. Because I asked them a question about what home means to them, there is a circular aspect. There is a homeless man in the trailer, a descendant of Gullah slaves, a South Indian woman who immigrated to the U.S. for economic reasons decades ago, and several more. By asking them to talk about what home means to them, we learn about what is lost when home is lost through displacement.
MLQ: What are some different ways you hope people use, interact with, experience the book?
NLM: Some people argue with the notion that displacement is part of everyone's personal or cultural history and is therefore universal. Those people do not realize that the history of migration is the history of human kind, and that whether or not they have been personally displaced, it figures in their familial or cultural history some how. I believe that if we each can connect or re-connect with our own displacement stories—no matter how inconsequential they may seem against the backdrop of today's macro displacement crises, we will be better able to connect not only with information about Central Americans or Syrians or Eritreans or Rohingya, but also with our compassion. We hope the book has currency beyond the Palestinian Nakba that inspired it, and brings Palestinian displacement into mainstream discussions about displacement and the rights of displaced people.
MLQ: What advice would you have for someone else, setting out on their journey with a book project that doesn't quite "fit" in the usual ways?
NLM: I would say, first of all, do the project as a labor of love. Don't create to publish. Focusing on publishing adds in a distortion to the creation. At the same time, and perhaps contradicting myself, do not give up on the publishing process when people don't seem to "get" what you're doing or when they think it's not a viable project. My publisher, Michel Moushabeck at Interlink, wasn't ready to publish "Rest in My Shade" for a long time, but he didn't say no either. We took this as a sign to work more on the project, clarify the vision, and demonstrate that we're willing to do the work to make our labor of love into one that is also worth his time and effort to publish.
We were also lucky to have Palestine Museum commit to buying the first 1000 copies, and major preorders from the United Nations Association of Orange County and Zaytoun in the UK. This type of moral and financial support goes a long way and makes the book into a project with built-in champions.