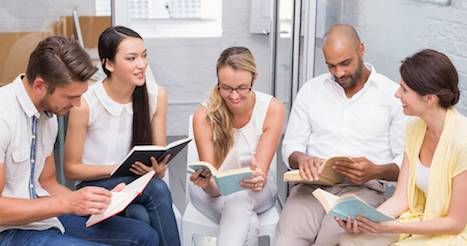 Lists
25 Nonfiction Suggestions for Your Book Club
This content contains affiliate links. When you buy through these links, we may earn an affiliate commission.
There are few things in life as intense as picking the next book for your book club. Maybe you've thought of suggesting a nonfiction book, but that seems risky. What if it's too dense? What if people get bored? Don't worry. We're here to help you pick a nonfiction book that your book club will love!
There are tons of benefits to reading nonfiction in your book club. For starters, it's a great way to remove some of the intimidation that many people feel when approaching nonfiction. Having your book club pals around to wade through the difficult or confusing parts can help spark conversation and open new dimensions to a book.
There's a group of readers around you who come from assorted backgrounds and have lived different life experiences—take advantage of that! You'll get to learn about a new topic from various perspectives, while also getting to know your book club pals on a deeper level.
So, if you feel like it's time to add some nonfiction to your book club lineup, here are some nonfiction suggestions for your book club!
Blurbs are taken from Goodreads.
Current Events
Activism
Biographies/Memoirs
Shared Interests
Eating Animals by Jonathan Safran Foer: Brilliantly synthesizing philosophy, literature, science, memoir and his own detective work, Eating Animals explores the many fictions we use to justify our eating habits—from folklore to pop culture to family traditions and national myth—and how such tales can lull us into a brutal forgetting.
Stiff by Mary Roach (anything by Mary Roach): Stiff is an oddly compelling, often hilarious exploration of the strange lives of our bodies postmortem.
The Hour of Land by Terry Tempest Williams: Williams returns with a literary celebration of our national parks, an exploration of what they mean to us and what we mean to them.
On Writing by Stephen King: King turns to the basic tools of his trade and culminates with a profoundly moving account of how his overwhelming need to write spurred him toward recovery.
Inside of a Dog by Alexandra Horowitz: In Inside of a Dog, Alexandra Horowitz fuses her perspectives as both scientist and dog-owner to deliver a fresh look at the world of dogs as seen from the animal's point of view.
Self Improvement
Looking for more ideas on how to pick your next book club book? Check out these 10 suggestions for picking your next book club book!