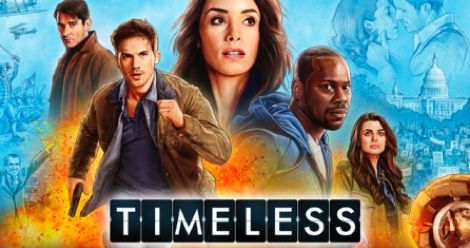 Nonfiction
TIMELESS Has Ended. Long Live TIMELESS.
This content contains affiliate links. When you buy through these links, we may earn an affiliate commission.
I love time travel. I have talked about this before. And I will entertain any type of media that gives me a fun reason to follow time travelers across the eras.
Like many people of the Huluverse, I made a mistake when it came to that magnificence of art the networks call Timeless. I saw that it was coming to a TV near me, added it to my Hulu watchlist, and forgot about it. I saw trusted friends gush about it, and made a promise to myself that it would be the next show I started. I did that for a whole two seasons, and then didn't sit down to watch the damn thing until after it was cancelled.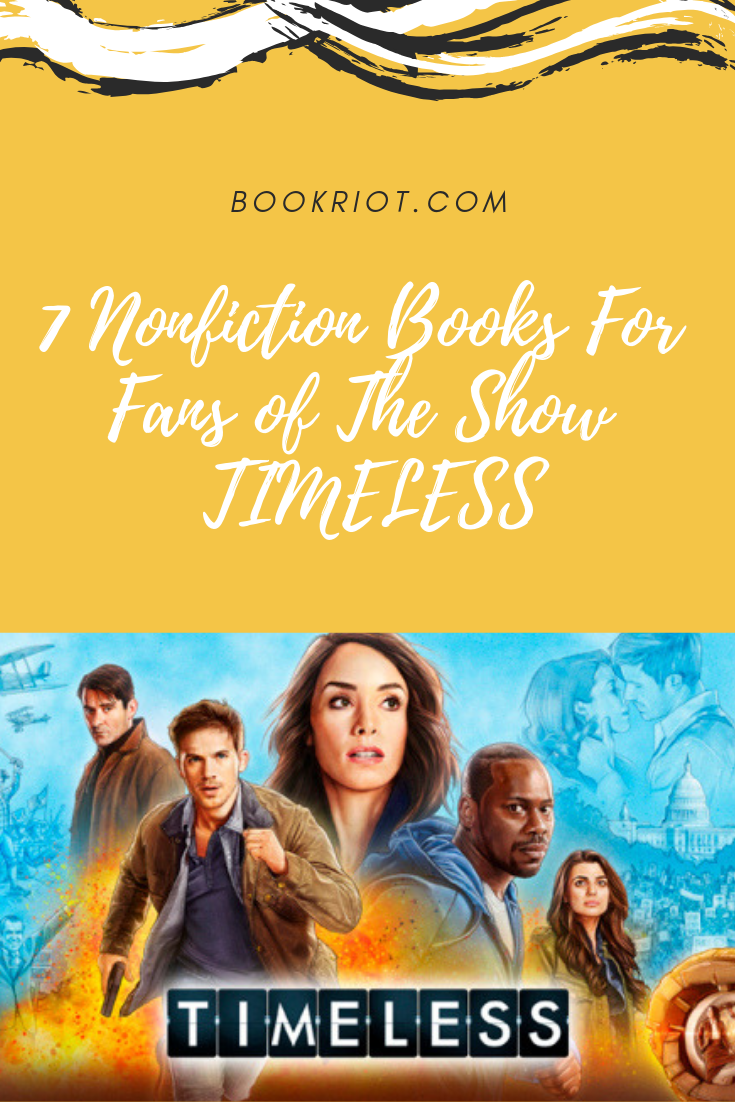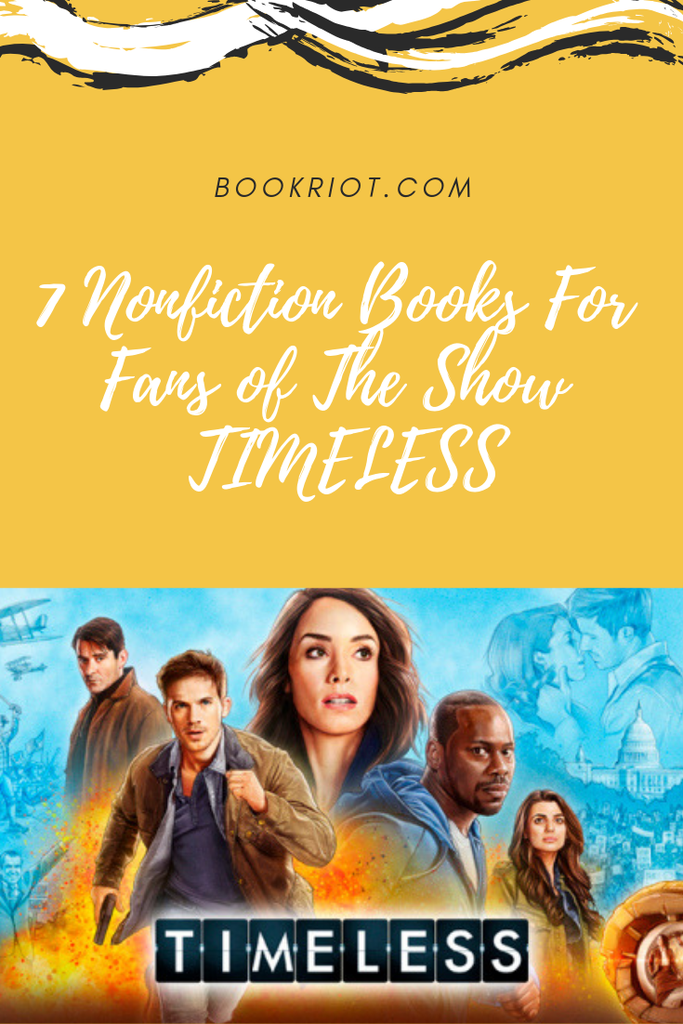 I knew it was cancelled. I watched it anyway.
And there was a cliffhanger.
How could they do this to us? How could they make us love this rag-tag team of racially, ethnically, and sexually diverse time-travelers and then leave us in a lurch? How could they send five woke millennials (and occasionally one woke millionaire) into the past to deal with (and occasionally give people shit about) the racial and gender disparities of days past, and then break us with their potential loss forever? How could they take us through so many amazing eras of history, include historical figures like Katherine Johnson and the great Hedy Lamarr, tell everyone who didn't know (now they know) about Nat Love, include Ian Fleming and have him write a new novel about his time with the gang, and then go and leave us hanging like that?
I moaned for days. I wandered onto AO3 and read far too much fan fiction featuring a trash ship that I will support until my dying day (the tag "Wyatt Logan's Bisexual Crisis" might have been involved). And then they announced a two-hour finale, and I was caught up in the crush.
Sure, they gave us a story that featured Joaquin Murrieta, basically straight out of Zorro.
But it was the end.
The end.
How could I survive?
Well, first I could let myself enjoy just how effing bookish the show was. Maybe not in a normal way, but I could definitely pick up cool new books about a lot of the events that occurred in the Time Team's journeys across time. I could even read by episode! Some highlights of books I might have checked out or pulled down from my shelves included:
Ian Fleming's Commandos by Nicholas Rankin ("Party at Castle Varlar" 1.4)
30 Assault Unit was a secret intelligence group that was sent to Germany to seize all kinds of documentation. They landed not only in Germany, but also in the invasions of Sicily and Italy, before landing at Normandy on D-Day. Ian Fleming wasn't always part of the group, but he was closely involved in their work, even accompanying their greatest acquisition back to Britain.
Hidden Figures by Margot Lee Shetterly ("Space Race" 1.8)
This extremely well-detailed account tells the story of NASA's black women, who worked as computers (mathematicians), engineers, and more before and during the great Space Age. Shetterly tells the story of the intense segregation the group as a whole worked under, and the individual stories of spectacular women like Katherine Johnson, one of the brightest women of her age.
You know the Lone Ranger? That guy with the "Hi, ho, Silver" tagline with the sidekick Tonto? Yeah, the man in the white mask was a real guy, but he was very much not white. Deadwood Dick was the kind of man who would have at least twelve remakes about the story of his life by now if he'd been white, but instead we had to suffer through Johnny Depp tastelessly trying to connect to his Indigenous roots. Or something. Either way: Nat Love was super cool and so is this graphic history of his life.
When Jewish actress Hedy flees Europe for Hollywood, she becomes a glamorous icon. She juggles her professional success and her home life, all while secretly creating a new invention. Motivated by World War II's atrocities and all that is happening around the world, she hopes that her work will help her country, never knowing what it could do for the world in the decades to come. It's always a feat to produce a novel about a real person, but if you're going to read one, it should be about the sensational, spectacularly brilliant woman who was Hedy Lamarr.
There are probably some people who think Eric Clapton was the first to sing about going to the crossroads. Or maybe Bone Thugs-N-Harmony. But the first to record that particular song was Robert Johnson, the progenitor of the Blues. Tom Graves tells us about the man who died early, before he could make even more of an impact on the world of music.
Instead of compiling the historic canon on the life of Harriet Tubman, Milton C. Sernett looks at the combination of her life and her legacy. He looks at the legends that came from the stories of her life—some even before she died—and how they compare to her actual life. He also analyzes how our reflection of her has changed over time, and how much of that lies in truth.
And of course, Ship of Miracles by Bill Gilbert ("The Miracle of Christmas" 2.11)
When the captain of a 12-man merchant ship sees thousands seeking refuge from the coming Chinese army, he somehow makes room. For fourteen thousand Korean refugees. Bill Gilbert has collected first-hand accounts of both the evacuation itself and the voyage through enemy waters to get the Korean passengers to safety.
***
But these are just books set in their time periods, about important people and events in the places the Time Team dropped in on history. That's no fun when you've been going on Time Adventures since you were a kid, no matter what time traveler it was. Follow Superman as he finds his great love with Dr. Quinn in time past? Absolutely. (That was Somewhere in Time.) Learn the ways of the Gentle Folk when you get trapped in a medieval fiefdom? I'm there. (That was Michael Crichton's Timeline, which was very different from the Gerard Butler movie of the same name, but almost—almost—as good.) Time-traveling wedding dress that introduces you to your soulmate? What are these books and where can I get more? (That was Legend by Jude Deveraux, and I was hooked on time travel romances at 13.)
So what did I do? I went straight for the time travel novels. Not the ones like Kindred where the contemporary person lands in a historical time where they will do nothing but suffer anytime she arrives, and be less than a husk of a person upon her return. No, I wanted something fun and less achingly intense. No Time Traveler's Wife or Outlander, please. (Please note, I have read them both, tyvm.)
Thank you, Connie Willis.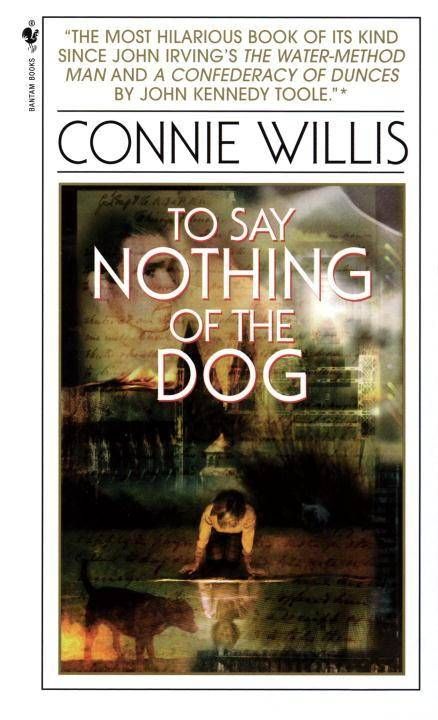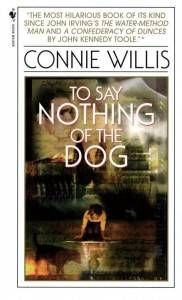 To Say Nothing of the Dog is one of those stories that is almost too funny. I'd tried reading The Doomsday Book multiple times and just couldn't deal with the…doomsday part. But this. This is the delightful book about time travel companions that truly gave me the same kind of tinglies that Timeless did, even if it didn't inspire the same kind of groaning for your ship that can only happen in serial media. But there's still a story to be told and there's still "temporal physics" and a goal to be completed. Maybe not the destruction of Rittenhouse, but some stress must be had. Beyond that, this romp across time isn't quite the race-the-clock game that Timeless is, but if you need a kick and have somehow run out of fan fiction to enjoy, this is a great place to bury yourself in time-traveling joy.
I'm still looking for more of the joyful kind of time travel stories (and I'll take the achingly romantic kind too. And also, please give me more people of color in my time travel; if Rufus, Jiya, and Mason could do it, so can we!)
I'm still sad there was no actual Salem Witch Riot, though.