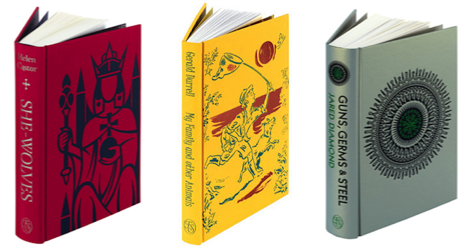 Lists
10 Gorgeous Nonfiction Books from the Folio Christmas Collection
There are so many reasons to love Christmas: cheerful lights, cozy fires, fattening food, family togetherness, and the Folio Society's Christmas book collection. This year's collection has so many amazing books, but here I will list only ten of the very best nonfiction titles in the catalog. And, just to be clear, neither I nor Book Riot cannot be held liable in any way for the credit card debt you are about to incur.
This Pulitzer Prize-winning book attempts to answer a common—and controversial—question: Why did Eurasians—and not the indigenous people of Africa, Australia, or the Americas—develop the weapons, diseases, and technology of the modern world? The answer has often been framed in blatantly racist terms. In this book, Diamond explains that it was not race but a series of ideal conditions and accidental outcomes that created the perfect environment for Eurasians to innovate in unprecedented ways—to the benefit and detriment of humankind.
Have you seen The Durrells in Corfu on PBS? If not, you really must check it out. It's by far the most delightful show on television. And if My Family and Other Animals—the book it's based on—is half as good as the show, I promise you'll absolutely love it. This sunny edition features sixty-two color illustrations by Paul Cox.
If you like to read about badass women defying the patriarchy, you'll love this book. It's about four unstoppable women who paved the way for the reign of Elizabeth I: Empress Matilda, William the Conqueror's granddaughter; Eleanor of Aquitaine, who I am proud to say is a prominent member of my family tree; Queen Isabella, who challenged the misrule of her husband, Edward II; and Margaret of Anjou, who played a key role in the Wars of the Roses.
Christmas is the time to stuff yourself silly and this culinary memoir will inspire you to do just that. In 1929, the author moved with her husband from California to Dijon, France, known as "the gastronomic capital of the world." This book chronicles her appetizing adventures and the relationships formed and broken along the way.
This much-lauded popular biography immerses readers in the ancient world of luxury that served as the backdrop for Cleopatra's epic life. It distinguishes fact from fiction to reveal the truth about the legendary queen, seductress, and political genius. This stunning edition features twenty-four pages of color plates, two maps, and is blocked in metallic cloth.
Mary Beard fans, rejoice! 'Tis the season for this beautiful clothbound edition of her award-winning history of Pompeii. You'll learn all sorts of interesting things about the true events behind the legend. For example, did you know that Pompeii's citizenry knew about the volcano and many evacuated before its eruption? So many new things to learn! This edition features thirty-two pages of color plates with photographs of artifacts and art from the time of the grand disaster.
Anna Funder was inspired to write Stasiland in 1996 when she met a young woman who had been caught trying to climb the Berlin Wall when East Germany was still under Soviet rule. The girl was just sixteen years old at the time and was subsequently imprisoned and tortured. The book shares the stories of those who lived behind the wall—from resisters to ex-Stasi men—and provides plenty of historical background. This particular edition features previously unpublished photographs by the author.
This chronicle of Thomas More's life provides a fascinating perspective on the political games that defined the reign of Henry VIII. More served King Henry faithfully for years but refused to acknowledge him as head of the Church of England. For this unforgivable blow to the King's ego, More was imprisoned and decapitated. This delightfully colorful edition of The Life of Thomas More features thirty-two pages of color plates.
Surrounded by mystical lore, Celtic history has always seemed like an unapproachable mystery to me. Luckily, Nora Chadwick's classic survey of the rise of this legendary people group is here to guide readers on a journey back in time. This stunning edition features thirty-two pages of color and back and white plates, plus six maps.
A friend introduced me to the 1963 film adaptation of this book when I was about eleven and I was totally enthralled. It's the harrowing story of 600 Allied POWs who planned a daring escape that involved constructing a literal underground railway right under the nose of their German guards. The book is a first-hand account by one of the prisoners who helped execute the plot. This edition features photographs from the National Archives and the Imperial War Museum, as well as sketches by one of the camp prisoners.