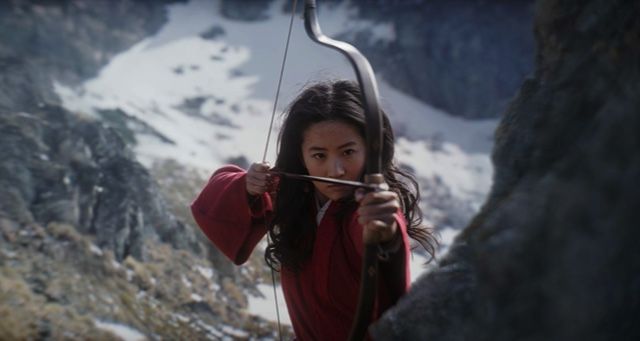 Lists
7 Books About Women Warriors Throughout History
This content contains affiliate links. When you buy through these links, we may earn an affiliate commission.
I'm not a huge Disney person to begin with, and none of the live action remakes have really piqued my interest (I have listened to the soundtrack from the new Aladdin approximately 50,000 times since the release; my parents took the kids). I had, to be honest, completely forgotten there was a new Mulan in the works until the teaser dropped this past weekend and even then, I scrolled right on by until I started to see some of the Own Voices authors I follow on Twitter responding to it with not only cautious optimism but often outright excitement.
I watched it.
Holy crap. I can't believe I'm saying this, but I am so there.
Hua Mulan, of course, isn't the only legendary lady to pick up a sword. Some, like her, may have been real people about whom multiple stories were told over time, combined and recombined; some are historical figures to whom legends were later attached; still others have left behind detailed, verifiable biographies and memoirs. Other women ruled kingdoms and empires as successfully, or more so, than their male counterparts, though we rarely learn about them in either world history nor even more specialized college and graduate school history courses unless we seek them out specifically.
I think it's time for these strong, capable, brilliant, uncompromising women to take their rightful places in the annals of history, don't you?
This children's retelling of the Ballad of Mulan uses one of the ancient Chinese poems as a basis for the story of the girl who joins the army in her elderly father's place (which is only one version of the Mulan story). Wu's text is accompanied by Ang's art and the book includes the original ballad translated into English.
Hapshetsut was the daughter of a general who took the Egyptian throne in a coup. She was supposed to bear the sons who would cement his line. Instead, she outmaneuvered the mother of Thutmose III (one of her husband's secondary wives) and became pharaoh not long after her twentieth birthday.
Successful in war, Hapshetsut's reign is remembered primarily as one of peace. She established or reestablished a number of trade routes, including sea trade, and an unprecedented amount of building projects were started while she ruled.
Her nephew, who was technically her co-regent though only two when Hapshetsut became pharaoh, had many of her images and works of art destroyed when he took the throne upon her death. Scholars are uncertain as to why this was done, though the most likely theory is that, since the destruction was haphazard and incomplete, it is likely he was relegating her posthumously to her proper place as regent. This had the effect, however, of erasing Hapshesut from the historical and archeological record until the late 20th century, when more information about her reign was uncovered.
The first fact most historians seem to share about Queen Arraweelo is that she castrated male prisoners and hung rapists by their testicles.
Fair enough.
A lot of what is known about her seems to be more legend than fact, but the collected portrait is that of a queen who ruled most, if not all, of the Somali territories during her reign. Before becoming queen, during a drought that threatened her people, Arraweelo organized a team of women to hunt and gather water. Typically men's roles, her command of rescue efforts established a precedent for female command.
When her husband objected to her leadership role, Arraweelo called for women across the territory to abandon their domestic roles and, once again, to hang men by their testicles. The Queen is said to have felt that women needed to lead, as they were natural peacekeepers and men instigators, but she was willing to use whatever means necessary to achieve female dominance.
In 60/61 CE, the Romans almost lost Britain to Boudica, the wife of one of their client kings. Though she was ultimately defeated and her tribe, the Iceni, would never regain their former glory, her rebellion did catastrophic damage to not only the Roman legion stationed in Britain, but to the settlements now known as Colchester, London, and St. Albans. While biographical details remain scant, even Roman historians such as Tacitus and Cassius Dio were fascinated by the stories and legends that grew up around the woman who nearly brought their great empire to its knees.
Sahagala, a physician, left her home after a failed marriage and travelled to Singapore, where she met members of the Indian National Army, a group seeking to secure India's independence from the UK. She participated in establishing an all women's regiment for the organization and served as the Minister for Women's Affairs in the Provisional Government of Free India. Sahagala marched into Burma with the INA and the Japanese Army in 1946, where she was captured and spent time as a prisoner of war.
After India's independence, she continued her political activism, being arrested several more times, as well as providing medical care to refugees until her death in 2012.
Samurai Women 1184–1877 by Stephen Turnbull and Giuseppe Rava (Osprey 2010)
Empress Jingo-kogo led an invasion of Korea while pregnant with a future emperor. Nakano Takeko fought in all women's unit at the Battle of Aizu in 1868. Turuhime, born in 1526, inherited the chief priesthood of a shrine after her brothers were killed and her father died of illness, and defended it from a samurai invasion. Most of us know very little about the onna-bugeisha here in the West. Probably time we remedied that.
This hilarious, iconoclastic, empowering book is a glorious encyclopedia of fantastic females. Among its inhabitants are Khutulun, a Mongolian princess who agreed to marry any man who could defeat her at wrestling (she remained perpetually single); Tomyris, who defeated, and beheaded Cyrus the Great; Artemesia, queen and admiral; Mai Bhago, a Sikh warrior who lead an army against the Mughals in 1705 and is now revered as a saint; and so many more.
---
They're out there, waiting to be discovered. By us, by our children. To take their place on bookshelves, in lectures, in popular media, and in cultural media. So, let's get started.