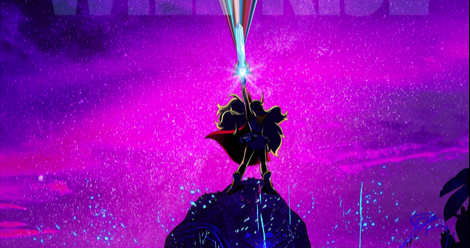 Noelle Stevenson's She-Ra Reboot for Netflix Has a Cast: Critical Linking, May 21
Today's Critical Linking is sponsored by Furyborn by Claire Legrand.
---
But now she's co-executive producer (alongside Chuck Austen) on a reboot, She–Ra and the Princesses of Power, from DreamWorks Animation Television that will debut on Netflix later this year.
The series will feature the voices of Grey's Anatomy alum Sandra Oh, Orange Is the New Black's Lorraine Toussaint, black-ish's Marcus Scribner, Dancing With the Stars champ Jordan Fisher, and Young & Hungry's Aimee Carrero.
Noelle Stevenson, Nimona creator, is working on a She-Ra reboot for Netflix, and the cast has been revealed!
---
Julia Larson is a human book. If you check out her title, "Survivor," you'll get the story of a young woman's pain and breakthroughs dealing with sexual abuse and suicidal impulses.
"When I share it, I feel like I'm helping others," she said, explaining her desire to tell her story. "And when I'm helping others, that makes me happy."
The Human Library works to help "invisible communities" in Idaho tell their stories.
---
A book publisher is planning a news conference Thursday to announce it knows the true identity of D.B. Cooper, a mysterious man who hijacked a plane in 1971 and then parachuted out of it with $200,000 in ransom money.
Grand Rapids-based Principia Media says Cooper was a former military paratrooper named Walter R. Reca — the latest in a long string of people to be publicly linked to the crime over the years.