Audiobooks
No Time for Audiobooks? Try These Audio Short Stories
This content contains affiliate links. When you buy through these links, we may earn an affiliate commission.
One of the most frequent concerns that I hear from people who haven't given audiobooks a try is the time commitment. Some audiobooks are a bit daunting, especially when measured by the number of CDs involved or the length of time required for download. Maybe you don't have a long commute and don't need audiobooks to help pass the time. Maybe you're unsure about your ability to multitask – to both listen and do the dishes or fold laundry. I know that's how I felt in the beginning.
In an effort to get you over that audiobook road bump, I present a list of some of the best short fiction collections available in audio.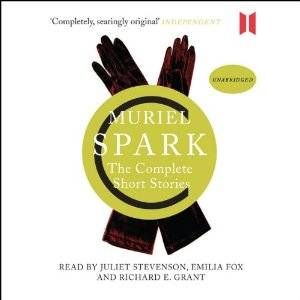 The Complete Stories by Muriel Sparks
This collection includes some of the best of Sparks's short fiction, from "A Member of the Family" to "The Girl I Left Behind Me." The stories take place in a variety of locales, touch on numerous topics, and probe "the idiosyncrasies that lurk beneath the veneer of human respectability." Narrators for the project include Juliet Stevenson and Richard E. Grant.
Selected Shorts: New American Stories by Sherman Alexie, Jhumpa Lahiri, Chimamanda Ngozi Adichie, and Aleksander Hemon
If you're not already familiar with the fabulous Selected Shorts broadcast/podcast/stage show, then this collection serves as an excellent introduction to the series. The concept is this – take a short story written by talented, well-known author and have a star of stage and/or screen read it. It works out well, and the producers of the series deserve a lot of credit for the variety of voices that get heard on the program. Narrators for this collection include B.D. Wong and Condola Rashad.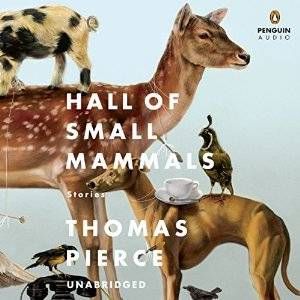 Hall of Small Mammals by Thomas Pierce, narrated by MacLeod Andrews
This collection is my current listen. It's been on my radar for a long time, and I find that the jacket copy is the best way (and I don't say that often) to describe what you'll find:
"The stories in Thomas Pierce's Hall of Small Mammals take place at the confluence of the commonplace and the cosmic, the intimate and the infinite. A fossil-hunter, a comedian, a hot- air balloon pilot, parents and children, believers and nonbelievers, the people in these stories are struggling to understand the absurdity and the magnitude of what it means to exist in a family, to exist in the world."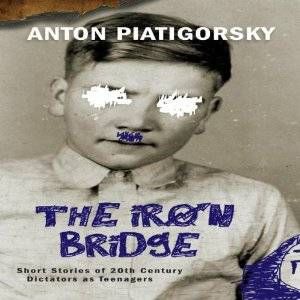 The Iron Bridge: Short Stories of 20th Century Dictators as Teenagers by Anton Piatigorsky, narrated by Mimi Bilinski
I enjoy short fiction collections that are linked by a theme, and this is one of the most interesting concepts that I've come across in a long time. Each story explores how each dictator's teen years may have impacted their future actions. It's an absolutely fascinating, completely engaging (and completely imagined) look at the secret history behind some of the most notorious figures in modern history.
Want more where that came from? I'll be back soon with a list of fantastic audio singles.
____________________
Like chattin' up other readers and keeping track of your books on Goodreads? So do we! Come give us a follow.