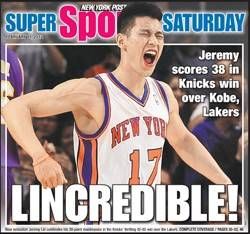 Humor
No Stopping the Linguistic "Linsanity"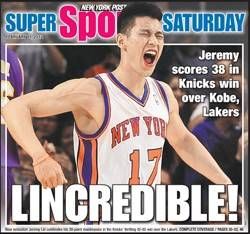 By now, if you've been exposed to any form of media at all in the last week, you're likely familiar with "Linsanity," the term being circulated to encapsulate the emotional commotion surrounding the extraordinary rise from benchwarmer to global superstar of one Jeremy Lin, point guard, New York Knicks.
The story of the Asian-American basketballer who, with no Division I scholarship offers out of high school, had to settle for guaranteed playing time and an economics degree at Harvard and then—after being cut twice from NBA rosters and sent down to the D-League four times—set records for points and assists in his first few starts is, for now, worthy of all the excitement.
Of course, no one knows just how long the Linsanity can continue on the court. On Friday night, the Knicks finally lost a game with Lin in the lineup—to the New Orleans Hornets, one of the NBA's worst teams—and they enter today's matchup with the defending champion Dallas Mavericks as underdogs. Yet, the Lingua franca that it has inspired among Knicks fans and millions of others shows no signs of a let down.
That is, it started with the signs inside Madison Square Garden—"Lincredible!" "Be My Va-LIN-tine!" "A Linderella Story!"—and rolled out into the Manhattan streets and beyond. New York restaurants are serving up Lin Burgers and Lings—Asian-spiced chicken wings—while bars mix Lintinis and Lin-and-Tonics. Of course, tabloid sports editors have generated any number of Linventive headlines on their back pages, and Lin has been dominating the Linternet, too, drawing more Google searches than Tiger Woods or Kobe Bryant, the NBA scoring leader he famously outdueled a week ago. Linsanity has inspired at least one Linerick, and I'm sure it's only a matter of time before it works its way into general Linterature (though his literary plans are currently on hold, Lin has an agent exploring publishers for a possible memoir).
Hmmm. Lintriguing, to say the least. The possibilities are Linitless.
As I discussed here a few months ago, the portmanteau is one of my all-time favorite linguistic-concept categories, because these word blends are highly evocative and highly democratic—that is, expressive as well as easy and fun to create. And with a simple, single-syllable name like "Lin," coining new "portLinteaus" certainly isn't hard to do (though if you need a little Linspiration, someone has already created a Jeremy Lin Word Generator). Let's just say that the New York Post headline-writers would have a much tougher time if this sudden superstar were named Schwarzstein or Brzezinski or, for that matter, Smith.
Indeed, sports phenomena, no matter how unprecedented, can be fleeting, and with the eighth-place Knicks teetering on the edge of the playoff bubble, the championship prospects of Jeremy Lin and his team still hang in Linbo. Yet, the impact on our Lingo seems undeniable and perhaps longer lasting. A mere seven weeks into 2012, "Linsanity" is already a leading contender* to be named Word of the Year, according to the American Dialect Society, which dispenses the honor. By comparison, the 2011 winner, "occupy," took months (as well as actual, physical protests and clashes with police) to emerge and gain traction.
*And at least Jeremy Lin is betting on Linsanity's staying power—this week, his attorneys applied for the trademark rights.
Of course, before those results were announced in January, another sports-phenomenon-inspired portmanteau had been a finalist: "Tebowing," for the knee-in-prayer pose that Denver Broncos quarterback Tim Tebow struck after his own improbable victories. But that momentum was crushed with a regular-season-ending, three-game losing streak (and the religious Tebow's status as a polarizing as well as popular figure—something Lin, though a devout Christian himself, has avoided).
So, lest Linsanity fall victim to a collective sense of Linertia, Lin and his Knicks will have to keep this whirlwind going.
Because as much as people like an unlikely story, everybody loves a Linner.