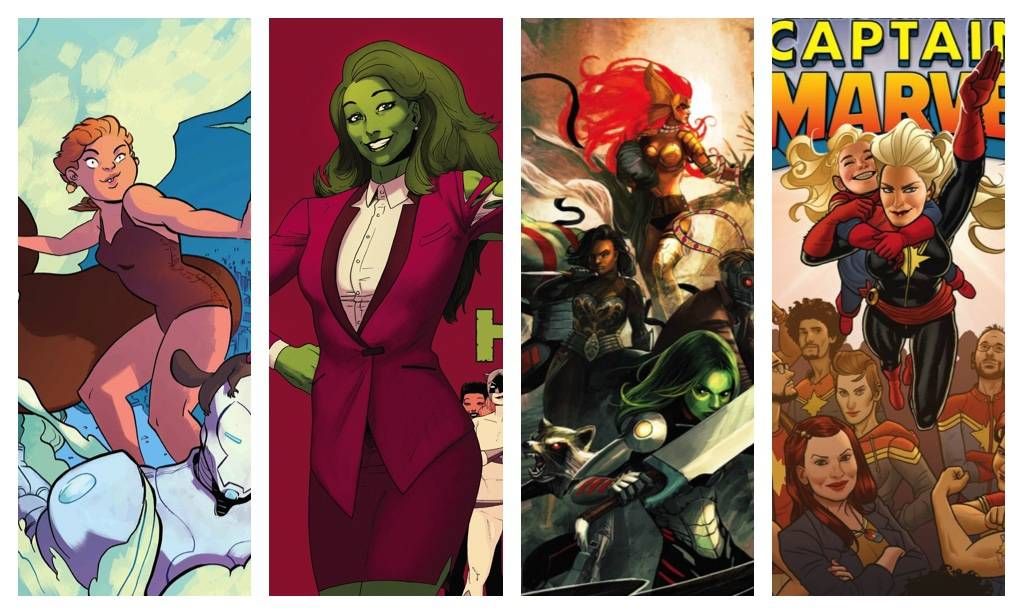 cool girl, /ˈkül-ˈgər(-ə)l/ noun.
A female person who is "not like those other girls." She only has male friends, because girls are, well, you know how they are. If she ever upsets her male friends, she ceases being the "cool girl."
The female lead in a movie, film, or comic who is surrounded by an all-male supporting cast. When Smurfette gets her own show and doesn't pick up any friends along the way.
Female-led properties in any kind of action genre (adventure, sci-fi, fantasy, etc.) often sport the nasty habit of leaving all other women that aren't the protagonist to the wayside.
Sometimes it's a function of the narrative (Agent Carter) and sometimes there's no discernible reason (Salt). Maybe, for fear of contaminating its audience with cooties from a female lead, they overcompensate by having a primarily male supporting cast. Or the oft-cited gender perception gap (if a group comprises 17% women, men perceive it as being half, at 33%, a majority) is to blame. Hell, it even happens to otherwise feminist shows (Veronica Mars, iZombie).
Fortunately, there are no "cool girls" at Marvel Comics, just awesome ladies: women who are elevated, not hamstrung, by their relationships with other women. Virtually every female-led title at Marvel in the last few years has featured varied female friendships and relationships.
Captain Marvel — Carol and Jess, Kit, Tracy, Helen, Monica, Tic, More
The first volume of Captain Marvel starring Carol Danvers (by Kelly Sue DeConnick, Dexter Soy, Emma Rios, and Filipe Andrade) was arguably the vanguard title of Marvel's upcoming wave of female-led titles.
Over the course of 17 issues, Carol traded barbs with former co-worker Tracy Burke, bantered while dinosaur-punching with Jessica Drew, fought spaceships alongside the Banshee Squadron, mentored neighbor Kit, competed with her hero Helen Cobb, combined forces a la a Steven Universe gem fusion with Monica Rambeau, and inspired an in-series Carol Corps.
In Carol's latest run (penned also by DeConnick partially with Warren Ellis, and art by David Lopez and Marcio Takara), she left most of her earthbound friends behind to have space adventures where she—unsurprisingly—formed bonds with more women, including refugee Tic, pilot Jackie, world leader Madame Eleanides, and intergalactic pop star Lila Cheney. Nothing threatens the patriarchy more than communities of women, and it's clear that Captain Marvel has been non-compliant for quite some time.
Angela: Asgard's Assassin — Angela and Sera
Before its launch in December 2014, Angela: Asgard's Assassin (by Kieron Gillen, Phil Jimenez, Marguerite Bennett, and Stephanie Hanz) faced questions as to how it would stand out from Marvel's other series. The assassins' beat was covered by Black Widow and Elektra, and Asgardian heroes were represented through Thor and Loki: Agent of Asgard.
What does it offer? Through its strikingly interwoven artwork and script, it tells the fascinating buddy-action tale of Angela and Sera. It is through Sera's eyes and humorous stories that we get to know the distant and intimidating Angela. As a bonus, she's one of Marvel's first humanoid transgender characters, and a women-of-color to boot!
Though this series is only lasting a short six issues, the duo will reappear 413 years ago in Secret Wars's 1602: Witch Hunter Angela—in June.
She-Hulk — Jennifer and Angie, Patsy
After quitting her job at a previous firm, Jennifer Walters (in She-Hulk by Charles Soule, Javier Pulido, and Ron Wimberly) decides to start her own from the ground up. She does so with the invaluable aid of Patsy Walker (a.k.a. Hellcat) and a new character—paralegal Angie Huang.
A very down-on-her luck Patsy finds renewed purpose as Jennifer's detective. Though her first appearance is not her…finest moment, she later proves herself to be a scrappy, unrelenting force in Jennifer's arsenal.
Angie, though, is easily the breakaway star of She-Hulk. She's a (mostly) everywoman character who works hard. Soule has spoken in interviews about the unsung nature of the paralegal, and it's clear he's poured that appreciation into Angie. She's an enduring force who faces down many threats—from supervillains to unending paperwork.
She-Hulk isn't just about She-Hulk; it's about the juggernaut strength of these three women combined.
Unbeatable Squirrel Girl — Doreen and Tippy-Toe, Nancy
The closest Marvel equivalent to DC's "World's Finest" (a nickname oft given to the pairing of Batman/Superman—no, not like that) is probably Doreen Green and her squirrely pal Tippy-Toe. Or maybe they match better with Batman and Robin, since both teams comprise a nigh unbeatable mammal-based hero with a backyard-based protégé?
At the beginning of Unbeatable Squirrel Girl #1 (by Ryan North, Erica Henderson, and Maris Wicks), Doreen and Tippy-Toe take down some goons in total synchronicity. Their friendship is time-tested and true, and the series marks a new adventure for both of them: college.
In that first issue, they meet their (Tippy-Toe as Doreen's contraband) new roommates, Nancy Whitehead and her cat Mew. Doreen and Nancy become fast friends, with the former learning she's not the only small pet owner/college student hybrid with heroic inclinations.
And Everyone Else!
Ms. Marvel and Nakia, Spider-Gwen and the Mary-Janes, Storm and Yukio and Marisol, the combined women of X-Men, the list goes on! And it's all set to achieve MAXIMUM FRIENDSHIP next month with Marvel's all-female Avengers team A-Force.
____________________
Follow us on Instagram for more comics fun.