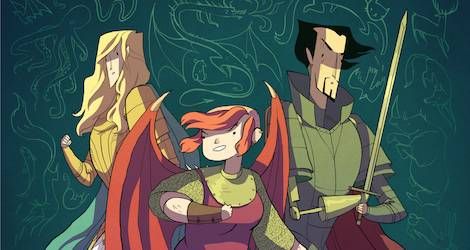 News
Nimona THE MOVIE Is Coming to a Theater Near You
My actual reaction when I heard that Nimona is getting a movie.
NIMONA IS BEING TURNED INTO AN ANIMATED FILM. THIS IS NOT A DRILL. OH JEEZ, AM I YELLING? SORRY, I'M JUST SO SO EXCITED.
Okay. Breathe.
It's true. The release date for the Nimona movie—an adaptation of the excellent medieval fantasy + science webcomic turned graphic novel by Noelle Stevenson—has officially been set to February 14, 2020. Perhaps in an attempt to turn Valentine's Day into Nimona Day? I'm down for that.
Hey world, the NIMONA feature film has a release date! @Gingerhazing February 14th 2020 !!

— Patrick Osborne (@PatrickTOsborne) June 30, 2017
I had no idea this was even in the works, so I'm especially excited. And it's animated! Which means the possibility of an awesome film and not a live action mess (I'm looking at you M. Night Shyamalan).
Avatar the Last Airbender Live Action Movie.
The movie is being directed by Patrick Osborne. According to IMDB, he has previously directed two short films, Pearl and Feast, the latter of which won an Academy Award for Best Animated Short Film. He also worked on films like Bolt, Tangled, Wreck-It Ralph, and Big Hero 6. So I think one of our favorite graphic novels ever is in fairly good hands.
Now the speculation begins. Who will voice whom? How closely will they stick to the original story? How deeply will they explore the relationship between Lord Ballister Blackheart and Sir Ambrosius Goldenloin? How much say will Noelle Stevenson get? I hope you will come squee and speculate with me in the comics.