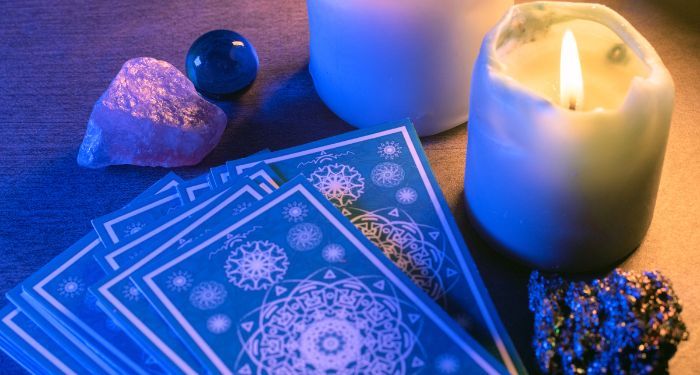 Book Fetish
Cosmic Fun Abounds With New Tarot and Oracle Decks in 2023
This content contains affiliate links. When you buy through these links, we may earn an affiliate commission.
A few years back, I put together a popular post digging into tarot and oracle card decks. The decks were inclusive, as well as beautiful, and any of them would make for a great first, second, or fiftieth deck for yourself or for someone else. In the time since that roundup, though, we've seen an explosion in new, fun, creative, and diverse tarot and oracle card decks worth talking about. There's something here for everyone, whether you're in it because you are a big believer in the power of the cards or because you find the cards to be great journaling prompts or opportunities to think about your life and what you may want to do with it.
What is the difference between tarot cards and oracle cards? There's a nice look at the history of two types of decks in the above link, but the short and sweet summary is this: tarot have 78 cards total, consisting of two parts: the 22-card major arcana, alongside the 56-card minor arcana. Tarot cards have a structure and pattern to their language, though interpretation is at the hands of the user, based on what they're seeing in the individual cards as well as the spread of cards. Different decks utilize different imagery, but decks use the same 78 card structure. Oracle cards, on the other hand, can contain any number of cards, any number of designs, and often comes with a booklet to offer insight into the cards and what they might mean. Many see oracle cards as more accessible to the common person than tarot, since there isn't a standard template to them. Rather, you can simply be drawn to the messages or images of a deck and use it wherever feels appropriate in your life.
As interest in cards continues to grow and more decks are created that offer options to users, there is no time like the present to not only get to know a bit about the history of these two types of cards but to also try them out. The range of these cards is extensive, going from serious to seriously fun. You can often find them in bookstores, as well as metaphysical stores, and good decks will have either websites you can look at for more detailed looks at the cards (and if not on a private website, those extended previews should be on the publisher's website).
Let's take a look at some unique, fun, and new tarot and oracle card decks for 2023.
May the cards be ever in your favor!