Fiction
New Takes on Fairy Tales: A Reading List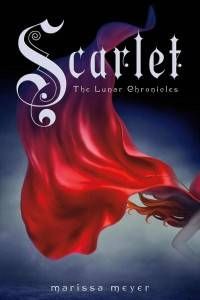 This round of Riot Recommendation is sponsored by Scarlet by Marissa Meyer.
Cinder is trying to break out of prison—even though she'll be the Commonwealth's most wanted fugitive if she does.
Halfway around the world, Scarlet Benoit's grandmother is missing. It turns out there are many things Scarlet doesn't know about her grandmother, or the grave danger she has lived in her whole life. When Scarlet encounters Wolf, a street fighter who may have information as to her grandmother's whereabouts, she is loath to trust this stranger, but is inexplicably drawn to him, and he to her. As Scarlet and Wolf unravel one mystery, they encounter another when they meet Cinder. Now, all of them must stay one step ahead of the vicious Lunar Queen Levana.
_________________________
Inspired by Marissa Meyer's new twists on Cinderella and Little Red Riding Hood, we asked you to share your favorite new takes on fairy tales. Here's a collection of your recommendations from Facebook, Twitter, and the comments.
The Looking Glass Wars trilogy by Frank Beddor
Beauty: A Retelling of the Story of Beauty and the Beast by Robin McKinley
Bill Willingham's Fables series
The fairy retelling anthologies edited by Ellen Datlow and Terri Windling (including Snow White, Red Blood; Ruby Slippers, Golden Tears; and Silver Birch, Blood Moon)
Spindle's End by Robin McKinley
Gregory Maguire's Wicked series
The Elemental Masters series by Mercedes Lackey
The Sisters Grimm series by Michael Buckley
Eloisa James' Regency romance adaptations
Jasper Fforde's Thursday Next and Nursery Crime series
The Bloody Chamber by Angela Carter
Red as Blood, or Tales from the Sisters Grimmer by Tanith Lee
Alice in Zombieland by Gena Showalter
"Hansel and Gretel" by Lauren Williams McCaffrey
Beastly by Alex Flinn
Entwined by Heather Dixon
Sunshine by Robin McKinley
Confessions of an Ugly Stepsister by Gregory Maguire
Splintered by A.G. Howard
Sisters Red by Jackson Pearce
Tiger Lily by Jodi Lynn Anderson
Lament by Maggie Stiefvater
My Name is Rapunzel by K.C. Hilton
Before Midnight: A Retelling of "Cinderella" by Cameron Dokey
Ash by Malinda Lo
Fairest by Gail Carson Levine
Dish it, readers: what did we miss?