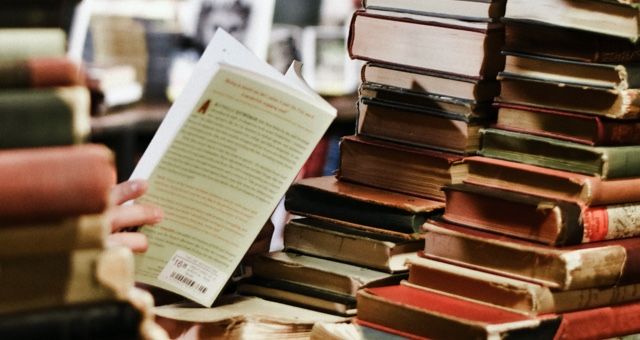 Lists
9 New Series From Your Favorite Authors
This list of new series is sponsored by Saga Press, an imprint of Simon & Schuster.
Charlaine Harris is back! The #1 New York Times bestselling author of the Sookie Stackhouse series (the books that inspired HBO's True Blood) has an all-new series that fans new and old will adore. Perfect for readers of alternate history and weird westerns, A LONGER FALL is set in a world where Franklin D. Roosevelt was assassinated, and follows gunslinger Lizbeth Rose in the fractured countries and territories that were once the United States of America. Tying in touches of magic and mystery, this is one for all readers of speculative fiction and thriller will enjoy.
---
It's always sad to see a favorite series come to an end. But when one series door closes, another series door opens, I always say. Some of your favorite authors have been hard at work on brand new series you'll love. Check out some of these upcoming and new series from your favorite authors. Hopefully you'll find your new favorite book!
The City We Became (The City #1) by N.K. Jemisin (March 26, Orbit)
N.K. Jemisin made history with her award-winning Broken Earth trilogy. Now, she's releasing a new series based on one of her short stories, "The City Born Great." When an ancient evil threatens New York City, its boroughs become personified and must unite to protect the city. This unique and fantastical view of New York will fill you with joy and stretch your imagination beyond what you thought possible.
Incendiary (Hollow Crown #1) by Zoraida Córdova (April 28, Hodder & Stoughton)
Fans of the Brooklyn Brujas series can't wait to get their hands on Zoraida Córdova's first book in the Hollow Crown series. Renata has the rare ability to steal memories, a skill that has been utilized against her will to turn hundreds of royal enemy souls "hollow." After thousands of her own people were killed by the King's siege, she's turned against the crown as a rebel spy seeking to change the fate of the kingdom.
Infinity Son (Infinity Cycle #1) by Adam Silvera (January 14, HarperTeen)
The beloved author of They Both Die at the End is making his fantasy debut with Infinity Son. Brothers Emil and Brighton have grown up amidst a magical war in New York, where Spell Walkers must defend those with magical powers from specters that seek to steal them. While Brighton has long wished for powers of his own, Emil is the one to manifest powers that throw them both into the center of the conflict, putting their brotherhood and loyalty to each other at risk.
House of Earth and Blood (Crescent City #1) by Sarah J. Maas (March 3, Bloomsbury)
Sarah J. Maas made a big splash in the YA fantasy world with her Throne of Glass series. Now, she's venturing into adult fantasy with the new Crescent City series. Half-fae Bryce is on a mission for revenge after a demon kills her closest friends. Fallen angel Hunt is the perfect choice to help Bryce in her journey through the city's dark underbelly. Together, they find danger, mysterious power, and sizzling romance.
Chain of Gold (The Last Hours #1) by Cassandra Clare (March 3, Margaret K. McElderry Books)
Cassandra Clare's Mortal Instruments series and Infernal Devices series earned her a devoted following. Now, she's introducing a brand new series about Shadowhunters in Edwardian London. Siblings James and Lucie come from a famous family, and they've long felt entitled to a life of heroism and love. But when a plague strikes London and they must save their loved ones from ruin, they learn the true cost of being the hero.
Black sun (Anasazi Series #1) by Rebecca Roanhorse (TBD 2020, Saga Press)
The Sixth World series garnered critical acclaim and a significant following for Rebecca Roanhorse. We don't know much yet about her new series coming in 2020, but it's enough to get fans excited. Readers can expect an Ancestral Puebloan epic fantasy that breaks the European mold. Set in a cliff city ruled by matriarchal clans, Black Sun will feature dark magic, political intrigue, celestial prophecies, and more.
Lost Hills (Eve Ronin #1) by Lee Goldberg
Lee Goldberg, #1 New York Times bestselling author of the Ian Ludlow Thrillers, is at it again with a brand new mystery series! After video of Deputy Eve Ronin arresting an abusive celebrity goes viral, she gets a promotion and becomes the youngest female homicide detective in Los Angeles County Sheriff's Department history. Now plagued with jealous colleagues and more media attention than she bargained for, Eve faces her first case. She and her partner are called to the blood-splattered home of a single mother and her two kids, now missing. Can she prove herself deserving of her new position?
Wicked As You Wish (A Hundred Names for Magic #1) by Rin Chupeco (March 3, Sourcebooks Fire)
Lovers of the Bone Witch series will love Rin Chupeco's new Filipina fairytale series. Although she's the daughter of a legendary magical heroine, Tala would prefer to stay far away from magic. In fact, she's more often found negating spells than using her family's powers. But when outside forces threaten to use her country's last prince for evil instead of good, Tala must use her family's ancient ties to protect the kingdom.
A Bad Day for Sunshine (Sunshine Vicram #1) by Darynda Jones (April 7, St. Martin's Press)
Best known for the Charley Davidson series, Darynda Jones is a master of combining romance, mystery, and thrills. Her new series centers Sunshine Vicram, the newly elected sheriff of Del Sol, New Mexico. Although Sunny expects her new job in her hometown to be mostly peaceful, she quickly finds herself in the middle of national media when a kidnapper goes missing in Del Sol. Combined with a missing teenager, a town flasher, and two attractive men vying for her attention, Sunny might be in over her head.
---
We hope this list got you excited about new series from your favorite authors! Tell us what upcoming series you're excited to read on Twitter @BookRiot. Looking for more book series you'll love? Check out:
The Best Book Series for Adults in Every Genre
7 of the Best Completed Romance Series