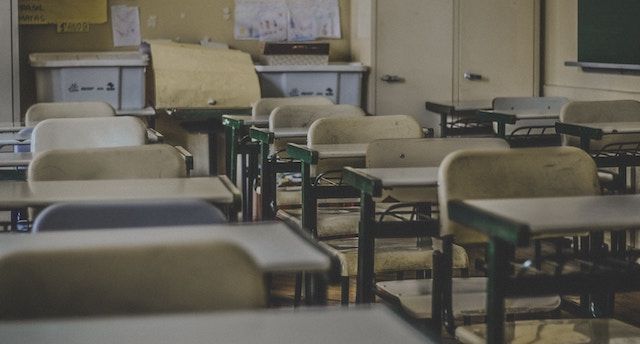 Lists
5 Books About Going to a New School
This content contains affiliate links. When you buy through these links, we may earn an affiliate commission.
Although I am working a regular, over-the-summer, 9-to-5 these days, I still like to return to books about going to school right before the end of the summer. The beginning of fall always feels like a time of renewal, which makes sense because it is the season of the harvest. The YA books about new schools are always going to hit hard because it can be such a turbulent time.
There is nothing quite like the intensity of adolescence, and it gets even more when one has to attend a new school. From high school to college, change is inevitable, as is the feeling of a lack of control. I still think the month of September can be the most exciting, but it is my birthday month, so I could be biased. This list follows my reading pattern leading up to one of the first years in my life that I am not going back to a school of some kind—it reminds me what can be great and terrible about it.
New Schools, New Stories
I still have yet to read a better book about adjusting to the college experience than Fangirl. Although college is a different beast than high school, the first year is still steeped in teenage growing pains (at least it was for me). Rainbow Rowell perfectly captures the awkward adjustment period to a place that is supposed to feel like home, but hits you new and different challenges every day. Cath is a devoted fan fiction writer, taking refuge in her favorite book series, Simon Snow, when fights with her identical twin or bad grades from her Fiction Writing teacher get to be too much. The need to take refuge when your life is swirling around like a tornado is pretty normal, but Cath also begins to step outside of her own head and engage with the weirdos around her. With Rainbow Rowell's Wayward Son (a follow-up to Carry On) coming out, Fangirl is definitely worth a revisit to remind us what Cath loved so much about the world of the mages.
Blue Van Meer's all-over-the-world childhood hasn't led to lasting friendships, and her newest school might be the weirdest of them all. Falling into a gang called the Bluebloods, Blue gets caught up in the whirlwind of mysteries, ranging from small secrets to full-on murder. Pessl includes lots of visuals to amplify her story, and draws in readers with her brainy, prickly protagonist. It's definitely a worst-case scenario of what it's like to start at a new school, so that could assuage some fears for those of us embarking on new endeavors in September.
New School, New Cultures
This deeply personal novel explores being the new girl in school, but when the girl is Muslim, and also the wave of post-9/11 Islamophobia is still crashing down, it's a whole different ball game. Shirin is trying to avoid incidents and work on her breakdancing, but an inconvenient white boy named Ocean worms his way into her heart. The romance is well-drawn and lovely, but this book really shines when Shirin is forced to confront how and why she had to get so hard so quickly. The book has been optioned for a film project by Levantine, so hopefully we'll get to see this beautiful story on the big screen soon.
Going to a new school for senior year seems crazy enough, but in a different country is completely out of control. Lucky for Anna, she ends up in Paris. The romance of this novel is undeniable. Anna and her dream boy Etienne dance around each other, each being somewhat unavailable for the other. Perkins really shines when she gets to describe how Anna falls in love with Paris, and when Anna indulges in her old Hollywood knowledge. The sparkling, lovable world of this Parisian boarding school is a perfect end-of-summer, beginning of school read.
With a name and cover referencing the iconic work Black Skin White Masks by Frantz Fanon, this book declares its intent early and follows through beautifully. This is another fish out of water story, following Anthony Jones from his Cleveland public school to an ultra-white Maine prep school. Walker's critical novel reveals why it is so necessary to introduce kids to people of different backgrounds early and often, instead of allowing them to lock into stereotypes.
School's Back for All
Even if I'm not going back to school, I'll probably still dive into the back-to-school gift guide. While the leaves shake off the trees, I'm always compelled to gain a new skill or start a random project. It feels like a true beginning, which may be a feeling shared among those of us observing Rosh Hashanah.
---
Want more? Check out back to school books for younger children as well as this collection of back-to-school audiobooks.