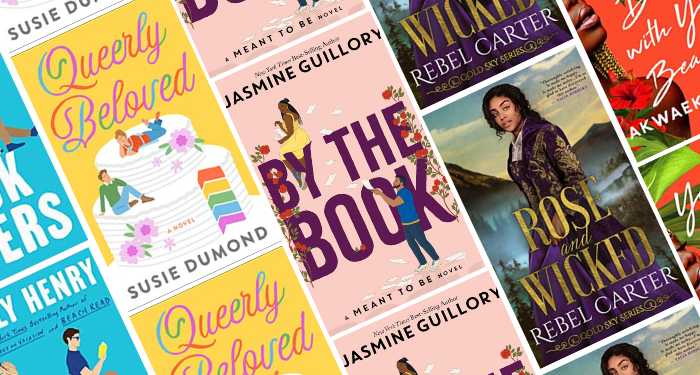 It seems like every month, more and more romance novels are coming out — way more than we can keep track of. It's always nice to know that book you've been waiting for which might have been announced years ago (or what feels like years, even if it's only been a couple of months), is finally arriving — but it's not always easy to know when that might be happening. Whether we're looking for a specific title, or jonesing for a new book in a particular sub-genre or with a specific trope, there is some amount of sorting through every romance ever to find something you want to read.
Good news! We've got a few romances that are releasing over the course of this month that might satisfy every bookish desire. Historical and contemporary. Hating-to-dating and off-road adventures. Instant pot romances and slow burns. There's a little bit of everything! Some books are by familiar names, while others are much anticipated debuts.
You'll notice these are almost all books that will be published by big imprints like Berkley, Avon, Sourcebooks Casablanca, and so forth. While there are probably independently published romances that will be coming out this month, they tend to have a shorter lead time and might either only be posted for preorder a few weeks before their release, or get the Lemonade treatment and just drop whenever they want. Keep your eye out for those, too!
Here are a number of books I'm excited for (and you should be, too!) coming out over the course of the next month.
Wow. This is a hell of a month! The May 3 releases are particularly extensive and exciting, if I say so myself. Note to self: leave enough money in my bank account for the mortgage.
---
Looking for more new romance recommendations? Be sure to subscribe to the Kissing Books newsletter and listen to the When In Romance podcast! And if you're looking for more new books in general, you're going to have a heckuva time with the weekly New Books newsletter!