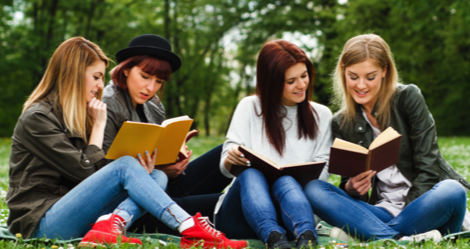 New Romance Line To Feature Trope-Driven LGBTQ+ Contemporary Romance: Critical Linking, December 3
Just for Book Riot readers: sign up for an Audible account, and get two audiobooks free!
---
Harlequin's digital-first imprint for adult romance and mystery, Carina Press, is launching Carina Adores, a new line coming in 2020 that will feature trope-driven LGBTQ+ contemporary romance. The publisher is accepting submissions.
We are here for this announcement!
---
THIS PAST SUMMER, Walter Mosley, Agatha Award–winning writer Gigi Pandian, and I started a group for crime writers of color. Within two months, the group went from the three of us to having over 80 writers — all in various stages of our careers. We cheer the ups, commiserate with the downs, and brainstorm ways to ensure the appallingly low number of mysteries published by writers of color continues to grow.
It was during one of those brainstorming discussions that the idea for this roundtable took shape. The group was discussing how best to diversify conference panels. I mentioned how I'd love to see a panel featuring black mystery writers who first published in different decades to see what had gotten easier, what had gotten harder, and what had stayed the same.
Steph Cha messaged me suggesting that it might work as a roundtable discussion. I knew exactly who I wanted to invite — and was thrilled when they all immediately said yes. The resulting conversation is enlightening and a great inside look at what it's like to be a black mystery writer.
Fantastic crimes writers having a great discussion.
---
Books have always been pretty cool, but Gucci is giving them a new lease. On Tuesday, the brand opened the Gucci Wooster Bookstore curated by Dashwood Books, just in time for peak curl-up-and-read season.
Located inside Gucci's enormous Wooster store, the intimate reading nook is meant to host shoppers looking to for a cozy place to sit and browse, as well as book signings and cultural events for neighbors and friends. Since opening its downtown location in May, Gucci has worked hard to cultivate Soho's legendary artistic spirit, which is why they invited Dashwood Books founder, David Strettell to help curate an assortment of nearly 2,000 titles.