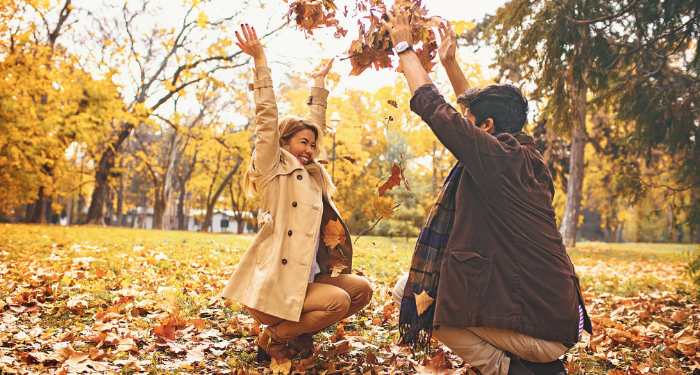 This content contains affiliate links. When you buy through these links, we may earn an affiliate commission.
Fall is here, and there's no better time to snuggle up with a romance novel! October is the month when the leaves start changing (if you live in a place that does that), the evenings get crisp, and the fireplaces start going. It's when baseball fans get really stressed out and other people just switch to a different sport to casually enjoy. It's when the Halloween go-hards get really excited and the giant skeletons start to go up in yards.
In Romancelandia, it's also when the "holiday" romance novels start popping up on shelves. Most holiday romances are vaguely Christmas themed, but the last few years have seen a few more romances set around other winter holidays, whether it's Thanksgiving, Diwali, Solstice, Hanukkah, or Kwanzaa. (There are also more focused on Lunar New Year, but that's not until January.) We've still got quite a ways to go before that representation is anywhere near equitable (especially since there are so many people in the U.S. and the world that don't even celebrate Christmas!) but it's nice to see the classic Hallmark-style Christmas romance branch out to more racial and cultural representation, and more of the cultures and traditions of the world brought to the forefront of the Holiday Time.
Regardless, there are countless new romances coming out every week, so it might be hard to decide which one to read. Do you want something shorter, or longer? Something fun, or angsty? Something that embodies the October spirit? Or maybe it's time to get an early start on those winter holiday romances! Whatever your need, I've got something for you to try.
---
You'll notice this list leans heavily traditional, and that's mostly because traditional publishers like Avon, Berkley, Sourcebooks, and the like announce books several months in advance, and while indie authors do tend to write on a schedule, their book announcements often come a little closer to release dates. So keep an eye out for your favorite indie author; they might just randomly drop some Halloween stuff in mid-October. It's been known to happen before!
And if you're looking for even more new romance reads, check out September's best romance new releases.