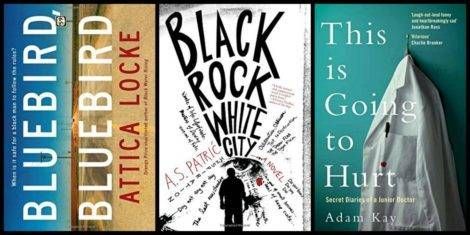 Lists
8 Outstanding New Releases in the UK This September
This content contains affiliate links. When you buy through these links, we may earn an affiliate commission.
With the start of Autumn, you might be in the mood to do nothing else but snuggle up with a strong cuppa and an engrossing read. Lucky for you, September is jam-packed with terrific fiction and nonfiction for you to choose from. I have narrowed it down to eight of the best, so take your pick from these smashing page-turners.
Bluebird, Bluebird by Attica Locke
The first book in a timely new series about the cost of justice, from award-winning writer and producer of the Emmy-winning show Empire. Darren Mathews is a black Texas Ranger working the backwoods towns of Highway 59 who is drawn to a case in the small town of Lark, where two dead bodies have washed up in the bayou: first, a black lawyer from Chicago and then, three days later, a local white woman, and it's stirred up a hornet's nest of resentment. This gripping thriller traces the racial fault lines of the American South and poses pertinent questions about black life in contemporary America. Atmospheric and complex with a strong social consciousness, Bluebird, Bluebird is pitch-perfect.
This is Going to Hurt: Secret Diaries of a Junior Doctor by Adam Kay
I would have never thought that the funniest book I would read this year would be a medical memoir, but then came This is Going to Hurt. Comprising of journal entries of a doctor working on the OB-GYN ward, this book is at once irreverent and poignant. Kay effortlessly combines hilarious anecdotes which leave you in stitches (pun intended!) with touching insight into how mentally and physically draining it is to be a junior doctor. With its witty candour, this book will make you appreciate the sacrifices doctors make on a daily basis. Infusing his grueling experiences with humor, Kay gives us a peek into life on the NHS frontline.
The History of Bees by Maja Lunde
This Norwegian novel is the next big thing in speculative fiction and a must read for fans of Station Eleven and Never Let Me Go. It interweaves tales of three generations of beekeepers from 1851, 2007, and 2098, and tells a resonating story about the relationship between parents and children. This sprawling cli-fi is an urgent reminder of our dependence on the natural world. Skillfully written, The History of Bees is a thought-provoking debut about environment and survival.
We Shall Not All Sleep by Estep Nagy
This is one of those book that turn out to be a lot different than what you expect it to be. The story is set in the Cold War era over a course of three days and is about two wealthy families residing on an island in Maine. The writing is cinematic, which doesn't come as a surprise since Nagy is a playwright and there is a distinct literary lyricism to his storytelling. This is one of those rare books that flawlessly combine political suspense (in this case, the CIA's mole hunts in the '60s) with the languid details of island life. Poetic yet tightly plotted, this is a gorgeously written debut which will appeal to fans of literary fiction.
American War by Omar El Akkad
Set in a terrifying post-apocalyptic world, this bold and profound debut gives us a peek into a terrifyingly plausible future. The Second American Civil War has broken out in 2074 — oil is outlawed, unmanned drones fill the sky, and Sarat and her family find themselves refugees in their own land. This prescient story charts the course of America's self-induced annihilation and the calamities of war. A cautionary tale for our turbulent times, American War contemplates what might happen if America were to turn its most devastating policies and deadly weapons upon itself.
Black Rock White City by A.S. Patric
During a hot Melbourne summer, Jovan's cleaning work at a bayside hospital is disrupted by acts of graffiti and violence that become increasingly malevolent. For Jovan, the mysterious words that must be cleaned away dislodge the poetry of the past. He and his wife Suzana were forced to flee Sarajevo and the death of their children. Now living as refugees in Australia, they both work as cleaners. This novel powerfully evokes what it is like to be an immigrant and probes the experiences of the couple with acute insight. Complex and beautiful, this debut is about resilience and repressed grief.
Grace by Paul Lynch
This 19th century story set in Ireland begins on the even of the Great Famine. Seen through the eyes of a teenage girl who is forced to disguise herself as a boy for her own survival, this story is heart-wrenching. Lynch portrays a horrible time of great human suffering with poignancy. The writing is beautifully poetic and deftly combines romance, a coming-of-age, and a philosophical enquiry of the nature of history and time. Reminiscent of Faulkner and McCarthy, Grace will propel you back in time.
Smile by Roddy Doyle
The latest novel from the Booker winning author has a crafty plot with an ending that will leave you reassessing (and re-reading) this sinister story. Victor has just moved into his new apartment and is alone for the first time in many years. A chance encounter with a secondary school classmate dredges up long-buried memories of being taught by Christian brothers. If you ignore the mid-life moaning of the protagonist, this dark novel gives a piercing insight into the vicious cycle of molestation and its consequences.