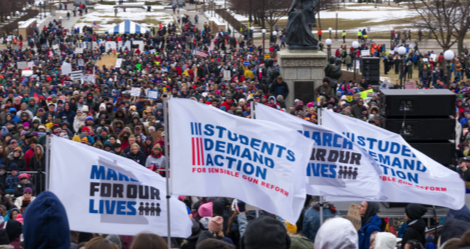 This content contains affiliate links. When you buy through these links, we may earn an affiliate commission.
Though we know every book is political, there are some that take on politics and social issues harder than most. While challenging harmful governments is nothing new in YA (Hunger Games, anyone?), after the 2016 presidential election we've seen a spike in YA books more ready and less apologetic about taking down the patriarchy, destroying white supremacy, raising our voices, and drawing clear lines in the sand. We've already created a list of ten, but we all need more. Here are ten more new political YA books to read that have recently come out or are coming out soon.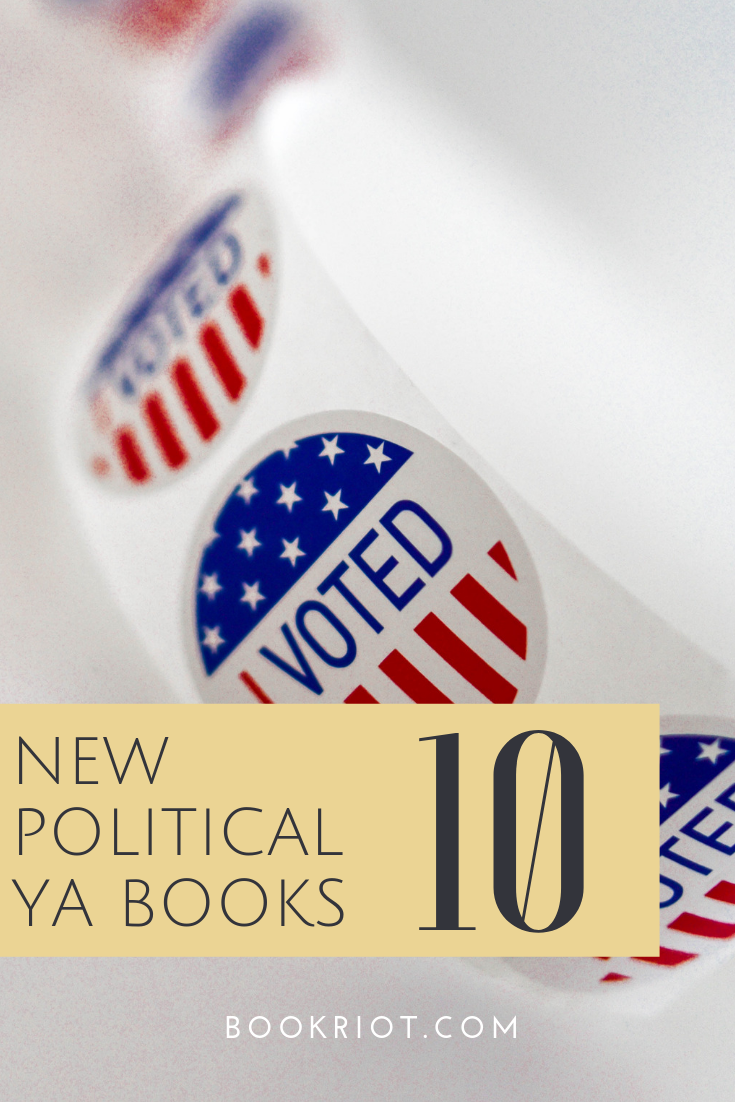 Though it began with a curfew and her boyfriend's family prohibiting him from seeing her, it ends with Layla and her family in an internment camp for Muslim Americans. Along with other captives, her boyfriend on the outside, and an alliance with one of the guards, Layla leads a revolt against the camp's director in a fight for their freedom.
On the very night Camille learns she's gotten into a prestigious theater program, she also learns she's pregnant. Unable to tell her parents, and with her best friend Bea not agreeing with her choice to have an abortion, Camille attempts to solve her problem alone. But in 2014 Texas, a year after Governor Rick Perry called a special session to vote on a bill that would close most of Texas's abortion clinics, a desperate Camille turns to theater acquaintance Annabelle, who offers to drive Camille wherever she needs to go to have the abortion; as the girls set off on their road trip, Bea decides she'd like to come too.
Inspired by the true story of Sophie Scholl, this novel-in-verse tells the story of the White Rose, a non-violent resistance group led by Sophie and her brother Hans. Disillusioned by the Nazi propaganda overtaking Germany, college student Sophie joins her brother and his fellow soldiers in challenging the Nazi regime. Writing and distributing pamphlets to the public, they become the White Rose, their small network publicly criticizing the Nazis and calling upon German citizens to take action. Until the White Rose, and Sophie and her brother, are discovered by the Gestapo.
Daniella Vargas is a student of the Medio School for Girls, where distinguished young women are trained to perform one of two roles in the households of their husbands. A Primera will run the house and act as her husband's right hand, and a Segunda will be the nurturer and have children. At Dani's graduation, she's placed with an important politico husband, and her future seems secured, despite his Segunda being her school rival Carmen. But Dani's pedigree is built on forged documents and could fall apart in a moment if she's exposed, as a rebel group threatens to do unless she spies on her new husband for them.
Bri wants to be the greatest rapper of all time, but it's hard to get there when trouble at school leads to her being labeled a hoodlum. Frustrated and angry, Bri channels her emotions into her first real song, and it goes viral, but for all the wrong reasons. Now the public's made up its mind about Bri, casting her as a threat, but with her mom out of a job and bills piling up, it's more important than ever that Bri find a way to make it. And if making it means becoming what the world wants her to be, Bri might be willing to do it.
Taking place soon after 9/11, this semi-autobiographical novel follows Shirin, a 16-year-old Muslim girl who wears a hijab. After enduring degrading comments, stares, and physical violence due to her race and religion—not to mention the constant moving—Shirin withdraws from the world, instead finding solace in music and breakdancing. Then she meets Ocean James, a white boy who seems to really want to get to know her, chipping away at Shirin's shell.
After a magical virus kills his family and nearly kills him, Noam Alvaro awakens a technopath. His new ability gains the attention of the minister of defense, who offers to educate Noam about his magic. As the child of undocumented immigrants, Noam spent most of his life seeking a way to make change, and now Noam sees an opportunity to turn his magic against Carolinia's government, ruthlessly turning away refugees at the border. But after meeting the minister's cruel but beautiful son, Noam must decide how far he's willing to go for the greater good.
Watch Us Rise by Renee Watson and Ellen Hagan
Tired of the way girls are treated at their progressive NYC high school, Jasmine and Chelsea start a Women's Rights Club. Posting everything online—from Jasmine's responses to racial microaggressions and Chelsea's poetry—the two go viral. And then come the trolls. When the principal shuts down their club, Jasmine and Chelsea are forced to take a stand and make sure their voices—as well as those of the other girls—are heard.
Aspiring comedian Izzie O'Neil has always been able to laugh her way out of any situation, but the laughs are harder to come by when photos of her having sex with a politician's son are put online, making her the center of high school gossip and then a national scandal.
The Grace Year by Kim Liggett (September 17, Wednesday Books)
Each year, the 16-year-old girls in Tierney's village are banished into the woods for their grace year. Told they have the power to lure men to damnation and their communities to ruin, the girls are sent to the wilderness to purge their magic so they can return home pure, harmless, and marriageable. But not all the girls come home. Tierney, practical and trained in nature by her father, might have a better chance of survival than most, but once her grace year begins she realizes that it's neither the poachers hunting them nor the elements that are the greatest danger, but the girls themselves.