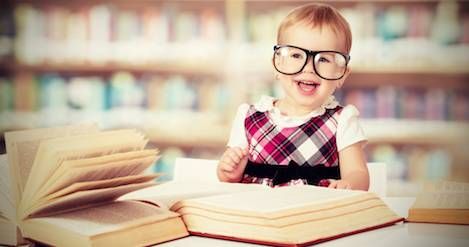 When I had my first baby last year, my relationship to the library changed. New mama, new love for the library. Suddenly, I wasn't just reading for pleasure. (I mean, I'd just had a baby, I wasn't reading for pleasure at all.) I began to need my library, and luckily, as a new mama, the public library had my back. And I want you to know, new parent, the public library has got your back, too.
Pulling Books. Have you ever worn a fussy baby, who has just found his voice, through the stacks of the library? I have. Checking call numbers on a little sheet of paper (which my son NEEDED to hold and shove in his mouth), I caught the stink eye from people who were there for quiet and Internet. And while I could be like, that's their problem!, the thing is, the library is a quiet place, and I don't want to infringe on that. But the beautiful thing? Librarians will pull books that you request and leave them on the hold shelf, which keeps me (and noisy baby) out of the stacks, but still gets me the books I want/need.
Speaking of needing books: sleep manuals, baby food cookbooks. Remember when you were registering for baby stuff, and there were like, 425 strollers to choose from, 800 car seats, and 14 different crib mattresses, all equally likely to kill your baby or pollute your home? Yeah – once you have the baby, apply all those choices to the decisions you make on how you get your baby to eat and sleep. Do you want to shell out the money to test drive each and every manual and cookbook? Probably not. (I mean, the hope is that they go to college or trade school or sleep-away camp one day, and you need that money.) Enter the public library, your source of sleep training books and cookbooks.
Don't wake the baby. Rookie mistake I made: reading a paper book with my sleeping baby in my lap. Apparently the pages were way too loud, and he woke up with every page turn. You can check out eBooks from your library, and that way you can read in the middle of the night, too.
Story hour. Oh, God love the story time people. New parents can meet with their brothers and sisters in the struggle, exchanging tired glances and proud smiles and struggling through the words to silly songs. These are your people. Go to them.
Speaking of your people: librarians. I'm a fan of self-checkout at the grocery store, and I love it at the library, but lately I've been challenging myself to actually visit the circulation desk to check out my books. Why? Because these are book people. They are my people. And they're adults who talk back and give me books and have likely read the books, too, and so they are a joy to see.
So you see, new parents, the public library has got your back. But the beautiful thing is, we can pay it forward and get our library's back too. You're already taking the first step by raising readers who appreciate the library. Likely, you're making it a part of your weekly routine, and you're teaching your kids how to take care of books, how to search for them, and showing them the great enjoyment that comes in reading a good story.
But there's more! You can serve on the Friends of the Library at your local. And as one of our contributor-librarians pointed out to me, we can make ourselves familiar with non-storytime programming. Her suggestion inspired me to look to my own library, which offers things like the summer reading program (for kids and adults), monthly book discussions, and even stitching circles (because many a book lover is also a fan of making things with string) and crafting groups for local charities. So while the library is supporting you, new mom or dad, you can also support it right back, and maybe even do some good in the community to boot.